Bafang reveal MY19 drives with emphasis on e-Road and gravel
Bafang has taken to the China International Bicycle and Motor Fair in Shanghai to debut a series of new electric bike drive systems.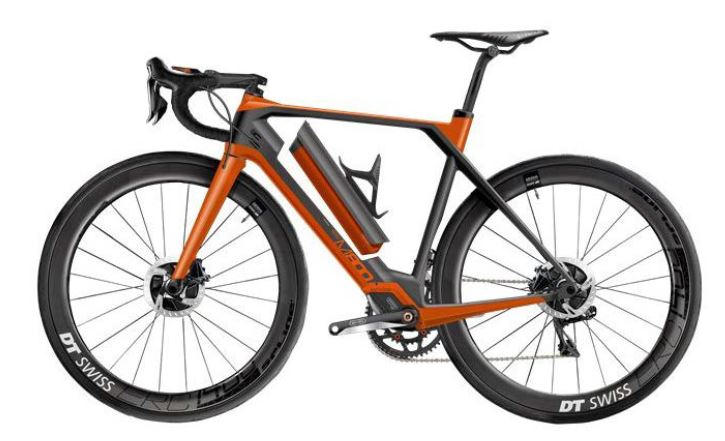 Most notably, the product debuts shown include an increased offering for those manufacturers looking at producing electric road, cyclocross and gravel style bikes. The M800 mini centre drive motor system shown at the show is designed ultra-compact, with battery and motor all housed discreetly between the bottom bracket and the head tube.
One of the key advantages of the new drive unit is its low weight, at less than 2.3 kg, but with a 200 W rated output power and a max torque of 55 Nm. The electronics and 200 Wh inTube battery add just 2kg more. This takes the total system weight to less than 4.4 kg, including display and remote shifters.
The pedal assist level can be set in five steps controlled by 1 or 2 satellite shifter pods, which can be individually placed on the drop handlebar. Meanwhile, a 2.2 inch TFT color display offers up to 10 settings.
Smooth and quiet operation is controlled by dual torque and speed sensors. The motor offers single and double chainring compatibility (chain wheel size 44T or 34/50T), and while it can easily be set to the EU legal limit of 25 km/h, with its maximum speed of 45 km/h the system is also capable of use on speed pedelecs.
Since an e-Road bike is prone to exceeding the 25 km/h (EU) legal motor assist speed threshold, Bafang's drive has been tuned to perform optimally when starting off and accelerating, as well as on short sprints and steep climbs. For the US and other regions, the speed limit can be set at 32 km/h or 45 km/h instead.
Once up to speed the rider's own pedaling effort above the limit speed is
not affected by any drag from the motor enabling cyclists to go above and beyond on their own steam.
The battery pack's capacity of 200 Wh might, at first, sound a bit on the small side. But Bafang say that because battery capacity is used only on ascents and when starting/accelerating within the speed limit, battery capacity will be more than sufficient even for longer trips (50 to 150 km or more).
Bafang's M420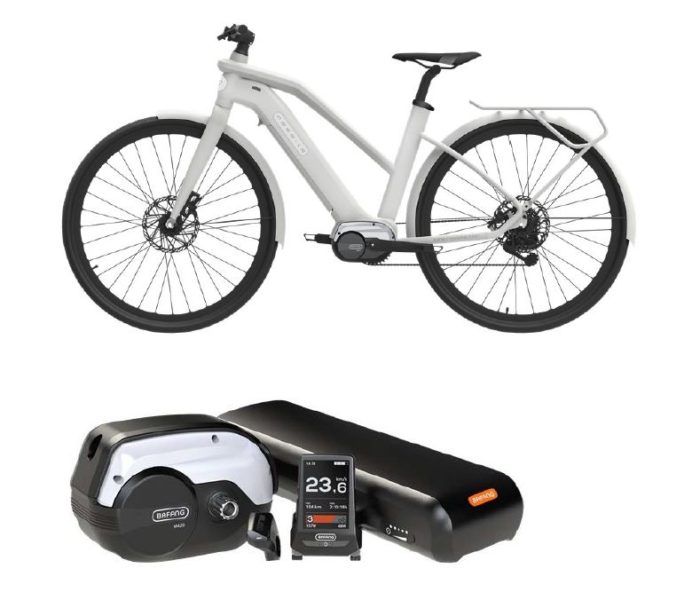 Another system revealed is the city and trekking-suited facelift on the prior M400 (Max Drive).
The new version uses the same frame mounting interface, comes with a rated power of 250W, the same powerful 80 Nm performance and a EU-legal speed limit of 25 km/h.
Compatible with the 450 Wh InTube or various rack type batteries, plus a number of new displays (with Bluetooth and USB-out functionality) it will give designers ample opportunity to create contemporary looking city and trekking bikes.
Bafang M500 & M600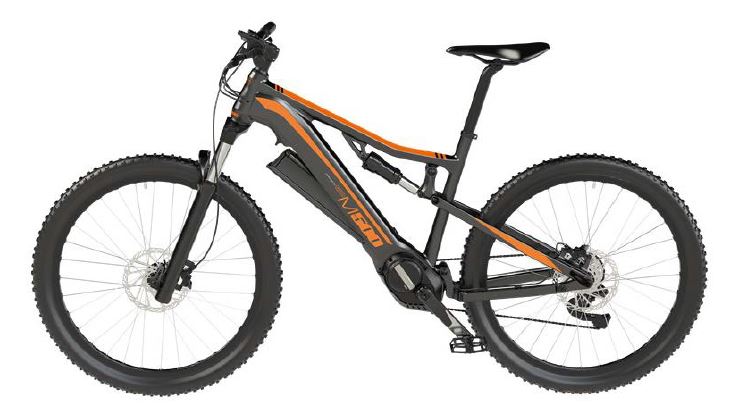 Built for the mountains, the M500 and M600 systems come rated at 250W and 300 or 500W, respective of the local regulations. These motors offer peak torque values of 95 Nm (M500) to 120 Nm (M600).
The complete range is now available for OEMs to test and specify, including versions which are EU compliant for 25 km/h (Pedelec) and 45 km/h (S-Pedelec), plus USA versions for limits of 20 mph to 28 mph.
At just 3.0kg and 3.4kg, the drive systems are among the lighter available to mountain bike makers.
F-Series Batteries
Also new, Bafang has debuted 450 Wh and 600 Wh F-Series InTube batteries that can be inserted from the top or underside of the downtube.
There will be also a semi-integrated battery pack available with a maximum capacity of 1000 Wh. The 450 Wh battery is the first battery to become available from the new Bafang battery assembly factory in Suzhou.
Bafang F-Series batteries use Panasonic/Samsung cells. CanBus and UART communication protocols, and two different charger options with 2 A or 3 A charging capacity, complement the battery offering.
To enquire about Bafang's drive systems, head to the site here.