Dirt Rag winds up after 30 years
US-based MTB magazine, website and festival Dirt Rag is closing its doors after 30 years.
In a post on Instagram, Dirt Rag said the reasons for the closure were many, but focused on the print mag, website and festivals being crucial revenue streams to keep the operation running.
Pittsburgh-set Rotating Mass Media ran Dirt Rag Magazine and the festivals. Back in 2017, the publisher halted the print side of Bicycle Times and last year wound down the online version too.  Parent company Rotating Mass Media was created in 2012, built on the then success of Dirt Rag and Bicycle Times.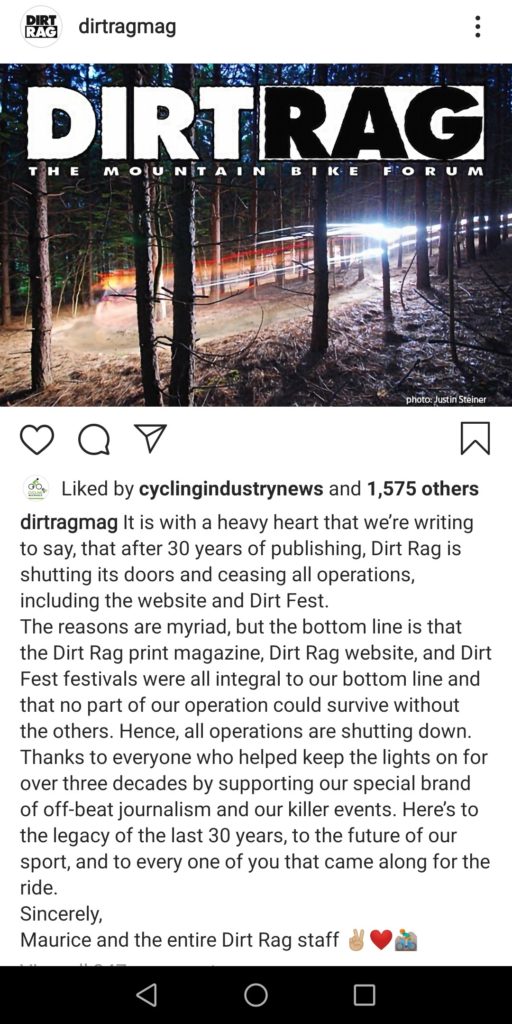 "It is with a heavy heart that we're writing to say, that after 30 years of publishing, Dirt Rag is shutting its doors and ceasing all operations, including the website and Dirt Fest.
The reasons are myriad, but the bottom line is that the Dirt Rag print magazine, Dirt Rag website, and Dirt Fest festivals were all integral to our bottom line and that no part of our operation could survive without the others. Hence, all operations are shutting down.
Thanks to everyone who helped keep the lights on for over three decades by supporting our special brand of off-beat journalism and our killer events. Here's to the legacy of the last 30 years, to the future of our sport, and to every one of you that came along for the ride.
Sincerely,
Maurice and the entire Dirt Rag staff."