How far is the bike industry from a broader drivetrain supply?
A lot has been learned from the Covid-19 pandemic and arguably we have seen a vision of the future if the bicycle continues to become ever more important as a transport and leisure item. Duncan Moore asks if the trade's existing drivetrain supply chain can cope in an expanding marketplace…
The world has changed so much over the past 12 months that it can be hard to remember what life used to be like. We are now at a place where cycle stores are considered essential but many of them are struggling to get the stock they need, whether that be complete bikes or repair and service parts.
There can be no denying that the onset of COVID-19 caught everyone out along the whole supply chain, but could there be some good news in all of this?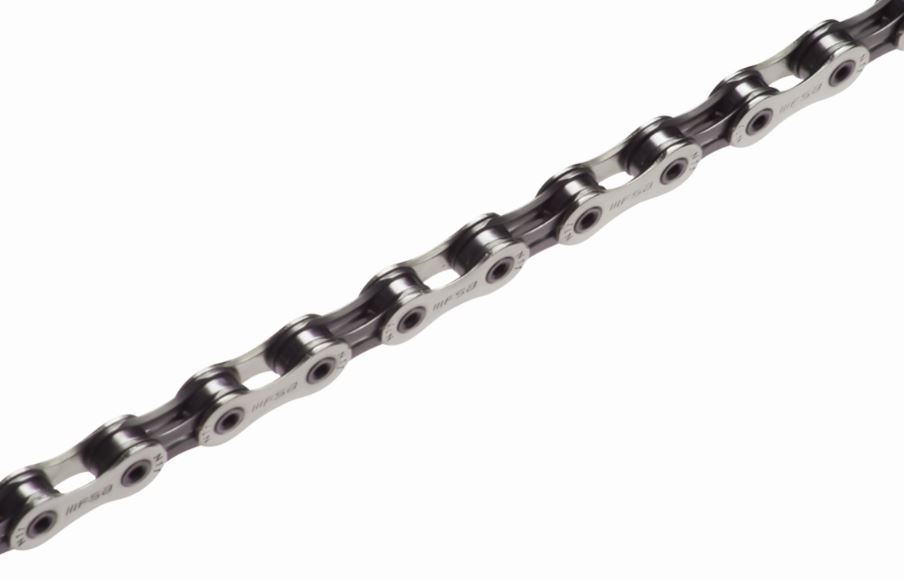 As the virus took hold factories slowed production or simply shut down due to staff shortages, or national lockdowns. Shortages began to appear in the supply chain, not only were shops finding it hard to get regular service items like mechs, chains, shifters and brakes but so too were bike manufacturers. The problem persists and is arguably worse now.
It is clear as day that Shimano's market share is streets ahead of the competition. In CyclingIndustry.News' 2021 market report (available to purchase by emailing here), Shimano were used by 83% of independent stores and workshops; followed by SRAM at 35%. The next challenger, SunRace, was used by just shy of a fifth and so the marketplace is heavily tilted to just a few players.
Talking to C.I.N. about the situation last year Ben Hillsdon, from Shimano Europe had this to say: "This huge demand upswing in 2020 has led to customers selling more bikes and placing far more orders with us than we would usually expect.
"Whilst demand is higher than usual across both ends of the market, we are working hard to address supply chain demand as well as working with our business partners to offer solutions so they can bring complete bicycles to the market as soon as possible.
"Incoming orders are extremely positive but future demand is difficult to predict in the current climate so we cannot give a concrete reply at present. However, we strongly believe in the future growth of the bicycle market and will prepare our factories for it."
In its most recent financials the absence of supply forecasts was notable from the dominant market force at a time when this is all the industry is talking about.
It would appear that the industry's reliance on SRAM and Shimano may be creating supply problems not only for manufacturers seeking OEM parts, but also for IBDs in need of service parts, too. However, this could be argued as being good news for others.
Just as in other sectors where new manufacturers appear with new ideas (think how Huawei was all set to disrupt the mobile phone market) so too there are operators in the cycling market that have been quietly working away waiting to break the market's status quo. Now is that time for businesses like as TRP, Box and FSA.
Such a changing of the guard is nothing new, it has happened before. When mountain bikes first appeared on the scene Suntour was still a force to be reckoned with and there was no SRAM. Granted both Campagnolo and Mavic had a go at cracking the off road groupset market, but both are now simply the preserve of the hardcore retro collector. Similarly, while boutique American manufacturers such as Paul Components and White Industries made mechs they were simply too expensive for the mainstream market never mind OEM use.
So, who are the new pretenders and why should the industry take notice of them as viable drivetrain options? Perhaps the best now is TRP and its Tektro line of parts, but there's also newer players; Box, with a history in BMX and Full Speed Ahead, other- wise known as FSA.
For many years Tektro has been the go-to choice for low to mid-range braking options, but to dismiss the brand as simply a budget option would now be foolish.
Dirk Belling, a brand coach who has been working with Tektro to develop the label in Europe believes that it has the experience ready and waiting to ramp things up well beyond the early aftermarket derailleurs and other kit that are already landing on the market. "Tektro is a 33- year-old family business based in Taiwan and in 2006 the high-end brand TRP – Tektro Racing Products – was founded. Today, TRP engineers are working closely with the professional race teams. This product feedback and testing is key to the TRP product development process."
But what are those products that are being developed and how much impact can they have on the OEM market? With many OEMs already using Tektro brakes, it was an obvious move to capitalise upon this and develop the range. Following on from the development of its TRP DH R EVO brakes with 203mm diameter, 2.3mm wide TRP C 2.3 rotors, which have seen success on the international downhill circuit, Tektro is now bringing the stronger disc technology to cargo bikes and in particular e-cargo bikes as it is partnering with Riese & Müller as an OEM supplier.
However, even with OEM contracts in place, the brake market is a crowded place to be, whereas when it comes to drivetrains there's much less competition, especially for mech and shifters. Having honed its skills with a seven-speed derailleur designed for the rough and tumble of downhill racing the know-how is tried and tested on the world's most rigorous stage.
TRP has already got five years of development work on its drivetrain packages and introduced its G-Spec DH 7 (seven-speed) and G-Spec TR12 (12-speed) mountain bike mechs and shifters in 2019. Once again, the components were race proven on international downhill racer's bikes and are now available in the wider marketplace.
"This system is compatible with a variety of chains and cassettes currently available in the market and we provide a list of all working combinations. In general, they [the mechs and shifter] can mix with SRAM, Shimano, Sunrace – always to the given specifications," says Belling about the option of carrying the components in stores to use when direct replacements for original parts are not available.
It is a similar story for Box, which introduced its first 11- speed mech and shifter package aimed at the growing enduro market in 2017. Unfortunately for Box that was the same time that SRAM dropped its Eagle drivetrain on the market. The dominance of SRAM caused Box to recon- sider its priorities in the market and instead look towards the e-Bike sector. This led to the launch by Box of an e- Bike specific nine-speed derailleur system. The thinking behind this was that the extra torque generated on an e- Bike would cause too many problems for a wider geared system and so nine-speed was settled upon.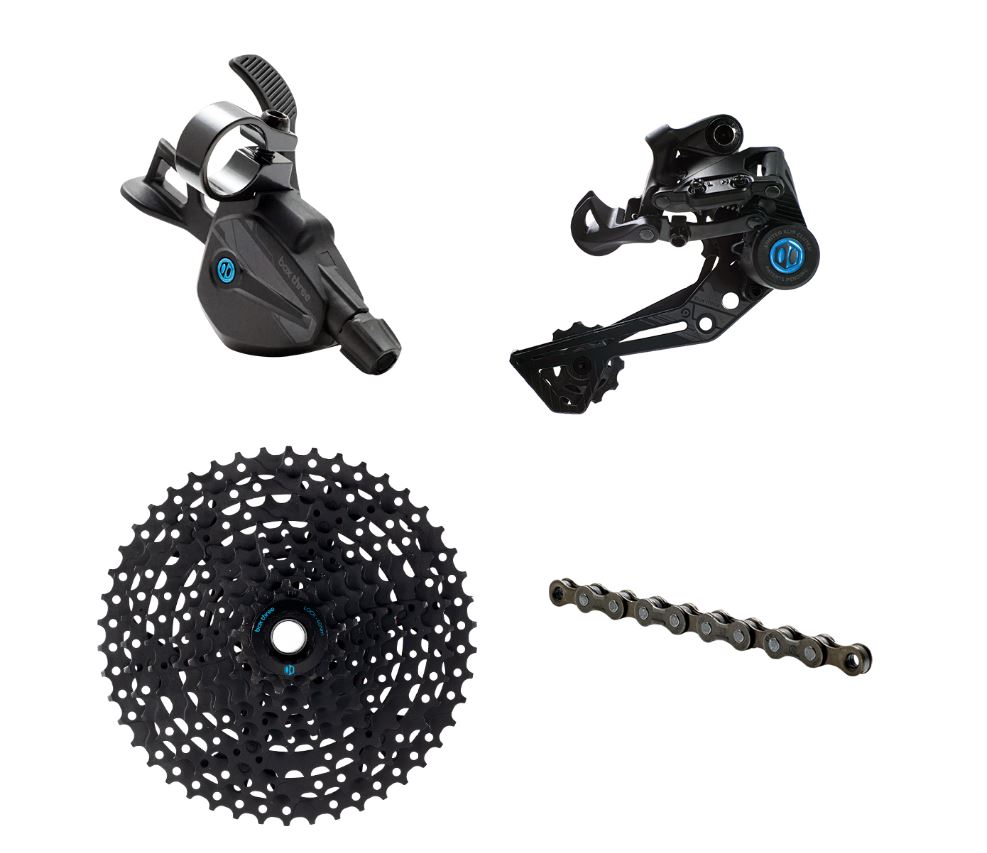 Lauren Ryan, Brand Manager at Moore Large, which distributes Box in the UK, explains how the brand has now moved onto offer a range of nine-speed drivetrain pack- ages for regular as well as e-Bikes.
"Even though the nine-speed was intended for e-Bikes, staff at Box started using the gears on their MTBs and that gave rise to what is now known as Prime 9 by Box." Available in a range of price point configurations, Box's nine-speed set-up is designed around a wide-spread cassette so that it runs as a 1x configuration. While this potentially means less wear, it also means another standard and a lack of interchangeability, which could be considered an issue by some IBDs simply looking for an alternative source of service parts away from the big two.
Addressing this issue Ryan says: "We tried to accommodate cross-compatibility with our friends at Shimano and SRAM, but it came at the expense of compatibility within our own ecosystem. So, we soon threw that idea to the wind. To be honest, in the early days we used to curse our competitors for creating new ecosystems thinking that they were doing that calculatingly to spite us all, but we realised pretty quickly that it was the only way to guarantee performance and accountability throughout the system."
In the case of FSA and its K-Force WE 11-speed road front and rear mechs and shifter package, it has been created with compatibility in mind. Edoardo Girardi, Full Speed Ahead and Vision Europe's General Manager, explains: "Our groupset has been tested with different 11-speed chains and cassettes and our cassettes and chains are compatible with other 11-speed groupsets; once again, shops can rely on FSA components to match with other brands, not only in case of unavailability, in some cases our customers experienced higher performances with FSA parts."
While both Box and TRP are currently targeting the off-road market with their drivetrain packages and FSA is for the road, all three are looking to diversify their offerings as new market sector gain in popularity. "Of course, having now the know-how and the technology for a complete road groupset is allowing us to expand into the off-road side; it's a project for FSA's future even if we don't have yet a time to market, we're working on it," says Girardi.
In the case of TRP Belling explains that "in the coming years we plan to introduce several new designs in various market segments. The 700c segment especially gravel and adventure are those where we observe increasing demand. We are always looking for opportunities in the market where we can bring new technologies and smarter solutions for a better price than what is currently available."
"The lure of gravel and eventually road is sometimes intoxicating, but we still have much to do in our lane," says Ryan, talking about the possibility of Box entering other disciplines. "We have demand far outpacing supply. Rest assured we have engineers working on meaningful product development and we'll let you know when we are getting close to something worth sharing."
Given that all three brands are obviously looking to develop their presence in the drivetrain and finishing kit market can we expect to see them names Box, TRP or FSA appearing more commonly as OEM supplier in the future?
According to Girardi: "FSA is growing in the OEM business on all the disciplines, from MTB to road and e-Bike as well. We've been among the first brands offering a complete range of crankarms sprockets and parts for e-Bike engines, so we created the ground to be considered a strong partner for e-Bikes.
"On top of that, we stepped into e-Bike business with a rear hub engine dedicated to e-Road and e-Gravel. There is still a lot of potential to develop with these new kinds of bikes," says Girardi, before noting that for the IBD market, "FSA's strength is the quality-price ratio. FSA can offer a wide range of category products with high-quality products at a competitive price on the complete line-up."
For Box, the move to OEM drivetrain production is a project that will happen but one that is not a priority.
"We have some spec confirmed on a handful of OEM brands, but we are also abundantly aware that we must walk before we can run," says Ryan. "There is lots of activity in this area and we are blessed with a supply chain that can deliver in about half the time of some others at this time.
"We're not sure that the rise of e-Bikes has made it easier specifically for Box because it really is a tide that lifts all boats. Nevertheless, we are well suited for e-Bikes in that we have a robust system that was born from one."
As already discussed, TRP is working closely with Riese & Mueller as an OEM brake supplier for the e- Cargo bikes, but that is not the only collaboration the company has in place. "In cooperation with the Canyon Urban PM team we developed a complete integrated brake-lever unit for the new PRECEED:ON handle-bar/ cockpit," says Belling. "We don't think that the rise of e- Bikes is making it easier, but we are listening to our partners and customers' needs and this is a big opportunity. The TRP team has become very strong in listening and developing custom solutions."
Belling also feels that TRP's strength in the e-Bike market will be beneficial in the longer-term to IBDs. "In the future more and more OE, especially on e-Bikes and e-MTB, will spec Tektro and TRP e-Bike solution brake products, which means IBD will have the service opportunity as these are still a high wear item."