Mark Beaumont launches Edinburgh's first bikeshare scheme
Mark Beaumont has launched Edinburgh's first bikeshare scheme with headline sponsor, Just Eat. The scheme has 200 bikes at nineteen docked locations and will quickly grow to 1000 cycles by December 2018. Ultra-endurance cyclist Mark Beaumont and Council leader Cllr Adam McVey officially launched the scheme with a ribbon cutting ceremony outside the City Chambers.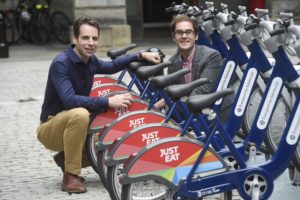 The Pashley bikes will offer users excellent handling and ride quality, featuring high quality Shimano gears and brakes, comfortable gel saddle, front and rear LED lights, full-length mudguards, puncture resistant tyres (that do not compromise ride quality) and a step-through frame allowing ease-of-use for all cyclists regardless of height. The cycles have a gear ratio to suit Edinburgh's hilly terrain.
Beaumont is an Edinburgh resident who broke records last year by cycling around the world in 79 days. He rode one of the branded Pashley bikes which have all been given names that reflect Scotland's history and culture, including Sherlock and Greyfriar.
At the launch, Beaumont said: "Launching Just Eat Cycles is an exciting  step for Edinburgh and the people who live, visit and study here. The app is very simple to use and the bikes will allow everyone to explore our great city."
Council leader Cllr Adam McVey, said: "The launch of a city wide cycle hire scheme marks a new era in public transport for Edinburgh and the people who work, study and visit here. Investment in cycling infrastructure has gathered pace in recent years in Edinburgh, and this affordable and accessible scheme will complement the existing transport options available to those looking to get around the Capital."
Users can hire bikes through an annual membership, on a daily basis, or for up to an hour using the simple smartphone app, Just Eat Cycles, available for free from the Apple App Store or Google Play. Bikes can be returned to any cycle hire point at any time, with the closest available stations shown in the app.
Operating company Serco worked with the City of Edinburgh Council, The University of Edinburgh and private landowners to create a network of hire points across the city.
The bikes are also equipped with Norwegian firm Urban Sharing's smart technology, including built-in GPS and GSM capability enabling annoymised realtime communication between the bike and back office control systems. This will help to ensure the bikes are well maintained and distributed to the correct hire point locations at the right time to meet customer demand.
About Serco
Serco has managed the 12,000 bike Santander Cycles scheme on behalf of Transport for London since 2010.
About Pashley Cycles
Founded in 1926, Pashley is Britain's longest established manufacturer of bicycles and one of a small number remaining in the UK. More information can be found at www.pashley.co.uk
About Urban Sharing
Technology company Urban Sharing was founded in Oslo, as part of the Urban Infrastructure Partner Group. More information can be found at www.urbansharing.com