MyTool mobile franchise stemming from South American Trek distributor looks toward U.S.
A newly formed mobile mechanic franchise – stemming from a distributor of Trek, Cannondale and Saris, among others – has set out in South America.
MyTool is the brainchild of André Jaramillo, also an owner of 14 bike shops in South America. He told CyclingIndustry.News that he has been watching with interest as the industry evolves and now believes that more "millennials are embracing disruptive business models", so the time is right to go mobile too.
He said: "At MyTool we have a strong concept and we are sure that the total value for the franchise is better than the actual actors in the mobile business. Our main target market is mostly  Latin America, nevertheless we have a test franchise that will operate in Florida en the coming months."
Using Mitsubishi trucks, which are decked out with workshop inventory in the firm's own plant, the interior offers a generous working space, as well as space for coffee and a refrigerator, among other additions. The build also comes specced with solar panels to help keep the van's battery charged while idle.
For the franchise package, MyTool are charging $79,000, which includes the truck, cargo area, inventory, tooling and access to the firm's app. As part of ongoing business, franchisees will also have access to exclusive to MyTool accessory brand Rush and complete bicycles from Ecobike.
"The world is going mobile, from cell phones to co-working spaces," added Jaramillo. "The car traffic in medium to big cities is becoming worse every year. We will help people to solve these delays by bringing the bike store to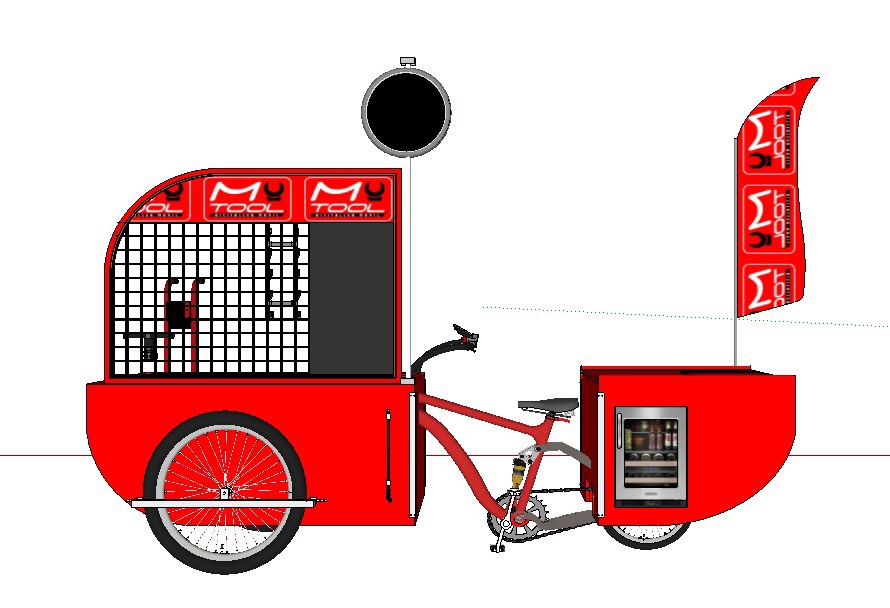 them. The Internet and our payment system allows us to be mobile. Customer can pay the way they like, including cryptocurrency."
In the coming months the firm will also prepare a small unit named Mini
MyTool, a mobile e-cargo bike unit that will provide another means to access the customer. This patent pending design will be available from $3,900.
You can find out more about the business at www.mytool.bike