Retail Profile: Saddles and Paddles
Heather Baker adopted the Saddle and Paddles business in 2013 fresh on the back of having brought Cycling Demonstration Town status to Exeter. Here she details how listening to people's hopes and fears carefully has helped evolve the local cycling scene and business in tandem…
Tell us about the Saddles and Paddles story and how the store came to be:
Saddles & Paddles has been in business for over 25 years here on Exeter Quay and has changed hands a few times since then. I like to describe myself as the current custodian, having bought the business at the start of 2013. My job is to keep up the great work my predecessors started and keep it going until I hand over to the next person. (Whilst adding my own mark on the business, of course!)
How's business been during 2020 and how have you adapted around Covid-19?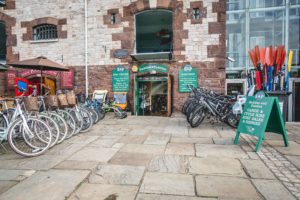 Although bike shops were granted as exempt from the retail closures of lockdown, I did actually close for April and May. The hire side of the business is a vital part and without it, it just wasn't cost effective to remain open. I also knew that I had my hands full digesting all the business guidance and needed to focus my time on applying for grants and setting up the furlough scheme for my staff.
I worked extremely hard in that time to protect the long-term future of the business by working to reduce overheads, safeguard my staff and work out how we would need to adapt the business to be confident we were Covid-Secure.
Your background has seemingly been pivotal not just for the business, but for Exeter's active travel movement too. Tell us how you came to secure the Cycling Demonstration Town status:
I was extremely lucky to be part of a small team at Devon County Council that ran the CDT project, called Cycle Exeter. We were one of just six towns in the country to be awarded that status and worked closely with Cycling England and the Department for Transport to increase the levels of cycling in the city. This funding helped to build the Exe Estuary Trail (an award winning cycle trail from Exeter to the seaside, both sides of the estuary to Exmouth and Dawlish), provide traffic-free routes and cycle parking for all the secondary schools in Exeter. This saw us working with schools and businesses to support more people to feel confident cycling.
My role included work to tackle why women were less likely to cycle and included some training for local bike shops to encourage them to be more female friendly, which is an area I'm really passionate about.
On this front, what advice would you have for other bike retailers hoping to put cycling on their town's agenda?
It's a challenging time for local councils at the moment, as the pandemic came at a time when their budgets had already been significantly cut, but with the climate emergency, we need to get the local decision makers (in transport, in housing, in health and in education) to recognise the benefits of getting more people on bikes.
We do lots of Dr Bike events where we visit local employers to offer free safety checks for their staff's bikes – this gives independent bike shops a great opportunity to raise the profile of your own business and chat to potential new customers. We always take a range of essential bike accessories, like locks and lights, for sale as well. Many companies have a budget or access funding to pay for us to run these events, which covers the cost of taking a mechanic out of the shop.
What in your opinion has made the greatest impact?
I'm still extremely passionate about helping to get more people cycling and bring that to work with me every day. I still have close links with the local cycle trainers, who run training on behalf of Devon County Council, such as Bikeability training in schools and also cycle confidence sessions for adults – we regularly refer our customers to access this training, as many people ride regularly for leisure but lack the confidence to cycle to work.
I am also a trustee for a local bike recycling charity called Ride On – Cycling for All, who have become an essential hub for cycling in Exeter, offering affordable, refurbished bikes and bike maintenance training.
I am also an elected member of the National Member's Council for the Coop group (which is incredibly inspiring and I wish more people recognised how different the Coop model; they are not just a supermarket!) and sit on local business and tourism partnerships as well.
Where did the idea to operate a split land and water-based business come from; what are the challenges and perks of doing this?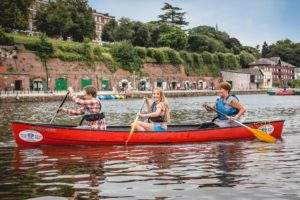 Our location on Exeter Quay is perfect for both our bike and boat hire. We offer paddlesports hire from our pontoon just 20m from our front door, giving access to the Exeter Ship Canal, and we have the Exe Estuary Trail, part of the National Cycle Network, which goes straight past the shop, offering traffic-free, family friendly cycle routes around the trail.
Being a hire centre as well also means we can offer a 'hire it, love it, buy it' programme – every bike, helmet, kids trailer, child seat etc that can be hired from us is a product that we sell and we will refund the hire cost if people then buy new items from us. This gives people a proper chance to try before they buy. It offers far more than the traditional test ride loop around a car park this way. This is particularly important for people that just don't know what type of bike they want, or families testing whether a toddler will take to riding in a child seat or not.
Our waterside location does mean that we don't get the same footfall as high street shops and we also find that our hire activities can 'eclipse' the bike shop, particularly because the shop is small and in one of the historic Quayside cellars, meaning we don't have shop windows to showcase our bike brands.
It's fantastic that Saddles & Paddles has such a strong reputation locally, because it has been there so long and is almost a local landmark, but people often assume we only hire, rather than offer sales and repairs as well, which is hard when I've always tried to boost the profile as a main dealer bike shop.
On the doorstep to Dartmoor among other outdoor adventures, how else does the business tap in to people's desire to get outdoors?
Exeter Quayside is proud to have developed into a thriving hub of eclectic independent businesses over the past few years, with some fantastic craft and gift shops, cafes and restaurants, plus hairdressers, chiropractors, a brewery taproom, a bakery, business work hubs, a climbing centre and the one of the biggest kayak retailers in the South West – there really is something for everyone here. Plus, the fact that it is a traffic-free and picturesque area means that it has a wonderful, relaxed vibe that encourages people to get outdoors and explore. This also means that people stumble into learning about new things, like Clip and Climb or trying a Stand Up Paddle board, when they were just out for a coffee.
Does having a split like this hedge income for the business at different times of year, or do both peak simultaneously?
It's definitely feast or famine for us – we make our hay while the sun shines in the spring and summer, when the hire business is most popular, and this then sees us through the leaner winter. The hire centre supports the bike shop and vice versa, as without the bike sales and repairs, I couldn't justify keeping the hire business alone open all year. The hire activities have definitely protected the shop from the financial constraints that have led to many other independent bike shops having to close.
Is the time right for your busines model with consumers demanding a more service and experience led interaction? What changes have you made as time has passed to improve your customer experience?
I have worked extremely hard from the day I took over to put fantastic customer service at top of our list of priorities and I am extremely proud of the team I work with, all of whom are friendly, caring and passionate about what we do, without being pushy or sales driven.
As a small independent business, this is so vital to our success and is why we have such loyal customers and receive great reviews. We are proud of our honesty and if we don't feel we have the right bike for a customer, we will recommend somewhere else that could help. It breaks my heart when I see someone riding a new bike that's the wrong size or just unsuitable for the journeys they're doing, as it's often a sign that no-one has taken the time to engage with them properly to find out what they need.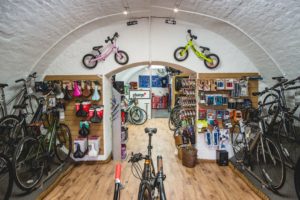 I also think there's a lot to be said about not being judgemental on the value of bikes. Many of our bike sales are entry-level bikes for people who are new or occasional cyclists and there's no shame in this. Too many bikes shops design themselves around their top-end bikes and the elite market, which just turns off the people who are thinking about buying a bike but feel lost in a 'typical' bike shop. Don't be judgemental. We need these buyers and we should welcome them and accommodate them. They might only spend £400 on this bike, but if we can help them get into cycling, you've then got a customer for life. The same goes for repairs. Not everyone wants to upgrade their bike and if someone wants to renovate their trusted old steed (and it's worth saving), then don't try to force them into replacing it.
Have you any plans to extend the business in any way post covid, or perhaps sooner?
I'll be honest – over time, I think my ambitions have shrunk rather than expanded (my first business plan had grand ideas of regional domination!) but only because I've become more driven to make the original Saddles & Paddles the best business it can be, for the benefit of its customers and for all the staff that work in it, as much as for the business itself.
There's always more you can do – not just to be more successful or more efficient, but to be more inclusive, more accessible and more importantly ever, more sustainable. I've worked hard to focus on my business and employment ethics and I hope that by practicing what I preach, whether it's supporting other local businesses or striving to reduce our carbon footprint or investing in my staff, I will have a greater impact in the long term.