Seville, Spain cuts car use 27% in ten years as bike modal share hits 9%
In an example that will only strengthen the case for build it and they will come, Seville has reportedly chopped car use by 27% in the past ten years, while cycling has risen from 0 to 9% of trips in the Andalusian region in just four years.
Joining the list of cities worldwide seeing drastic modal share shifts, Seville has cut average daily car counts from 950,000 in 2005, to 697,668 last year. Meanwhile, daily cycling trips now top 70,000.
During the same period the now ubiquitous Sevici bike hire system now boasts 250 docking stations housing 2,500 bikes.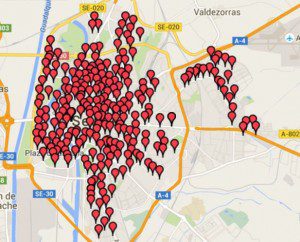 In the first year of Seville's infrastructure transformation the city built 70 kilometres of cycle paths, with campaigners pointing to examples of isolated lanes not producing results.
In contrast, capital Madrid sits rock bottom on Europe's capital city league table, with 0.5 of trips by bike. Jaime Díaz, owner of the city's bike boutique Slowroom, says is problematic for the capital and his business.