Shop owner: "Why i'm closing my store in favour of a shopping centre based workshop"
It's said that the industry's front line is fast entering the era of the 'service model', whereby the retailer is increasingly losing out on traditional sales to the online giants and direct suppliers. If you're lucky and prepared to adapt, the workshop is increasingly picking up the slack.
Those who have forecast for a future of increased B2C sales are increasingly tying up "last mile" servicing. UK cycle retail veteran Steve Baskerville is one of the latest to embrace change.
"Direct sales have grown in recent times and are only going to increase as more brands move to an online model. With that in mind, i've moved away from my former retail store to focus on Bike Spanner – a shopping centre-based workshop only outfit. In adapting for the rise in B2C sales we're partnering with online bike sellers to act as their remote workshop, as well as the buyers themselves to save everyone involved time, money and hassle."
The benefits to the buyer are obvious, says Baskerville. There's no waiting in for a delivery, no packaging to dispose of and the guarantee of a professionally built bike.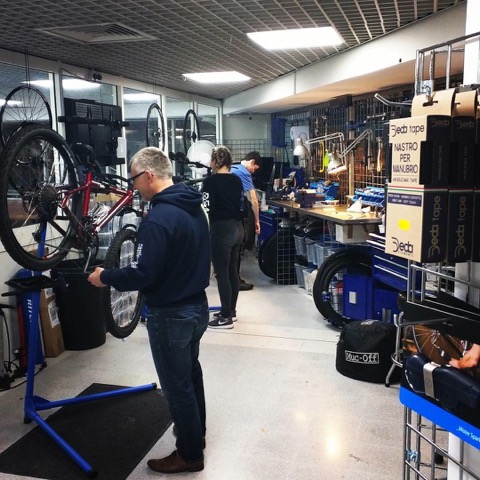 "The benefits to the seller are even better, though. We can save them time and money. For a start they don't need to PDI the bike, we'll do it, just send it to us in the still sealed factory box, thus reducing delivery costs (smaller boxes etc). We can also massively reduce exaggerated and fraudulent 'damaged in transit' claims too. There's also no danger of JRA's due to poorly assembled bikes. If a bike does arrive with a problem, we work with the seller to fix it, reducing the need for the seller to have to take the bike back and send out a new one. It's a win-win for everyone."
When asked about the importance of direct brands ensuring their bikes are delivered in a fit state to ride, Baskerville, quite rightly, flips the question.
"How important is it for a shop to hand over a correctly PDI'd bike? Vital, right? It's the same for any seller, no matter how they get the bike to the end user.
"Those of us on the inside of the trade think online bikes have been around forever and that it's a massive market, but in real terms it's still very much in it's infancy and accounts for a tiny portion of bike sales. But that is going to change. To date 99% of online bike retailers simply send out a quickly PDI'd (or not at all) bike in the original factory box and hope for the best. As the sector matures and grows the spotlight will shine on this practice. Sooner or later something bad is going to happen, and at that point change will be forced."
Already Bike Spanner has linked up informally with one seller, for whom the business has already expanding beyond servicing, now handling the brand's warranty locally too.
Baskerville's Lisburn, Northern Ireland retail business, despite a good level of trading, has long been witnessing changing buying habits with consumers. It is with these in mind that the store is now set to close, making way for the Bike Spanner workshop-only outlet based in a high footfall local shopping centre.
"Our previous standalone workshop was out of necessity. We had outgrown our premises at the time and desperately needed more sales space, so it seemed obvious to shift the workshop to a nearby unit. We subsequently relocated the entire business to a much larger out of town unit a couple of years later, so the two operations were bought back under one roof. The experience of separating the two operations though did plant the seed in my head for a dedicated workshop business. Once settled in the new unit, I started to prepare the ground for what is now Bike Spanner."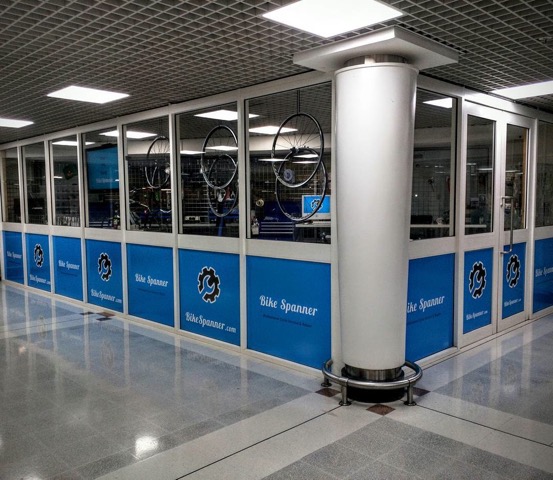 Baskerville's preparation for the Bike Spanner spin off from Real Cycles began as far back as 2014. That year his team started holding weekly maintenance courses and marketing its workshop under the Bike Spanner brand. The idea was to promote it as a business within a business.
"The feedback was fantastic. While our existing Real Cycles workshop client base seamlessly transitioned from one brand to another, new clients loved the idea that their bike was looked after not by a shop, but by a dedicated workshop. We re-enforced the idea that Bike Spanner was separate to Real Cycles by building a self-contained unit for it right inside the Real Cycles shop, and subsequently launching a dedicated website."
By April of this year it became obvious that Bike Spanner had the legs to walk alone, so the hunt was on for a dedicated unit. As luck would have it, the perfect location was secured just as Real Cycles began its closure.
Though not your typical bike shop location, it's the familiarity of established retail environments that will prove a draw for the cyclist and non-cyclist alike down the line, we're told.
"Bringing bike services, be it sales or workshop, in to established retail environments is vital if we are to survive the next twenty years. Destination bike shops now only serve the enthusiast, who are most likely already buying online. There's also those who have already decided to buy a bike, so you're not expanding your market or creating desire, your simply servicing it. Take the bike to the people. Put shops where people shop, and make them inviting.
"Since forever bike shops have been seen by "normal" people as odd places, sometimes staffed by weirdos who speak a different language. If the traditional bike shop is to survive it must normalise itself."
In June this year the construction of a big roundabout was started outside Real Cycles' doorstep, accelerating the need to evolve the business.
"We knew it would be difficult to trade through the six month build schedule, so we had always planned to close up for the duration," said Baskerville.
With that in mind, full gas was applied to the Bike Spanner operation and the plan is likely to go further than a static location, we're told.
"Mobile workshops is an inevitability that cannot be avoided. The challenge is making it profitable. Several large operators in the US appear to have cracked it, but my instinct is the UK and Ireland will present different challenges that these established businesses will find hard to meet with their existing business model. But, the reality is many local mobile business are going to crop up in the next few years to fill the mobile gap. Many will fail to make a profit so ultimately die, but for the duration of their short lives they will eat into the established workshops turnover. My plan is to have our first mobile workshop on the road in the first half of 2017. I have some ideas how to make it pay. I'm not sharing them though!"
Charging for hard-earned expertise will however be key and that's something the bicycle business as a whole needs to assess.
"It's always been important to charge accordingly, but charging accordingly is different to charging well," says Baskerville. "It's often said that most shops undercharge for their workshop time, but it's also true that some shops under perform for what they charge. Skilled mechanics will always charge accordingly. Interestingly, under-skilled mechanics, more often than not, over charge than under charge, in my experience."
You can read more about the rise of the mobile mechanic and how many are luring the direct to consumer brand's business with servicing contracts here.