Strava women's cycling report details a wealth of information for the bike industry
New data gathered by Strava alongside a pool of 5,000 female UK cyclists has revealed a wealth of information on spending habits, brand choices and the types of cycling popular among users.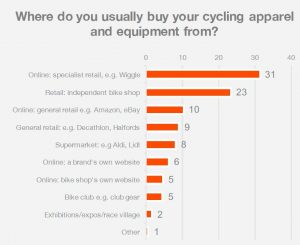 The social cycling app, while predominantly targeted at the sporty cyclists among us, reveals that actually 32% of users are commuting by bike.
With increasing focus on what Strava can take from its data to assist grassroots cycling, the social cycling app has revealed that 52% of its female users cycle for recreation and 63% do so socially in groups.
On motivation, the vast majority (84%) consider health and fitness a key reason for taking to two wheels, though just 61% of users take any inspiration from pro cycling, suggesting that for many there's no aspiration to 'go pro', preferring simply to enjoy getting around on their own steam.
The survey is the second in recent weeks to ask about brand choice and once again Specialized tops the list. On clothing, DHB and Castelli are the most popular labels.
Of the 5,000 participants, 16.2% ride a Specialized bike most often, 12.1% ride a Giant and 11.7% ride a Trek. On average, they purchase a new bike every 4.1 years.
On the often controversial topic of women's specific bikes, 90% agreed or strongly
agreed that they would seek out such a build, primarily due to comfort. 49% of those suggested that they presumed they would need a women's specific build, though there is some division in the bike industry on whether such a thing is simply marketing speak, in particular when it comes to performance builds. Numerous brands CyclingIndustry.News has spoken to suggest it's simply size, geometry and finishing kit that make a build appropriate to the female form. Thankfully, the shrink it and pink it mentality does seem to have faded in recent years.
85% said they'd seek out a women's specific bike because of better fit and 68% for better performance.
Simon Klima, Director of Local Marketing at Strava, said: "We wanted to understand more about female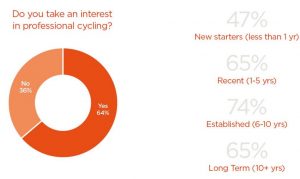 cycling; we're pleased that our engaged community were happy to tell us their thoughts. With these findings we hope to serve our growing community of female cyclists even better; we also hope that the wider cycling industry gets value from the report. As supporters of the Aviva Women's Tour for the third year running, we look forward to seeing women's cycling go from strength to strength."
The industry should further take note of the dataset, which reveals the average spend per year to be £1,050 in 2015. This figure is made up of all purchases, including event participation and other expenditure.
The majority of female cyclists on Strava own two bikes, with an overall average of 2.1 bikes per person for all survey respondents.
When buying cycling apparel, female cyclists considered performance (92%), style (89%) and price (88%). DHB came out top as the most popular brand among women (12.4%), followed by Castelli (12.2%) and Altura (10.2%). Among new cyclists (less than 1 year's experience), Castelli is the most popular brand.
As part of the feedback, participants ere asked to rank influences at 1-7, with one ranking the largest.
T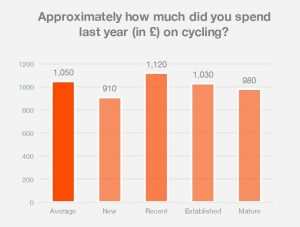 he aesthetics and price of cycling apparel/equipment scored 1 to 3 for around two-thirds of female cyclists. 31% state that they buy their gear from specialist online retailers and 23% buy from an independent bike shop.
Motivation
Respondents have a diverse range of cycling experience. 51% have been cycling for less than 4 years. 62% took up cycling for general fitness and 56% were influenced by friends & family. When asked "What motivates you to cycle now?", 84% said general fitness, 59% said friends & family, and 32% said events. 29% said weight loss and 26% said commuting motivates them to cycle.
Overall, for all female cyclists on Strava, two thirds ride up to 5 hours per week on average. For riding activities at least once a week, just 22% say they ride with a cycling club, while 79% ride on their own and 63% ride with others – friends, family or their partner.
Barriers to entry
Respondents expressed a view on the presence of barriers for women's cycling, and the majority feel that cycling is an accessible sport. 60% disagreed that there were barriers in place for women wanting to get into cycling.
Of the 40% who agreed that there were barriers, 78% believed this was due to a perceived danger of cycling, followed by mechanical proficiency at 71%, with 59% flagging barriers around the subject of body image.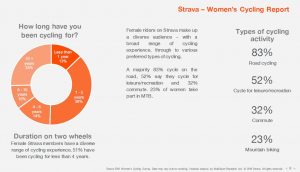 Pro Cycling
The report comes during the Aviva Women's Tour, which features the Strava Queen of the Mountains competition for the third year running. The survey reports that 61% of female cyclists are inspired by pro cycling, and overall 64% take an active interest. 94.1% of respondents follow the Tour de France, 52.4% follow the Giro d'Italia and 39.6% follow the Vuelta a España. The Tour of Britain and Women's Tour show their appeal with 52.0% and 39.6% saying they follow the races, respectively.
When it comes to the users themselves, the average speed per ride of UK female cyclists on Strava in 2015 was 19.8 km/h (12.3 mph), while the average distance per ride of UK female cyclists was 34 km (21.1 miles).