Velotech Services makes a case for IBDs working with the smaller distributor
Having recently regained the sole UK distribution of Rotor Bike Components, Velotech Services is staking a strong claim on being a must have account when it comes to performance cycling goods. We speak to Robin Corder about the charm of the small distributor and how the firm hopes to win big on customer service…
"The smaller specialist distributors are focused on your business; we know our product inside out, you'll get expert knowledge every time and we understand the independent bike retail business from the top of our organisations to the bottom."
That's a bold statement to begin with, but Velotech Services boss Robin Corder believes a justified one. In sitting down with the Stratford-Upon-Avon bike business, it's quickly evident that the team here have been around the block. Knowledge certainly does flow, no matter who you speak to, as does good humour about the many perceived imperfections in the bicycle industry supply chain.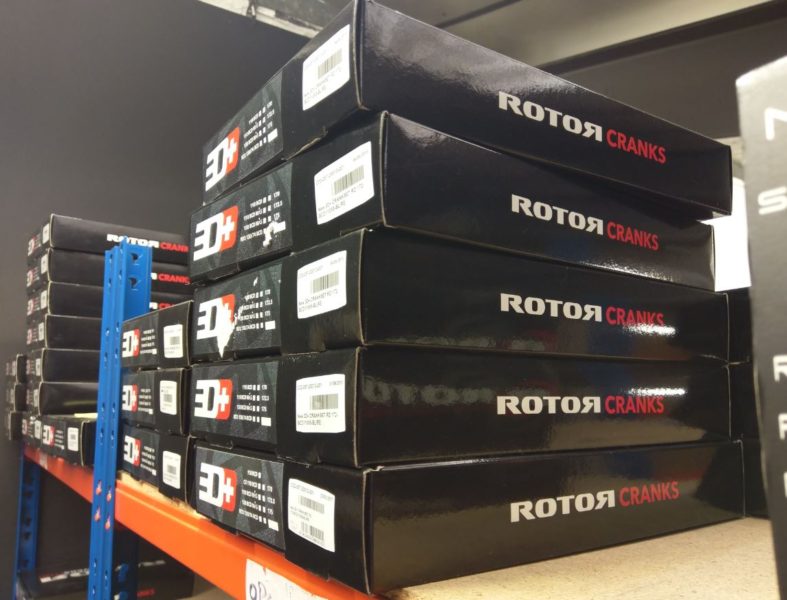 Now back in full control of Rotor Bike Components, the Madrid Q-Ring and powermeter experts have clearly seen something in the personal, experience and enthusiasm-backed business. Corder, after all, brought in the very first offset cranks decades ago having spotted the potential for the time trial segment.
"At the time this was an over-engineered concept, but one that worked all the same and along similar principles. It had too many moving parts, a high weight and therefore a low durability. Q-Rings are a much better solution, although I'm led to believe Rotor's owner would love to resurrect the offset crank one day," says Corder.
Shifting to the present day and Rotor has become one of those brands that has developed a core following who wouldn't go anywhere else. More than that, the firm is breaking new ground with innovative products like its hydraulic Uno drivetrain. Said to be among the most precise shifting systems on the market and incredibly stable over a long duration due to lack of friction in the moving parts, the system is adorned to Team Dimension Data's bikes who have taken the system from concept to proven reality. For the weight weenie customer, it's also worth noting that the Uno groupset, including hydraulic brakes, is one of the market's lightest, even beating SRAM's RED HRD.
It's perhaps the firm's oval rings that have stood the test of time best of all, explains Corder.
"For the bike shop it's a real winner, particularly if you can take the time to explain the benefits and science behind oval rings. Pound for pound, an oval ring can be one of the best investments you can make in terms of making quick performance gains. Shaving weight is all well and good, but improving your pedal stroke's output will translate to a much better overall ride."
Understanding first hand the opportunity on offer for to bike shops when it comes to technical brands, Corder speaks of a demo series for the brand in the pipeline, something which he hopes will assist stores in driving education and reaching potential new customers.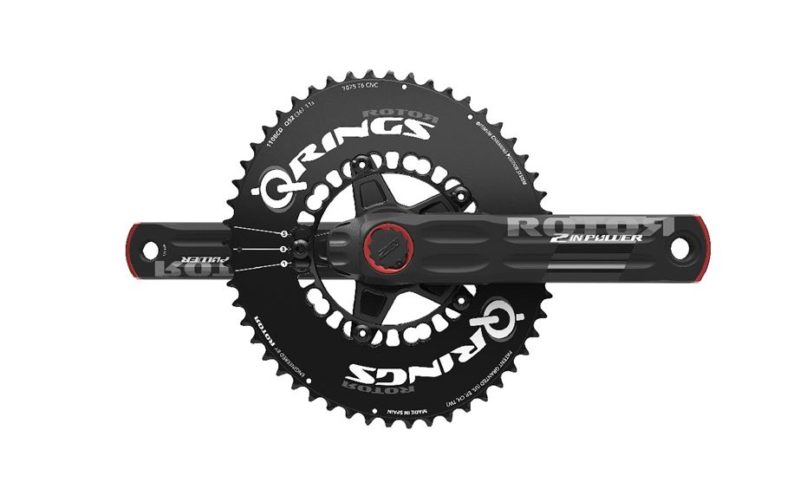 As an aside to Q-Rings, Rotor also has deep expertise in powermeters. On this front we're told to look out for the 2INPower DM Road crankset, the firm's first offering reading output from both legs. A paired smart phone app can offer the rider real-time feedback on each leg's metrics, from pedal stroke balance through to cadence, as well as detail on the distribution of power through the crank's rotation.
Aside from Velotech Services recapturing Rotor, the Stratford Upon-Avon business further distributes C-bears, Speedfil and Ceepo, as well as having the capability to custom produce clothing for bike shops in need of anything from club kit to short runs on jackets.
"These are all available with in-house design, with no MOQs on many lines and with a five-week turnaround from design to delivery. We've produced runs of 500 jerseys for Cyclists Fighting Cancer, handled Rotor's jerseys and helped out numerous bike shops. Jerseys are a good price for a four-way stretch full zip custom design and of course the shop is free to choose what they sell at," says Corder.
C-Bears, with its extensive catalogue of bottom brackets and bearings, are very much worth being on the bike shop radar too.
"The success of this brand with workshops has been very pleasing. It's a time-tested product where the shop can earn full margin every time. Lotto Soudal swears by their goods and in the vast majority of cases you'll find a unit that's purpose built for a bike. If you want happy customers and happy mechanics, this is the brand to go with," believes Corder.
Ceepo meanwhile continues to prove a brand favourite in what is admittedly a seemingly flat triathlon market. Complemented by Speedfil's hydration systems and of course Rotor, those dipping a toe into tri will find it worthwhile opening an account.
"We've a lot of knowledge to help those dealers exploring whether there's business to be had within the triathlon community. More than that, as a retailer ourselves we've a good understanding of the challenges and opportunities shops face and are generally quite flexible when it comes to stockist terms. We want people to feel comfortable doing business with us, so there's no silly charges and we'll do what we can to help your stock turn," concludes Corder.
TRAINING: HOW DO OVAL RINGS WORK?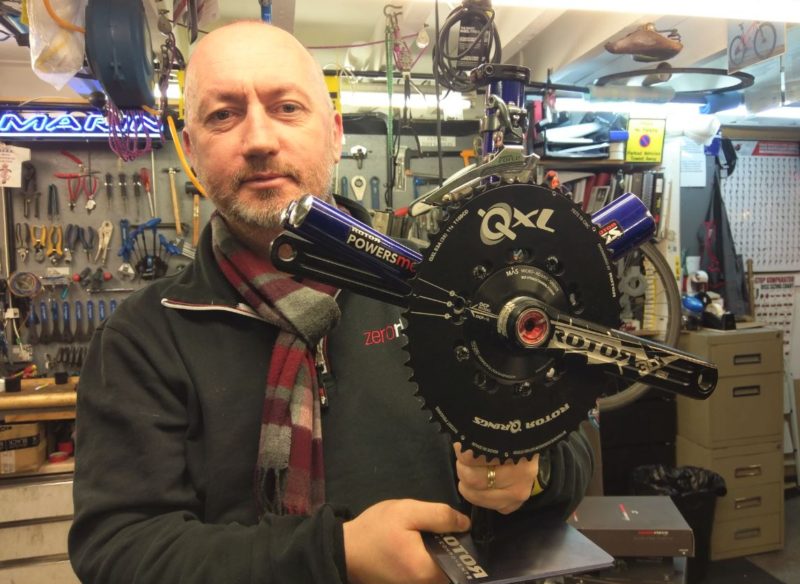 If your staff have yet to experience the oval ring then they can be forgiven for not yet grasping the science behind tech put to good use by pros like Chris Froome, among many others.
A round chainring, while commonplace, has its flaws when it comes to efficient power transfer. In fact, many users of oval rings claim that their stroke feels more "round" (read even) with an osymetric ring.
Particularly effective when climbing, the oval ring has come a long way since Shimano's early Biopace concept. When putting power through an oval ring you maximise the power output beyond the top of the stroke. In the 6 o'clock spot, for example, power delivery is flat with a round chainring. When ovalised the torque remains engaged, maximising output.
The net result of this is that the rider's legs get less work to do when the output is weakest and become more efficient otherwise. This is effectively a gear change as you ride, but an unnoticeable one that instantly evens power throughout the 360-degree stroke.
Particularly useful to long-distance and high-intensity cyclists, the legs are less fatigued by working smart and riders can therefore hold high power outputs for longer periods, as well as feel the need to change gear less.
Of course this knowledge and the ability to fine tune the positioning of the rings based on your customer's power data becomes a chargeable service for the experiences bike fitter or training planner.
Contact Velotech Services
Web: velotechservices.co.uk
Phone: 0845 475 5339