Vosper: Are A-list brands really essential to trade show survival?
Not immune from a changing global bicycle business, trade shows too have found themselves facing the need to adapt. Industry commentator and central scrutinizer Rick Vosper assesses visitor trends and big brand evacuation…
You know the story. The bike industry's biggest brands—and a lot of not-so-big brands, too—have taken their marbles and gone home, exiting trade shows on both sides of the Atlantic, first in a trickle, then in a hemorrhage.
Some industry pundits run around like headless chickens predicting imminent industry apocalypse. Trade shows have become irrelevant, they shout, and smaller brands and retailers will be crushed in the process. As far as I know no one has yet mentioned human sacrifice, dogs and cats living together or mass hysteria, but I'm sure it's only a matter of time.
As is often the case, the demise of cycling trade shows is a much more complex and nuanced reality than the sound bites convey. So let's start by taking our hands off the panic button for a minute and skipping straight on to facts, focusing on the western hemisphere's two largest events, Eurobike and Interbike.
Yes, Many Large Brands Have Left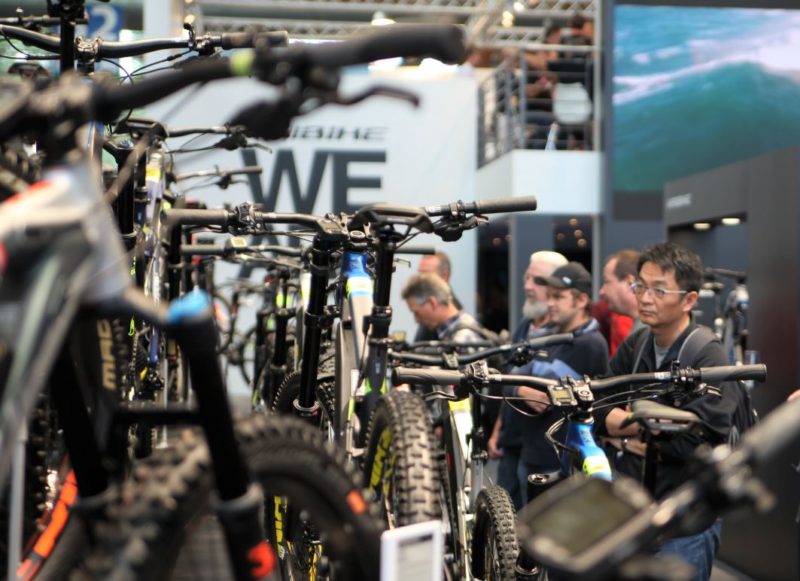 The exodus of top-tier brands began in 2005 when Trek announced it would not longer be exhibiting at Interbike in favor of its house show, Trek World in Wisconsin. It did the same with Eurobike in 2012.
Specialized has enjoyed an on-again/off-again presence at Interbike since it created its first in-house dealer event in 1999 for the 2000 model year. The company formally announced in January 2014 that aside from providing bikes for Interbike's Dirt Demo and a small space for its water bottle business, it was leaving both Eurobike and Interbike.
The list of major bike brands no longer exhibiting at Eurobike now includes Pinarello, Cube, KTM/ZEG, Hebie and the entire Derby Cycles portfolio in addition to Trek, Specialized and many others.
In terms of the list of top-tier bike brands no longer exhibiting at Interbike since 2000, it might be easier just to list the ones who still are. Except, practically speaking, there aren't any.
The Attendance Numbers May Surprise You
When we look at Eurobike's published results, we see only modest change in the number of industry attendees, even as major brands continue to head for the turnstiles. Even after Trek announced its exodus in 2012, Eurobike attendance continued climbing, to a high of almost 46,000 in 2015. It then declined to about 42,700 in 2106 and 42,600 in 2017. Since 2012, the numbers show a loss of just under 3%. Relative to peak attendance, the drop is slightly over 9%.
Hardly a mass exodus, let alone a falling-sky scenario.
Interbike is another story, and a harder one to tell. The show and its various owners (currently Emerald Expositions) haves historically played a fast-paced game of three-card monte with its attendance numbers. One year Interbike reports an increase in the number of retailers attending (almost always as a percentage); another year it's floor space; still another, and it's the number of retailer buyers. When overall industry attendance is mentioned, its often in terms of increase over previous year…with all too often, no previous year's numbers to be had.
Regarding its 2017 edition, Interbike flat-out stated in October it would not report attendance numbers for either retailers or consumers that year, because parent company Emerald Expositions became publicly traded last spring.
Consider the absurdity of this statement. It's like publicly traded Apple suddenly declining to report the number of iPhone it sells. Or Facebook hiding behind its publicly traded status to announce that henceforth it would no longer disclose the number of users it has.
"If that's Emerald's new policy, let's call it what it is: a bunch of hooey." That's Bicycle Retailer and Industry News co-founder Marc Sani, in his acerbic Grapevine column from the December issue of BR&IN (p32). (Disclaimer: The section begins by quoting me from a Facebook post, using much the same text as the previous paragraph).
Kudos to Mr. Sani for getting out his research shovel and digging his way through the hooey-pile: "So what about Interbike's final gig in Vegas?" he asks. "Emerald sells data about Interbike attendees through Global Expo, a services company. And Global pimps out that list via email all the time. For a few bucks you can buy the company's name, URL, contact, title, phone, fax, email address, company address, industry type, SIC code and social media ink from at least 11,652 Interbike attendees."
Be all that as it may, multiple calls and emails to the Interbike office asking for a response to Marc's calculations eventually yielded a very different number for 2017. Interbike now claims "about 18,000" total attendees, according to Justin Gottleib, Interbike's Director of Communications and Public Relations. No word about its publicly traded status.
Plug that 18,000 number into what we've been able to learn about Interbike attendance over time and an interesting picture begins to emerge. From its stated high of 25,536 in 2012, Interbike attendance has dropped by just over 30% in the past five years. A significant revenue hit to be sure, but nothing like the death-knell some industry mavens have predicted.
Still it's no wonder that in an interview with Bike Europe, show manager Pat Hus would only say of the 2017 Interbike, "We feared that it could have been much worse."
All of which leaves us not with the question of why tradeshow attendance is so bad, but rather why, in the absence of so many major brands, is trade show attendance still so good?
Next time in Part Two: How Trade Shows Succeed or Fail, the Rise of Regional Shows, and the Last Brand Standing.