Smart light enables users to plot danger hotspots as they ride
An innovation currently in the pipeline will enable cyclists to plot in real time a cyclist's safety concerns such as potholes, accident or close pass hotspots and dangerous junctions.
The creator, Jake Thompson has long been researching the barriers to cycling in cities, which he pinpoints to lack of quality cycling infrastructure, political will, funding and finally lack of adequate data to pinpoint priority areas for development.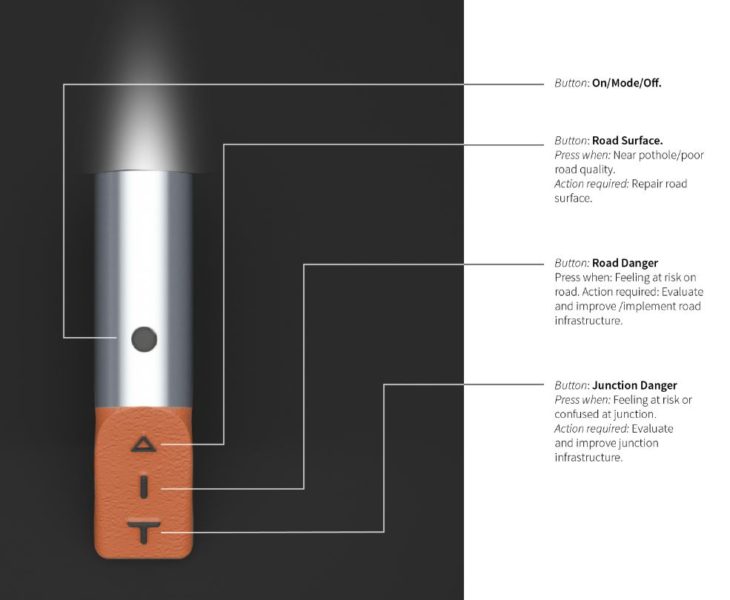 He has now created a prototype 300 lumen front light, which aside from its three illumination modes, carries a trio of buttons laid out to be within quick reach of a rider's thumbs. These controls will enable the rider to be part of a crowd-sourced effort to collect data on problem areas for cyclists.
Thompson told CI.N: "It differs from other smart devices by supplying actionable location and time specific data provided by a physical button press, which as well as outlining accident black spots, could highlight the more psychologically dangerous areas of a city/town that put off people and that might otherwise use a bicycle as a means of transport. A physical button press can be seen as a demand for change at a given location: mobile and constant, data driven petitioning.
"The most frequently highlighted locations will be the ones displayed publicly on the app and website in order to focus the data for local authorities. The data will be grouped into the three categories and users can attach comments to pins they have dropped when they finish their ride to provide further illustration to the problem they identified.
The device will be USB rechargeable and has been designed to fit to any handlebar type.
"It is my hope that this easy-to-consume data will put pressure on decision makers within local authorities to make improvements to cycling infrastructure, focus their resources and provide a further layer of data to allow all cyclists to inform their journey choices," concludes Thompson.
Thompson is now seeking feedback from potential users of the device, which remains in development alongside the partner application. To make contact drop him a mail here.