Yeti comes to market with SB100 and Beti build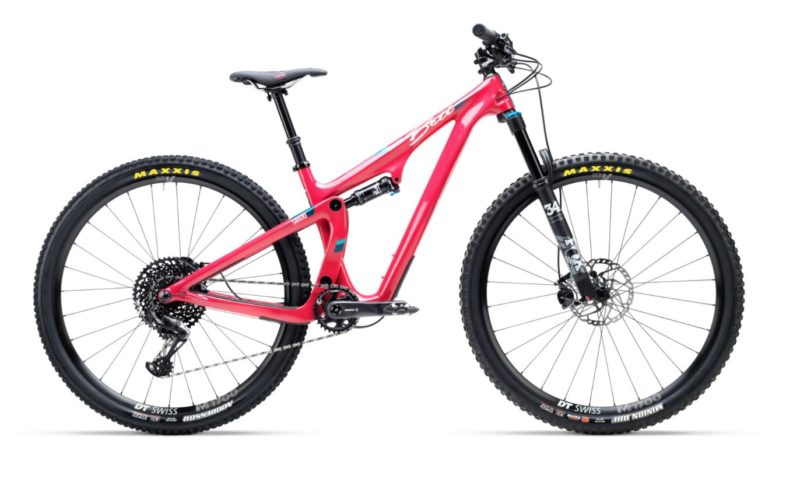 Yeti Cycles has lifted the lid on two new additions to its mountain bike portfolio in the SB100 and SB100 Beti.
Frame only kits are ready for order from Silverfish UK right away, with complete bikes landing with distributors in May
Built with trail use in mind but no less competitive as an all out XC rig, the SB100 utilises an all-new Switch Infinity mechanism redesigned, repositioned and optimised specifically for this shorter-travel twenty-nine-inch wheel bike.
Yeti's proprietary Switch Infinity suspension, known for its flexibility in tuning suspension kinematics and ride characteristics features, making it a familiar ride to those with a soft spot for the brand. A new smaller mechanism is turned 90 degrees and tucked neatly behind the seat tube. This allowed the designers to achieve an uninterrupted seat tube to accommodate longer dropper posts and a large water bottle in each frame size.
The gravity-inspired overall geometry of SB100, coupled with a steeper seat angle and spec akin to a trail bike, makes this bike difficult to categorise. As intended, the SB100 is a XC climbing machine with the perfect blend of pedaling efficiency and downhill prowess.
"We ride every day at Yeti, typically on longer travel bikes," said Yeti president, Chris Conroy. "Whoever is testing the SB100 crushes us on the climbs, which is to be expected. But what's unexpected is we can't drop them on the chunky technical downhill. It's a testament to how capable this bike is."
Both the SB100 and the SB100 Beti feature Fox's new Step-Cast 34 120 mm fork, as well as SRAM's new DUB carbon crankset across the line. The SB100 Beti features a shock tuned for lighter riders, 170 mm crankarms and a women's-specific saddle.
The SB100 will be ridden by Canadian Olympian and professional athlete, Geoff Kabush. Kabush will be riding the capable SB100 when he defends his titles at the BC Bike Race, Moab Rocks and Downieville.
"The SB100 is a short travel bike, but it's made for and excels on technical singletrack," said Kabush. "It has suspension that really works, so it is fun to challenge this bike and see how hard you can push it."
This bike is available in at Yeti dealers globally and offered in Carbon-Series with one kit option, TURQ-Series with three kits options and as a frame only. The SB100 is available in size small to extra-large and the SB100 Beti in small to large.
Silverfish UK will carry two bike options, plus framesets:
T-Series Frame: £3,299
T-Series X01 Eagle Bike: £6,999
C-Series GX Comp Bike: £5,999
T-Series Beti Frame: £3,299
T-Series Beti X01 Eagle Bike: £6,999
C-Series Beti GX Comp Bike: £5,999
SB100 Features
Switch Infinity suspension redesigned for 100mm of travel
2 carbon fibre frame material options – T-Series and C-Series
Integrated 2-bolt ISCG-05 mounts
Tapered integrated head tube (41mm/52mm)
Custom down tube protector and chain guards
Internal carbon tubes inside of frame for hassle-free cable routing
Integrated axle and derailleur hanger system
Boost rear hub spacing
Clearance for standard sized water bottle
Uninterrupted seat tube for compatibility with longer travel dropper