Brompton launches new Explore edition
Brompton has today announced the launch of its new Brompton Explore edition, which includes a 28-litre roll-top bag, enhanced spares pouch and lower ratio six speed gearing.
The concept behind the Explore, according to Brompton, was inspired by the trips of Heinz Stucke who pedalled round the world on his Brompton and a research scientist who rode a Brompton at the South Pole, as well as numerous trips by Brompton riders between Land's End and John O'Groats. Once they heard these stories, the brand's design and product teams set about creating a bike 'purpose-built for adventure'.
The new bike features a six speed groupset with reduced gearing, allowing riders to tackle more challenging terrain and deal with increased kit weight. A custom 28-litre roll-top bag is also included alongside a special edition spares pouch. Meanwhile, the M or H Type handlebar is ideal for extended time in the Brooks Cambium C17 All Weather Saddle.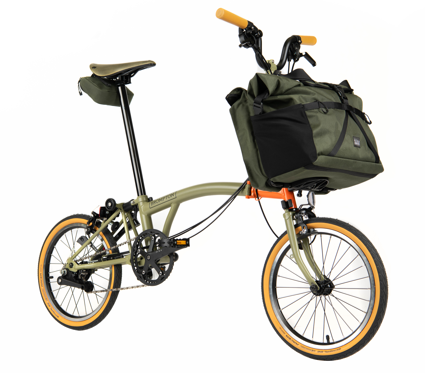 The Explore spare pouch includes:
Two Impac Inner Tubes
Four spokes (two front, two rear)
Chain Power Link
Replacement Brake Pads (front and rear)
Rim tape
3-speed gear cable
Rear brake cable
Folding marathon Racer Folding Tanwall Tyre
Brompton Toolkit with extra puncture repair patches
Brompton pump
Every rider who purchases an Explore bike will also receive a copy of Brompton's new Explore book which was created with micro-adventurer Alastair Humphreys and features the brand's City Escape Guides.
Joel Natale, Brompton's Head of Product, said: "Although the Brompton is most well recognised in the city, our global community has always used the bike to take trips further afield. The Brompton Explore provides unparalleled freedom to those with a sense of adventure, as it's as simple as packing the bag and jumping on the nearest bus, train or plane to escape the city for a long weekend or perhaps just taking a more scenic route home from work."
The Brompton Explore retails from £1,525, more information can be found at www.brompton.com.