Cargo bike based DJ is Pied Piper of new cycling movement
Words and photos by Chris Keller-Jackson, photographer to the cycling industry at Crank Photo.
You'd be forgiven for not knowing who Dom Whiting is. Maybe you don't frequent YouTube, don't like Drum & Bass music, don't like seeing lots of cyclists or are simply not 'down with the kids'.  Dom is (for the uninitiated) a DJ who started channelling his mixing skills onto a bike, a Christiana Cargo Trike to be specific, his setup includes a dual Pioneer DJ desk, onboard power and all the gubbins necessary to 'live' present a set of DnB or Techno music, plus 'live stream' and record it to his YouTube channel if you can't be there is person.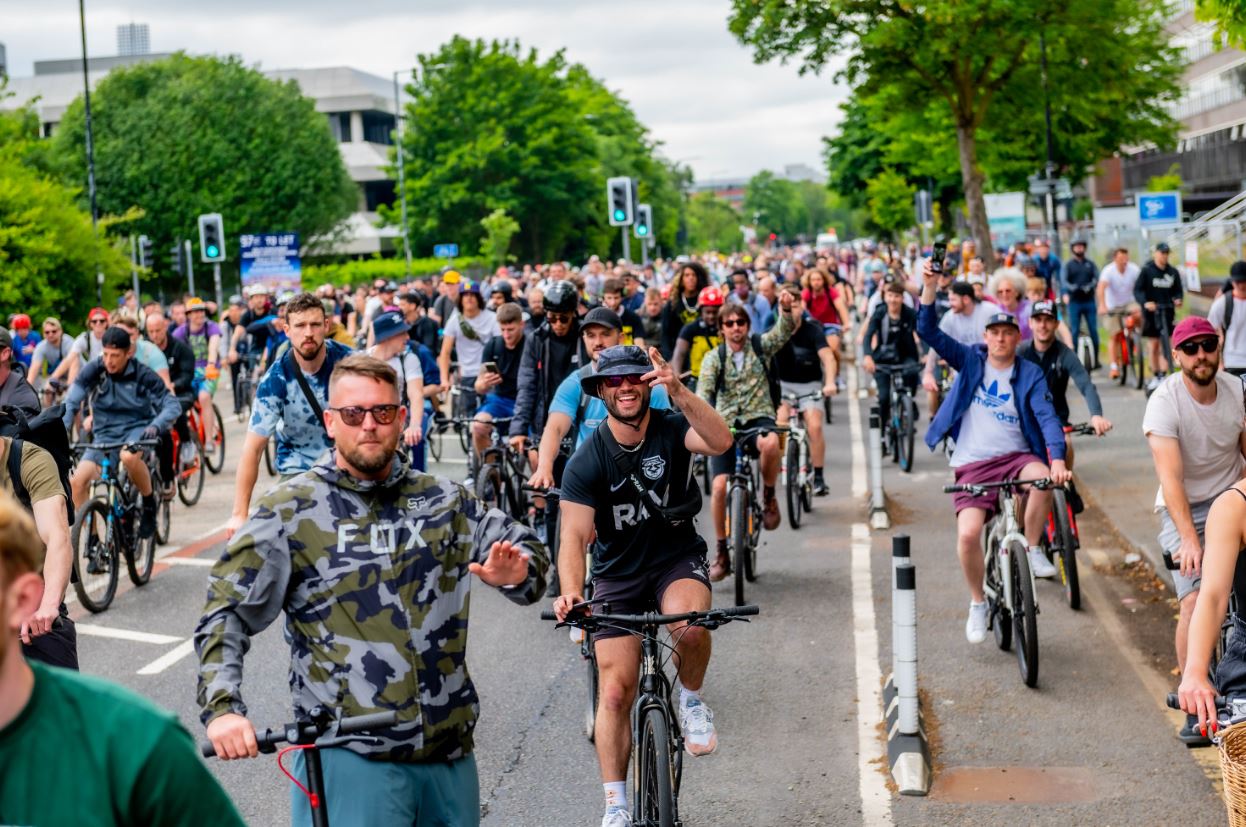 Until this weekend he had mainly concentrated on the South of England, with brief skirmishes into Wales, with Brighton, Marlow, Bristol and London amongst his tours. Along the way he has collected many fans (he currently sits at 91 thousand subscribers) with Bristol's month old epic having 850k impressions and his London 'Hyde Park Special' with over 1M views. Impressive stats for someone who started his 'DJ on a bike' life less than a year ago.
Not only does he pick up online followers, his livestream visits to towns and cities also pick up actual followers. Like a Pied Piper, his entourage has steadily grown, from a few bike riders, runners, skaters and bladers who tag along to what happened this weekend.
Manchester had been voted as the next destination (nice to have a democracy) and Sunday 27th June at 2PM was the meeting point. Dom often starts out with some followers and gains more as he gets into the musical groove, at 1:30 there were more than 50, by 2PM there were more than 150, probably 200 all amassed around the DJ and his cargo bike.
Rumour has it that he had had dinner the night before with Mayor of Manchester, Andy Burnham, who fully endorsed the idea, urban disruption, road blocking and transport chaos included. (Edit: we can confirm Dom definitely met with City Mayor of Salford, Paul Dennet and me Cllr Stephen Coen)
Dom seemed overwhelmed by the numbers of people who turned up from as far away as Stafford, St Anne's and Hebden Bridge, some of the few I spoke to. He was sponsored and his bike liveried with Beavertown's iconic beer can logos, a smart move by the Tottenham based brewery.
By the time the rolling road block had reached the head of Deansgate there were well over 250 riders, at which point it starts to become difficult to count or estimate. The good natured crowd, onlookers and car drivers all seemed to be enjoying the diversion, car horns in time with the music, lots of 'Oi Oi's' and lots of very different modes of transport, fixies, road bikes, shoppers, scooters, roller skates, skateboards, mountain bikes and cargo bikes, the atmosphere was electric and the weather was kind.
The very circuitous route took the party past Old Trafford, (both the football and the cricket grounds) then into central Manchester, culminating in a more static finale in Piccadilly Gardens, where the crowd had appreciably grown.
Some individuals just get the zeitgeist (I promised I'd not use that word) of culture, and this mix of music, accessibility and cycling is an ever-growing success, even being picked up by the BBC as part of their Euro's 2020 (2021?) TV idents.
We'll get a full interview with Dom, and his aspirations for a future publication. Suffice to say that Dom was blown away and wanted to thank everyone who came out, Manchester was a hit, the biggest yet.
Dom announces his next location ahead of the weekend on his social media channels. If you want to join the new cycling movement, head to his Twitter.