Cycling UK announce winners of Cyclist Café of the Year awards 2020
National cycling charity Cycling UK has announced the winners of the 2020 Cyclist Café of the Year awards.
A shortlist was drawn up from more than 2,000 nominations by cyclists across the UK, and one winner from each of the four nations, along with a Lifetime Achievement award, was selected by a panel of judges including Guardian food columnist Felicity Cloake.
Announcing the winners, Felicity said: "I can think of no other sport in which coffee and cake plays such a central role – café stops are at least half the reason I love cycling, and a warm welcome makes such a difference. In what has been an unbelievably tricky year for the hospitality industry, I'd like to congratulate all of those shortlisted on continuing to go the extra mile for their two-wheeled customers, whether that's with maps, mechanical support, or just a great macchiato. Special congratulations to our winners who fought off some very stiff competition: on behalf of all of us who turn up muddy, tired and sometimes in stupid outfits, thank you – you're the people who make a good ride into a great one."
The full list of winners were:
Hannah Duncan, Cycling UK, said: "While many of us have been able to continue cycling through the pandemic, the importance of a good café was really brought home to us when they were forced to close. The public voted in record numbers this year to show their support for the cafés that have battled through to carry on offering fuel, support and a friendly welcome."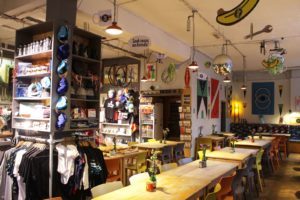 Sam Humpheson, co-owner of Look mum no hands!, said: "We're pleased and surprised to receive this award, there has not been much good news in 2020 so it's a great way to end the year.
"We share Cycling UK's belief that cycling is for all, and we do our best to make everybody feel welcome. In normal times we host so many different events and gatherings and this is what we've really missed this year. Hopefully we can all get some kind or normality back in 2021.
"The pandemic has been really hard for everyone in hospitality. The cafe is closed right now, and we have been takeaway-only for much of the year. However, our mechanics have been as busy as ever fixing bicycles and it's been great to see people getting on their bikes in response to the situation. Bikes are (always) part of the solution!"