Dexshell lowers prices and ups spec ahead of key sales season
Dexshell has upped its appeal to both dealer accounts and consumers alike, achieving "generally reduced" price points on key lines.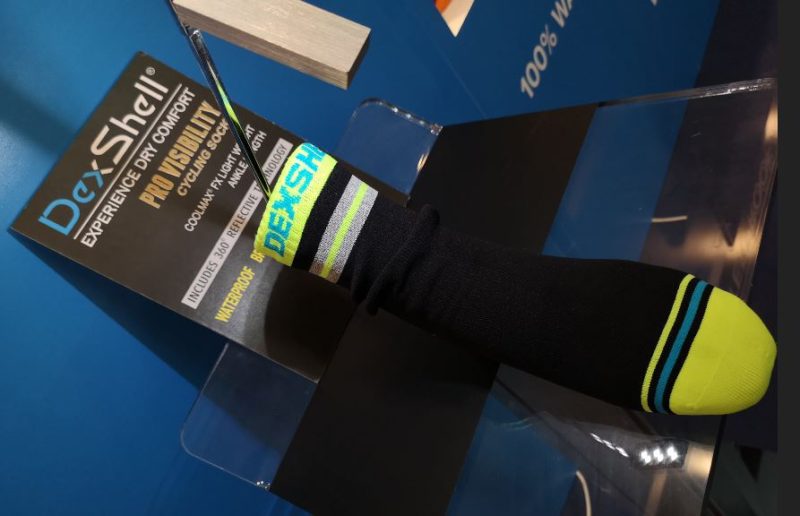 Helped by movements in the Dollar price the business has been able to enhance its competitive edge just as it enters its peak selling season.
Speaking at Eurobike, Dexshell UK General Manager Chris Dodd (pictured), told CI.N: "Our pricepoints are generally coming down, which I think makes us a rather compelling choice for the bike shop stockist as we enter a key part of the year for the kind of product we specialise in. The consumer can benefit from excellent value for money this year."
In a bid to enhance its market share, the firm has built on its product portfolio, debuting its first reflective sock product at the Friedrichshafen show. Selling for £25 a pair, the four-way stretch ankle length sock offers 360-degree visibility, a Coolmax liner to aid temperature regulation, as well as an upgraded outer, lending to the slimline waterproofing and windproofing offered by the garment. What's more, customers will be able to wash and tumble dry this sock.
A new point of sale unit is also available to stockists that will cast light on the sock to show off its reflective properties.
For shops filling up a point of sale stand the unit is delivered free of charge.
"We're adding a double sided unit shortly," adds Dodd on the merchandising development. "This will house TV screens showing the videos we're creating alongside athletes like trials star Sam Oliver, as well as descriptive cards that can be switched around depending on the shop's stock choices."
On developing its eco-credentials, as many in the apparel business are, Dodd also mentioned an improvement on the bags that stock arrives in to a recyclable sleeve.
For stock enquiries you can contact Dodd here, or if you're in the south of the UK contact sales rep Phill Cook for a demo.