Evoc turns to the airbag for commuter protection backpack
Evoc has debuted a new protective backpack concept that, alongside a built in rigid back protector, also hosts a robust in-built airbag that will deploy when sensors detect a crash.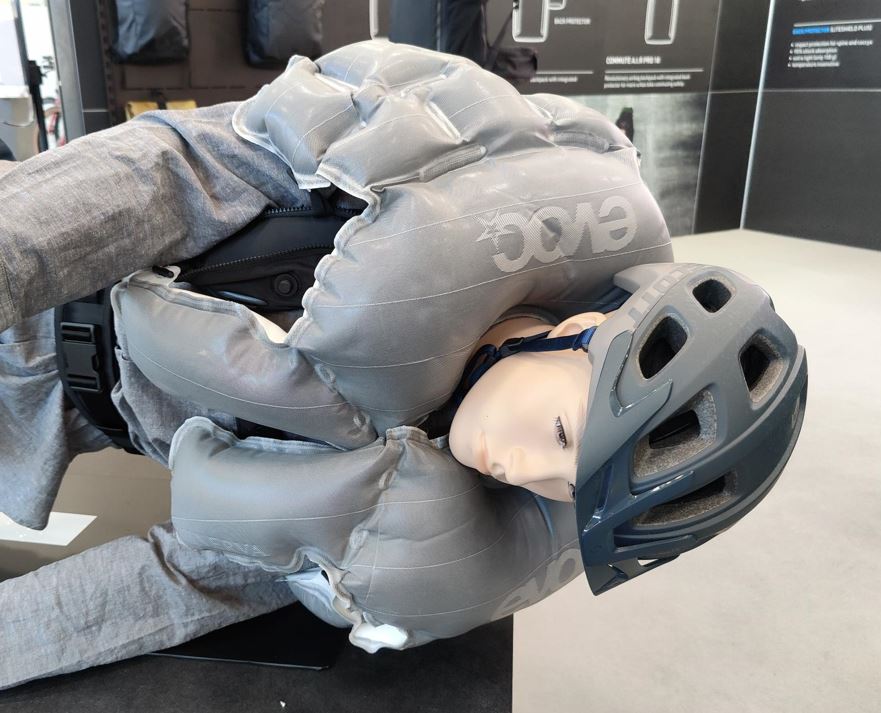 Able to deploy in milliseconds the Commute A.I.R. Pro 18 joins a limited rank of protective gear firms relying on air to cushion a blow. Most notably the Hövding airbag has made its impression on the market with its single use 'helmet' concept.
Evoc's take relies on an integrated and replaceable gas cannister that inflates the cushion quickly (0.2 seconds), surrounding the collar bones, shoulders and chest in an instant. It is designed to be worn with a helmet for a complete protection. The system deflates steadily in the seconds after impact, preserving the full pressure for the instant where the rider lurches over the bars.
The airbag is built tough and abrasion resistant in order to resist the initial impact. Meanwhile, the Liteshield Plus back protector adds spine and coccyx support, said to offer up 95% shock absorption as the rider makes contact with the ground.
Aside from the safety features a hip belt offers welcome relief in the event the back is loaded up with gear, supporting the load low down on the rider's body. Cargo straps, laptop sleeves and various other compartments offer up protection for glasses, phones and more. Padded and breathable strapping gives the rider comfort, while the contact point with the rider's back is channelled and padded for airflow.
The backpack comes as part of a range of three new packs under the Evoc 'Commute' banner, topping a range that is designed to be versatile and weatherproofed on the bike thanks to the recycled polyester fabric used.
Evoc products are carried in the UK by ZyroFisher.