Pashley teams Morgan Motor Company for new hand crafted bike line
Pashley Cycles has partnered with fellow British manufacturer the Morgan Motor Company to debut two concept bicycles.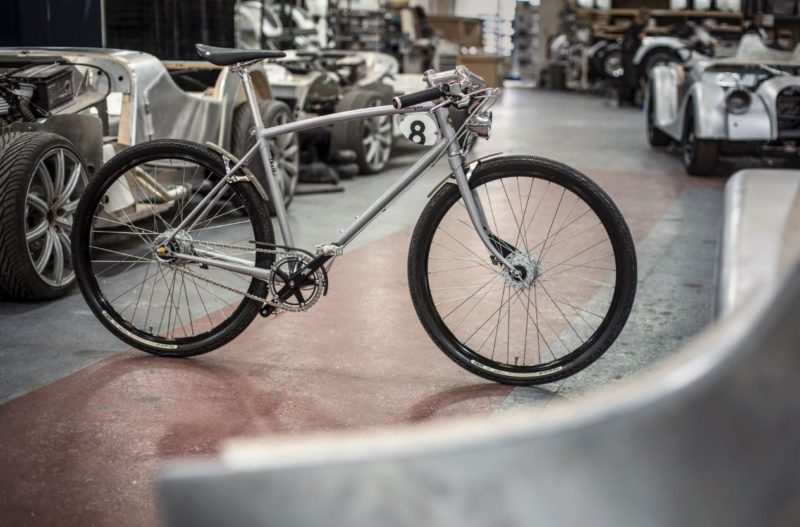 Founded in 1909, Morgan Motor Company are the longest established independently owned British motor manufacturer, known, like Pashley, for its hand crafted vehicles.
Adrian Williams, Managing Director, Pashley Cycles said of the link: "People often refer to Pashley as 'the Morgan of the bicycle world' and so I am delighted that there is now a close collaboration between our two companies, manifested in the new Pashley-Morgan range of bicycles. Our businesses share many similarities including our unrivalled heritage, design innovation and British craftsmanship and this is evidenced in the beautiful bicycles we have produced. These bicycles will appeal to Morgan car owners and discerning cyclists alike."
Launching in Summer 2018, the Pashley-Morgan range will include two new bikes, both of which will be produced at Pashley's Stratford-upon-Avon factory. The bicycles have a stylish hand-crafted frame which features a new curved top tube design. It is fillet brazed using Reynolds 631 tubing and incorporates a custom formed top tube, frame mounted race plate, distinctive S-bend seat stays and unique track ends with etched stainless faces.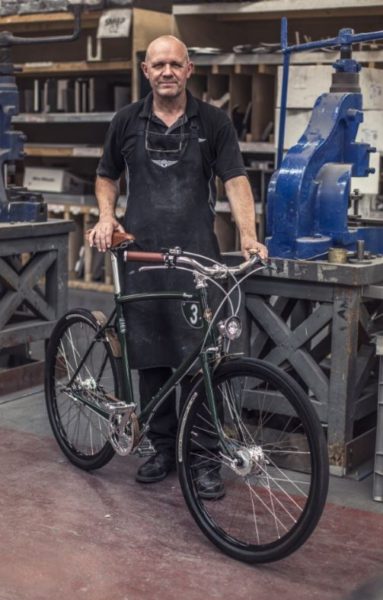 The Morgan 8 is finished in light pearl grey and features subtle livery inspired by Morgan's racing heritage. Hand stitched black leather grips are complimented by Morgan aluminium end caps (based on a dashboard control). Matching mud and chainguards are hand crafted in-house at Morgan's Malvern Link factory using black ash.
The Pashley-Morgan 8 features an 8 speed Shimano Nexus internal geared hub and a Shimano Nexus dynamo front hub paired to a domed headlamp, as well as a Brooks Black Cambium C15 vulcanised rubber saddle with organic cotton surface. It is expected to retail in the U.K. at £1,595 (RRP)
Coming in slightly cheaper, the Pashley-Morgan 3 is finished in British Racing Green and livery inspired by Morgan's racing heritage. It also features hand-stitched honey leather grips and Morgan aluminium end caps, a Brooks B17 saddle with walnut laminated wood veneer short mudguards and matching chainguard, both hand made in the Morgan wood shop.
The Pashley-Morgan 3 features a Sturmey Archer 3 Speed internal geared hub and a Sturmey Archer dynamo front hub paired to a classic domed style headlamp and is expected to retail in the U.K. at £1,495 (RRP).
The range will be available to purchase through the Morgan Motor Company directly, Morgan's global network of Dealerships and selected Pashley Cycles outlets worldwide. The bikes will go on sale later this Summer following their trade debut earlier this month at the Eurobike show.
Jonathan Wells, Head of Design, Morgan Motor Company added: "The craftsmen and women at Morgan work passionately to duly reflect the brand qualities within every product we release. When exploring new product avenues and markets, the greatest way to accomplish this, with brand integrity maintained, is to collaborate with like-minded craftspeople across industries. It made absolute sense to embark on a collaborative project with Pashley.
"Our approach to developing any new product starts with a blank sheet of paper. It has been a fascinating process working alongside, and being influenced by, Pashley's designers and craftsmen whilst evolving the designs. This unified approach, I believe, is apparent in the final offerings. I am particularly fond of the swept top tube. This feature is not only a first for Pashley, its intention is to mirror the gentle sloping shoulder line of current and future Morgan cars."