Fibrax: Why cheap components can be among the most important for an OEM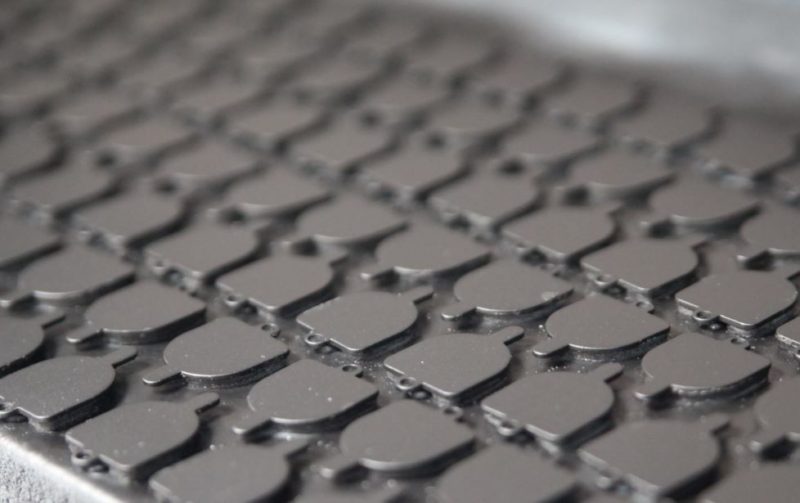 Fibrax may be one of the UK industry's old dogs – indeed it to this day maintains the industry's longest standing sponsorship deal – but that's not to say the Wrexham manufacturer hasn't any new tricks to bring to the table at a time when domestic producers are perhaps enjoying life more than the trade's importers. CI.N talks to Ellis Blackman about some anticipated expansion…
Like countless others in the cycling industry Fibrax suffered greatly during the mass exodus of UK cycle manufacturing to the far east. Having started life as a specialist in cycling back in 1902, during its heyday the company boasted an £8 million turnover on bicycle components, most notably braking goods.
The Fibrax cycling division of today is dwarfed by an automotive business turning out OEM parts for the likes of Volvo, Land Rover and Ford, all of whom choose the Wrexham manufacturer for its more than 100 year history in producing custom spec products, many of which are certified to medical and automotive standards.
Factoring in this automotive business the company as a whole is growing at an alarming rate. At the present time a premises is sought to allow the business to grow four fold, further allowing the cycling division to expand. Already running 365 days a year and for 24 hours of the day, the demand for the parts maker's expertise is in part down to its own innovations and abilities, but also on the cycling front down to a number of long held patents. The brand was, after all, the first to make rim brake pads.
Today the cycling arm is worth £500,000 a year, but is once again in the ascendancy having bolstered its cycling division back to eight dedicated cycling staff, backed up by the company's 250 person strong manufacturing workforce.
"We're actually something of a rarity in the cycling industry in that our manufacturing is all done by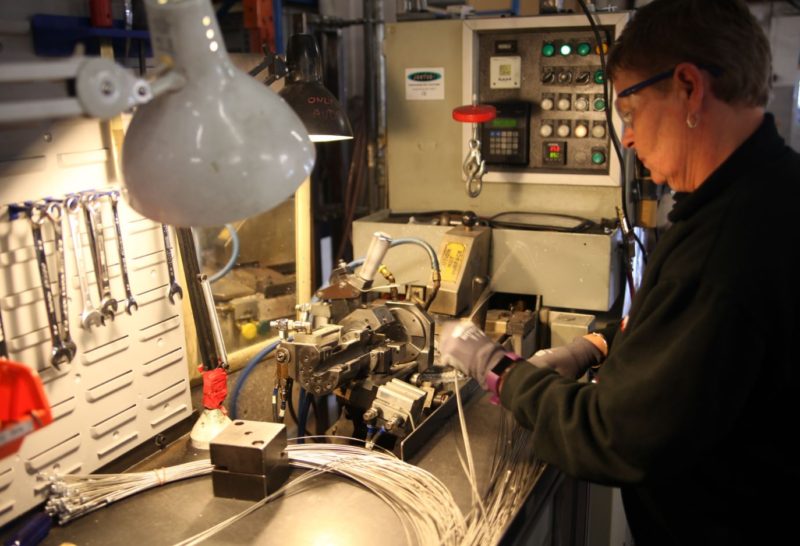 women," says Ellis Blackman, Fibrax's cycle sales manager. "It's an exciting time for Fibrax's cycling arm in that we're now at a point where the final link in the chain – a new website at Fibrax.com – has now launched. On the Manufacturing and shipping side we've been ready for greater numbers for some time and this means that along with launching a plethora of new product to the aftermarket, we're also able to press ahead with an OEM drive."
At present, Fibrax works with four European brands, among others and will now be filling gaps in its portfolio to satisfy those brands needing a complete disc brake package, for example. To list just some of the in-house testing prototypes go through, Fibrax goods can be expected to undergo strength, friction, torque, temperature, humidity and acoustics tests, depending on the usage. What's more, the firm is inviting other industry labels to book in time in its labs for any testing or video needs they may have.
"500 kilos or 5,000 Newtons of force can be expected to be put through all braking gear," says Blackman. "We exceed those levels by far, you could easily pull a car along with our gear cables. We're also, as far as I can see, the only ones testing down to -60 degrees, meaning you'll never lose braking functionality with our pads. We're competitive on performance throughout. When it comes to die drawn cables, ours do start offering 5% lower performance than Shimano, but our tests show that theirs degrade quickly by around 15%, while ours improve by 20% thanks to our methods of drawing the cables through oil. As they bed in they become the best."
On the aftermarket side, the firm is to reintroduce an old favourite – the Sealed Cable Kit – produced at the time for Gore and costing £65. When this re-enters the market Fibrax will price the kit at just £25.99, we were told. Surprising Blackman, it's an idea he didn't expect to gain rapid traction that has taken off in recent times. Now available in OEM packs of 1,000 as well as aftermarket packets, Fibrax's frame protection spirals are now selling at a rate of 100,000 a month, not including OEM business.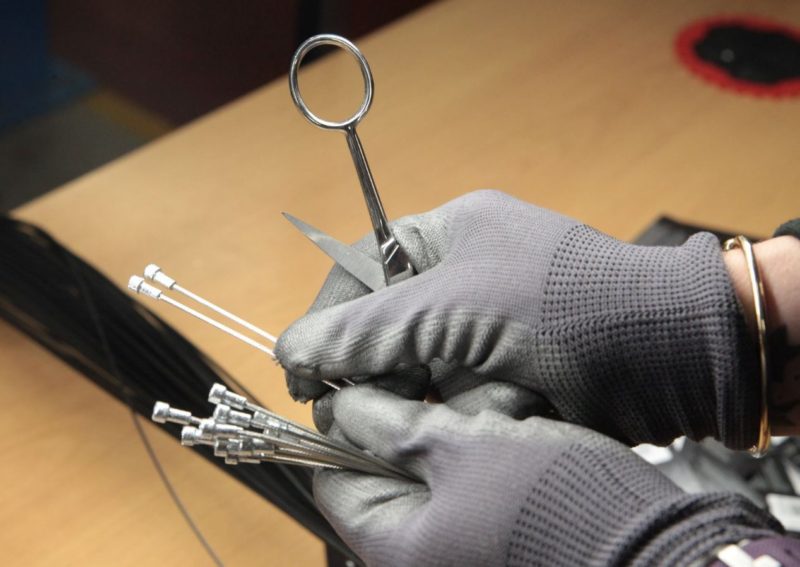 "We've been asked before now why our pads can look a little rough around the edges. The answer, quite simply is that an aesthetic finish would require up to five times the tooling replacement over an extended period of time. The performance is very much there, but we are not a brand to overcharge the consumer and that's achieved by carefully analysing how cost effectively we can produce. Our road pads could retail for £40, but we want to be inclusive to all," explains Blackman. "Our pads are not cookie cut like many brand's are and are compression molded, allowing us to change the compounds on the fly to achieve the desired performance. Our method produces a much denser brake pad than our competition, which ultimately lasts longer. In the wet, on the road, nobody comes close to us. In the dry, I credit only SwissStop as having an offering comparable on performance. When it comes to disc pads we average around 2.2 times the longevity of Shimano's typical pads."
Aside from extending its OEM partnerships, Fibrax also has an eye for exports. Currently shipped to 15 countries, the firm has holes to fill in Europe and a curiosity for the U.S. market.
"Thankfully, Brexit hasn't really touched us as a UK manufacturer, so I think our pricing and performance makes the brand very attractive. We do have Polish and Turkish factories also producing, so we're in good shape," adds Blackman. "There's a big Union Jack on the packaging, something we've found to be a familiar and eye-catching image for customers. Including it on the packaging does seem to have increased sales. From Summer and into Winter we will have new branding and fresh packaging, as well as a bunch of promotional content all shot here in the lab to help drive in store sales."
When it comes to dealer ordering the firm has a long list of wholesalers, including The Cycle Division, Ison, Reece Cycles, McAdams and BPS. Dealers are also able to order online with Fibrax with no minimum orders and in general, same day dispatch.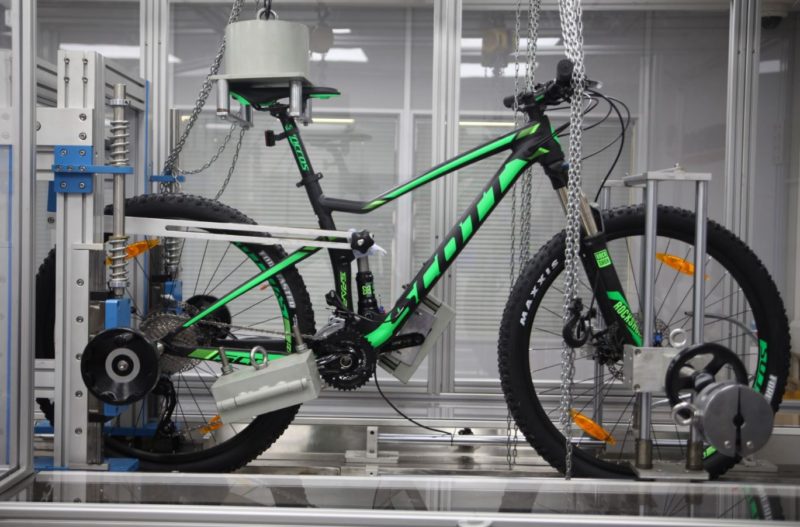 Joining the product portfolio later this year will be a number of new specialist workshop tools, including a new piston press, pad holder, a tyre lever with a piston press profiled in, a new cable oiler, disc brake cleaner developed alongside Fenwicks, workshop reels of various cabling, cable cutters and much more.
Advocating switching to Fibrax Cables, Blackman again points to attention to detail in the manufacturing process. Fibrax's cables outers are cut 100% flush, he says, meaning ferules won't experience any play once installed and subsequently loss of braking power.
"The little things add up," concludes Blackman. "A 50 pence component on a bike can be as important as a much more expensive component, in particular when it comes to braking, so it's worth investing in something tried and tested."
Find out more and place orders at Fibrax.com