Royal Dutch Gazelle on producing 250,000 bikes a year & why innovation isn't the preserve of high-end road & MTB brands
"Stay in the saddle for as many miles as possible"
125 years, 15 million bikes (and counting) and arguably the quintessential Dutch bike range. With its rich history and drive for innovation, Royal Dutch Gazelle plans to grow its market share in the UK…
In a market that has traditionally been dominated by the sports end of cycling, the UK has lately been making steady strides into utility cycling and all its forms. We may severely lag behind the likes of Germany and the Netherlands, but e-bikes, commuter cycles and other utility bicycles are growing and remain a huge source of potential for the trade. Who better to help develop it in the UK market than one of the best known 'Dutch bike' brands in the business?
Royal Dutch Gazelle has been making bicycles for well over a century – 250,000 bikes leave its factory in Dieren every year. Now the firm is looking to grow in the UK, with a rich collection of bikes honed over the century-plus, including the likes of the new iF Design Award winner Grenoble C7+ HMB Elite, the Miss Grace HMB and CityZen HMB, among many others.
CIN speaks with Marketing Communication Manager for Export, Rineke Berkelder, to fill us in on the Gazelle story, why innovation isn't the preserve of the sports cycling markets and its mission to help motivate people to get (and stay) in the saddle for as many miles as possible…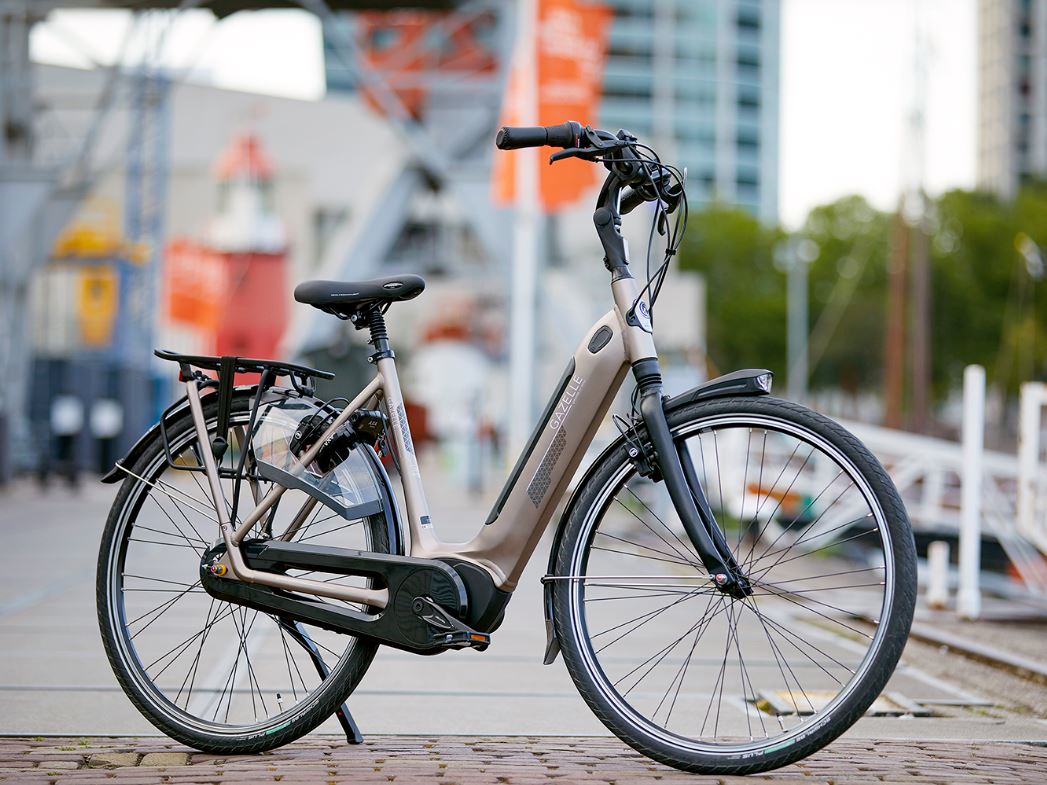 Gazelle has a long history in the bicycle industry. Can you fill us in and has production always been in the Netherlands?
Over the course of 125 years, Gazelle has grown from a small two-man business selling three bicycles into the biggest Dutch bicycle brand selling over 250,000 bicycles a year. And all that time, we've been asking ourselves
what it is that a cyclist needs. This drive has led to the 15 millionth bike rolling off the production line in Dieren in 2018.
Gazelle has played a prominent role in the rise of the well-known Dutch bike culture, and our long years of experience can be seen in the current Gazelle collection, where we blend a rich heritage alongside contemporary innovations. Our bikes are still assembled in the original Gazelle factory in Dieren. Gazelle bikes are built to last with minimal maintenance, featuring a smooth ride, smart design and robust quality.
Every 30 seconds a Gazelle bike is put on a monorail that leads directly to the delivery truck.
The factory includes a 1.6km paint shop line where four layers of paint are applied to each component over six hours. Over 1 million components and frames are painted yearly. Bicycle forks are assembled by hand, with 21 parts making up each fork.
Over half a million wheels are made annually and chains are machine punched to length. We have three assembly lines of 52 metres and 25 trained craftsmen per line. Every 90 seconds a bike is assembled and we have strict internal quality audits at the end of the lines.
In the UK there may be a perception of what Gazelle's range includes, so can you give us a brief rundown of your key ranges?
We produce iconic Dutch models, making use of many years of research into our users' experiences, such as the typical Dutch sitting position. We translate these results into design innovations such as the integrated battery and motor built into the frame, which provide a perfect streamlined form. We also add other innovations to our bikes, such as connectivity, which enables us to identify the location of a bike when it is stolen. This has given
the Gazelle e-bike a totally contemporary and innovative character. The use of cool, fresh styling and fashionable colours ensures that our bikes will stand out, so they'll appeal to the target group's taste. Naturally, we'll
supply these bikes in the quality everyone has come to expect from Gazelle.
Is R&D and innovation important for Gazelle? There may be a perception that innovation usually comes from the high-end sport side of the cycle market…
Gazelle combines 125 years of Dutch cycling heritage with today's global innovations. Always challenging the status quo and making quality top priority has made Gazelle the brand what it is today; with continuous research and ongoing innovation Gazelle will be the number one premium bike brand for decades to come.
We are a cyclists' brand, carefully picking and developing the best proven innovations around, to offer cyclists the best cycling experience. Innovation at Gazelle is a mentality and we always put cyclists first. We are continuously on the lookout for relevant trends. We ask, "What do cyclists need, want or have to withstand?". We will bring innovations that improve commuting, keep you connected to the world, support when necessary, make you feel safe and cared for.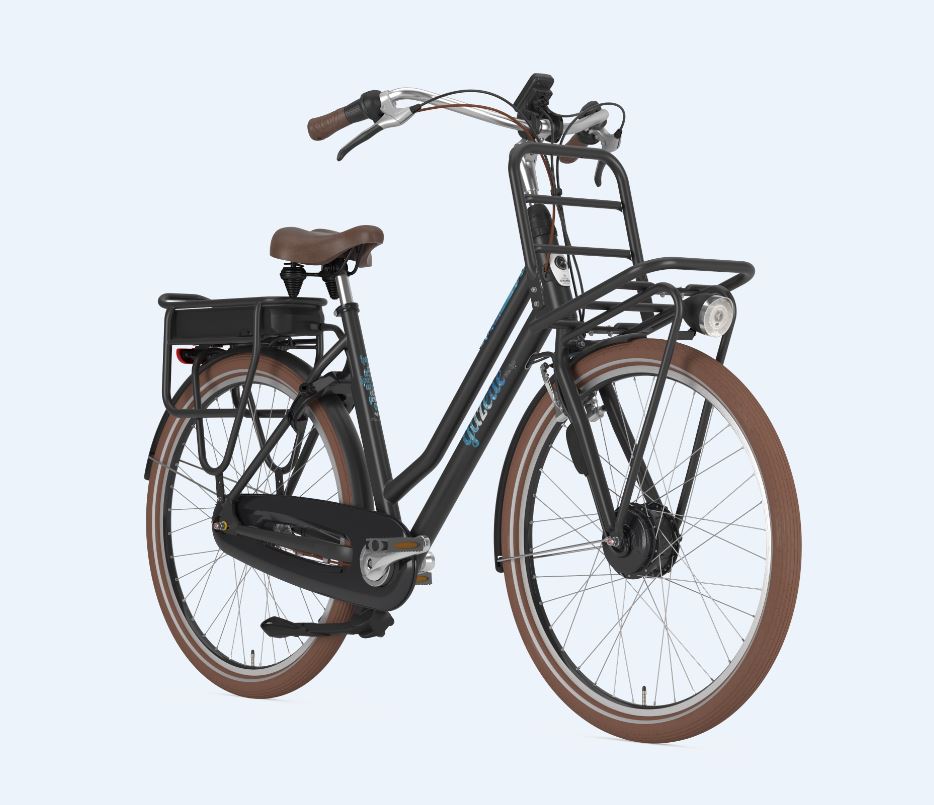 The UK has traditionally focused on the sport cycling market but urban cycling, utility bikes and e-bikes are becoming more popular. Is this an area that Gazelle can help grow in the UK?
When it comes to the evolution of the Dutch bike, we at Royal Dutch Gazelle have not only been along for the ride, we led the way! Gazelle has played a significant role in the famous Dutch Cycling revolution. At Gazelle we promote 'Ride like the Dutch'. This is a new way to ride your bicycle: in an upright, comfortable position with no back strain. Ride like the Dutch also represents an open attitude towards the world around you and the people in it – so it's not only about comfort, it's about attitude too. And who else can show you how to Ride like the Dutch than the premium Dutch bicycle brand?
Gazelle also seems to have a broad appeal across gender and age groups – is that fair to say? Do you see Gazelle as a good option for bike shops looking to grow the demographics of their customer base?
Yes and yes, a Gazelle is not specially made for a target group that is segmented by demographics but merely by values and motivation to cycle. With a Gazelle everyone can cycle in comfort and experience freedom.
Discover the world around you, feel like a kid on your way to work or ride like you have all the time in the world. Gazelle offers the ultimate seating position, ensuring you will feel comfortable throughout the ride and will arrive healthy and energetic.
Assembled with only high quality components and tested to the limit, a Gazelle rides smoothly; making your bike ride more fun. The durable design of Gazelle offers freedom ensuring you can discover new places without a worry.
Can you tell us a bit about how you're approaching the UK cycle market? Will you have reps on the road? What kind of support will there be for UK dealers?
We have a Northern account manager Richard Lane, and we are just in the process of replacing the vacant area of Southern UK – we'll be making an announcement soon. We are growing our footprint and are looking for
strategic partners, so interested parties should contact us or go to our website for more information.
I noticed you have a Gazelle academy: Is that aimed at dealers?
The Gazelle Academy is an online elearning tool for all professionals who work with Gazelle bikes. Gazelle has the ambition to become the number one premium city comfort e-bike brand in the world, and we believe our dealers play a significant role in achieving that mission. Those that share our vision will have to opportunity to grow their business as the Gazelle brand grows. With this tool we aim to equip all our dealers with a good understanding of our brand and extensive knowledge of our products.
And how do you work with partners? What are the benefits of working with Gazelle?
We're a trustworthy brand with 125 years of experience and knowledge of product so there are no learning curves! We are fast growing, we believe in localised activates, sales and service are handled by our experienced international service centre and we have marketing support, branded stores, a b2b portal and the Academy.
Any final thoughts for our readers?
We at Gazelle believe that: 'Your bicycle contributes to a better world, making it a cleaner, healthier and nicer place to live. By clocking up more miles on your bicycle, you make the world around you a better, more
sustainable place.'
Our mission is to motivate people to cover as many miles as possible in the saddle. We therefore offer products and services that are perfectly aligned with people's needs and wishes. We excel when it comes to quality and service and are constantly innovating to make using your bicycle an even more attractive option – so you can keep on cycling.