Finish Line, Wheels Manufacturing, MilKit, Respro and Madison reveal iceBike* product line-ups
Even more iceBike* exhibitors have revealed information about what new products they are bringing to the show later this month at Arena:MK.
New products from Finish Line, Wheels Manufacturing, MilKit, Respro and Madison will feed in to the 250 new products making iceBike* debuts this year.
Finish Line
Bike maintenance expert Finish Line is used by some of the globe's biggest cycling teams, stealing the show at last year's iceBike* with a new sealant. To coincide with the rise of disc brakes, Finish Line is launching a new disc brake cleaner that removes dirt and residue off rotors and pads, cleans them for better braking power and helps to prevent brake squeal. Also visit the stand to speak to the guys about the award-winning Finish Line sealant.
Wheels Manufacturing
Wheels manufacturing have expanded their range to almost 400 hanger configurations including the new DROPOUT-E Extended hanger. Their Bottom Bracket adaptor range now includes BB30A and PF30A configurations which are all precision machined in the USA. The brands new range of classy red bearing pressed and Bottom Bracket tools will also be on display at the show.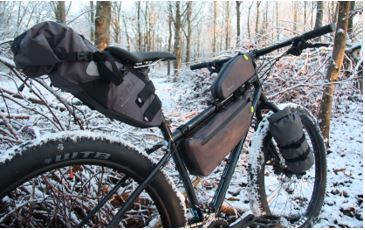 Madison Bags
The Caribou bike-packing range from Madison is being expanded for summer 2019, and will now be offering the frame bags in a fully taped, waterproof option. There is also the introduction of a top tube bag for essentials, along with a fork cage and cylinder roll bag to complement it. The entire range will be on display on the Madison Clothing stand.
Respro
Respro will be showcasing the new Techno Plus mask; the newest addition to the sports range. It has a number of innovations to improve fit and comfort for as many face types as possible while a special filter prevents the inhaling of a broad spectrum of pollutants commonly found in major cities across the globe.
MilKit
This year MilKit is back with a re-designed booster for running tubeless. Be sure to head to the MilKit stand to find out what they have been up to in the last 12 months to get the re-designed booster ready.
With just over two weeks to go until the show, there is still more news and offers to be announced. Visitors are encouraged to register now at www.icebike.co.uk.