Fulcrum releases the new Racing 3 DB – their most versatile wheelset to date
Fulcrum's newest member of its Racing family is an extension of its already wide selection of disc brake specific wheelsets. The new 1660g Fulcrum Racing 3 DB is perhaps their most versatile wheelset to date.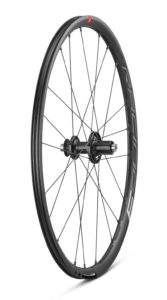 While the Fulcrum Racing 3 DB can be used for pure road racing, it is also suitable for road endurance and gravel. Fulcrum say performance does not always require rigidity and a more comfortable and compliant wheelset translates to more comfortable riding. The Racing 3 DB's construction allows it to be 25% more comfortable than the pure road racing specific Racing Zero for example.
The 19mm rim design made from premium T6 grade aluminium features larger channel of the 2 Way Fit ™ rim, which allows for increased tire dimensions. In addition this provides  the possibility of running either clincher or tubeless tires (allowing for lower pressures), accepting tires ranging from 23mm all the way to 42mm.
Fulcrum's Two to One ™ spoke ratio ensures that what is essentially an asymmetric structures perform in a symmetric and therefore efficient manner. Double the spokes located on the side of highest torque application effectively functions as a brace against torsion and allows power transfer to translate into forward movement.
To ensure that none of its performance attributes are wasted via friction the Racing 3 DB incorporates the micro-adjustment preload system on its cup and cone bearings. A technology that trickles down from professional road racing wheels, this system allows the rider to fine tune the movement of the wheels with the help of only an allen key.
UK retailers can pre-order now on the i-ride website.