Gates goes for high-volume urban market with new belt drive lines
Gates will address a rise in commuter cycling with the debut of a series of products targeted squarely at the affordable urban bike market at Eurobike.
Highlights are set to include a new crankset assembly designed to work with Thun Zumba bottom brackets and the most popular geared hubs, as well as a new S150 crankset, longer belts and components designed for Pinion and Rohloff.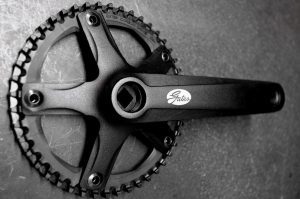 Consisting of an alloy crank integrated with Gates' lightweight CDN composite sprocket, the S150 assembly offers Gates' customers premium performance at a lower price.
"The S150 is a plug-in solution for high-volume bike manufacturers. It shows our commitment to providing complete Carbon Drive systems that simplify drivetrain installation and maximize OEM factory efficiency," says Gates Carbon Drive Director Todd Sellden.
S150 cranks are set to be available in black or silver and ship installed with a 46, 50 or 55-tooth CDN sprocket. Thun's Zumba BBs are pre-engineered to enable optimized belt lines for all the leading internally geared hubs: Shimano Alfine and Nexus, NuVinci, Rohloff, SRAM and Sturmey Archer.
Also set for introduction: 
• Longer belts: The 158-tooth and 168-tooth CDX belts allow product managers to spec Gates Carbon Drive on bike models with longer stays, including cruisers and long-tail cargo bikes.
• Lower-cost CDN rear sprockets: Complimenting the existing line of plated steel CDN rear sprockets, the new hybrid sprockets consist of a proprietary engineered composite body combined with a stainless steel core with Gates' patented Surefit interface. "This product makes Gates more attractive for product managers designing 500-Euro urban bikes," Sellden says.
• More CDN belt lengths: The 113- and 120-tooth belts expand the CDN line.
Furthermore, the firm has partnered Pinion to add compatibility with the new C-line gearboxes. Called CDX:SL, these nine-spline alloy sprockets are designed for light trekking, urban use and mountain bikes. Most popular sizes will be available in late 2016.
"CDX:SL has a more attractive price than our CDX stainless steel sprockets and it is designed to take the loads of a Pinion gearbox, with a nine-spline interface for durability," says Sellden.
Premium product 
While the introduction of CDX:SL expands pricepoint offerings, the entire premium line of CDX front sprockets has been re-designed to improve performance and aesthetics. The new CDX design is lighter, has more material in high-wear areas and features a sleeker, modern look.
For high-mileage Rohloff cyclists, Gates is introducing new CDX:EXP rear sprockets with a splined interface. This new interface, designed in partnership with Rohloff, makes it easier to remove and service the sprockets on Rohloff hubs.
"Gates expects to see Rohloff continue to grow in not only trekking and mountain bikes, but also eBikes," Sellden says.
Gates Carbon Drive's Eurobike booth (A2-203) will feature a range of new bikes and
electric bikes across all leading categories: urban commuting, mountain, trekking, cargo,
and even BMX.