Geoff Waugh to catalogue iconic race clothing in 'Dirty Jerseys' book
They're framed around the globe, live on in the memory of any fan who has stood trackside cheering cycling's stars to victory and now they're to be celebrated in a new book by photographer and writer Geoff Waugh.
'Dirty Jerseys' is currently in the works with the aim to catalogue some of cycling's most iconic garments in an 100 page journal. Waugh has been busy traversing the globe, meeting with stars past and present, photographing and penning the stories behind the win, the crash or simply the design.
Speaking to CyclingIndustry.news,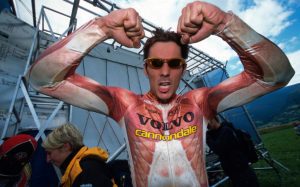 Waugh said: "Initially this project began as a documentary of cross country mountain biking jerseys, but as i've progressed all sorts has turned up, so the scope has broadened somewhat. I'm looking to feature 50 riders and a number of series within that. The project has snowballed to include never before seen Mint Sauce jerseys and softshells from Jo Burt, Tracy Moseley's re-sewn '99 DH jersey, Dave Hemming's '91 World Cup jersey, three skinsuits from Mud Dock's 90s race team, famed John Tomac garments, Ned Overend's old Specialized jerseys and countless others."
Displaying a passion for the story behind each, Waugh has met with countless athletes and collectors, even trading and scouring eBay for garments on his wish list.
"I had the idea four years ago," adds Waugh. "I stumbled upon a Facebook page with had attracted 7,000 followers in a very short space of time, which was in part where the inspiration stemmed from. It spurred me on and I began to dig up all these great stories behind the garments. MTB has a relatively short history, but it's long enough now that it's essential to document these things."
Waugh has got pretty handy with a steam iron during the process, but insists that, beyond removing the creases, the jerseys are preserved with the mud and blood of the race day in tact.
"When you get your hands on a piece for the first time it's amazing to see the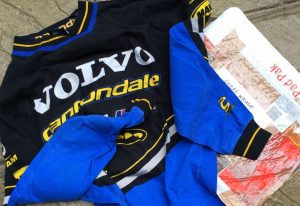 evolution. Downhill jerseys used to be like sails," says Waugh. "You can see the change over the years and one of the last jerseys I got my hands on was Peaty's Royal kit from his final season – a real piece of history."
The softback title, though initially set for Kickstarter, is now likely to come via a publishing partner in small runs due for September this year. Waugh invites industry interest, whether last minute jersey suggestions or sponsorship.
All photos by Geoff Waugh – Waughphotos.com