Independent bike shops set up network for "world's best bike boutiques"
A network of independent bike shops have set up a worldwide network called Boutique Wheels which aims to showcase some of the finest examples of bike retail globally.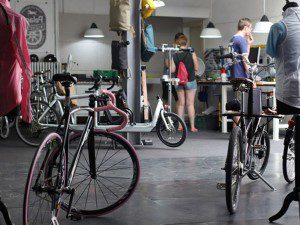 Boutique Wheels goals include mapping out some of the very most forward thinking stores in terms of merchandising, growing the profile of those advocating bikes for transport and further into the future, co-founder Jaime Díaz even says he'd perhaps explore a strength in numbers approach to getting better buying terms for the independent.
The mission statement reads: As urban cycling continues to gain momentum around the globe, a selection of the world's best urban cycling retailers join forces to guarantee top-quality products and services, maximum attention to detail and immaculate design.We focus on developing cycling experiences and promoting different forms of cultural expressions related to urban cycling. And also, we intend to increase awareness on how the use of bicycles can help cities become friendlier spaces. Come and join us.
Díaz, who also owns Madrid-based transport bicycle specialist Slowroom, told CyclingIndustry.news he welcomes interest from around the globe in order for the alliance to become stronger together. With a cycling modal share of just 0.5% – among the lowest of Europe's large cities – Slowroom in particular has quite a task ahead in growing cycling for transport. But he remains undeterred.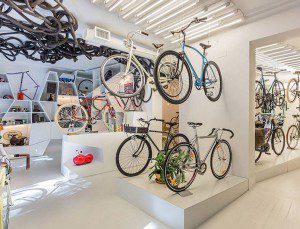 He said: "At present we have stores in 11 countries, all of which benefit from interaction and international networking on best practice when it comes to creating and maximising the potential of your showroom and boosting cycling's share in your city.
"There's more to it than that however, the networking extends to sharing the issues facing stores. The retailer is unfortunately the weakest link in the chain, but we think the most important in many respects. In the long term we'd like to grow our numbers enough to influence change here. I want to go into long-term contracts with my suppliers with the confidence our relationship will remain sweet even three years into the partnership."
Having in the past been tied in to stocking a brand for a set period, only for another store in close proximity to be handed the label, Díaz says it's important that the independent thinks wisely about which brands it gives precious floorspace to.
"The Boutique Wheels alliance supports bike brands that support the independent specialist," says Díaz. "With our boutique approach, those brands are rewarded with a pedestal in some of the most vibrant showrooms around the globe.
There are criteria to be met to become a member and many have been rejected, though largely because of their proximity to another member. A store must be in a special setting and have put some real thought into how they merchandise the product.
"Our members are some of the best examples you'll find," says Díaz. "Merchandising is something the brands themselves should take an interest in, it really adds value when done well."
Coming into bike retail from a finance background, Diaz says in setting up his own store he saw it as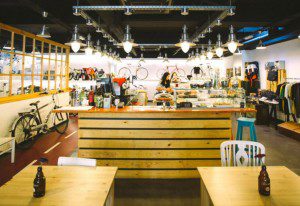 essential that the store was inviting to everyone, especially given the non-sporty clientele, which he sees as the future of cycling in cities.
"Boutique stores are places where someone new to cycling will enter and be drawn to product. It's not cluttered, the store is incredibly inviting to women who are typically used to a certain standard of shopping experience and the store plays its part in encouraging comfortable everyday cycling. Here in Spain the market is largely sports cycling and urban transportation suffers as a result. Many stores have only low to mid-range transport stock."
See your store as worthy of the Boutique Wheels badge? You can enquire here. Díaz says he is particularly interested in partners in the US, Asia and the UK.
You can read our profile with US member Huckleberry Bicycles here.