Kalkhoff aims to shift urban mobility picture with 2018 bikes
With the UK market in the midst of electric fever you'll be unsurprised to read that Kalkhoff – one of the market's veteran producers – is on a steep trajectory. Though not exclusively an electric bike brand, the firm did, for good reason, place increased emphasis on its pedal-assisted portfolio at the recent Eurobike show.
Traditionally Kalkhoff's heritage rests solely in catering for the "cycling in comfort" market, insists UK account manager for the North Richard Lane and for that reason dealers should consider the firm much more than just another e-Bike brand, we're told.
"As a company our background is focussed entirely on making cycling an attractive proposition. In the saddle comfort is crucial in every design. We've never tried to be anything else and indeed I think it's true that the brands succeeding are those who understand cycling in comfort within the urban environment," explains Lane.
The closest Kalkhoff comes at present to a departure from traditional urban is the newly announced Entice, landing in early 2018 and capable of housing a 47c tyre. Though the E-bike demographic is fast diversifying, most Kalkhoff bikes build in an element of utility, enabling people to see their bicycle as a viable transport mode for most easily cycled journeys. In visualising the target demographic the firm is far from pigeonholing. This is evident in the brand's marketing and press imagery; much of which paints the picture of a brand embracing younger generations taking to electric bikes as part of their daily routines.
"Being the manufacturer of the bikes we're quick to respond to market trends, stock requirements and feedback," says Lane. "From a dealer's perspective, this is very much an in-store product. While customers do still research online, the nature of our product means customers are best served in store where we encourage dealers to drive demos and build a relationship with the customer. In the UK the market has been steadily growing for a long time, but the past three years have seen a steepened trajectory in genuine interest."
Selling on average for £2,500, with available bikes retailing from £1,500 to £3,300, price point will be a big attraction for those dealers taking stock.
So, where does parent company PON come into the Kalkhoff mix?
"The honest answer is that PON doesn't often get too heavily involved," says Lane. "The backing of such a large and diverse company has enormous benefits in terms of enabling our dealers to sign up on great terms and to earn a good margin on a great value package. When it comes to technology, some knowledge is shared, but Kalkhoff was already a sizeable company prior to linking with Pon and so the brand retains its own very unique identity with its own innovations."
Though based largely on pre-orders, stock levels are carefully monitored with monthly meetings to determine which lines are selling well and may require additional production. Delivered inside seven days from Germany if in stock, Kalkhoff backs dealers further with a ten year frame warranty and a three year guarantee on Impulse and BMZ motors and batteries. Bosch systems are covered by a standard two-year warranty.
Contact Kalkhoff
Phone: +44 (0) 800 0569968
Email: sales.uk@derby-cycle.com
Key lines for 2018
City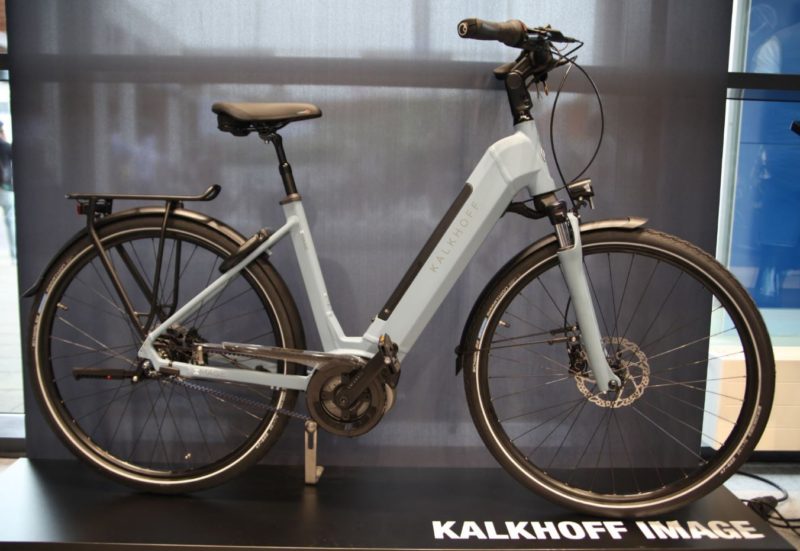 Kalkhoff's Image is a highlight of the comfort segment with fully-integrated batteries and a choice of three equipment packages, three colours per model and two motor platforms.
Perfect for cruising the city in comfort, the Image has a sit-up-and-beg style geometry, placing the rider's eyeline above the traffic while on the move. When parked, features like a handy kickstand and built-in rear wheel lock keep the bike secure, while the inbuilt rear rack will happily accept a load of shopping.
Clean lines feature throughout the Kalkhoff portfolio and the Image is no exception with routing channelled via the downtube, which also plays host to the integrated battery. As is common throughout the portfolio, a choice of Bosch, Impulse and Neodrive spec is on offer.
Trekking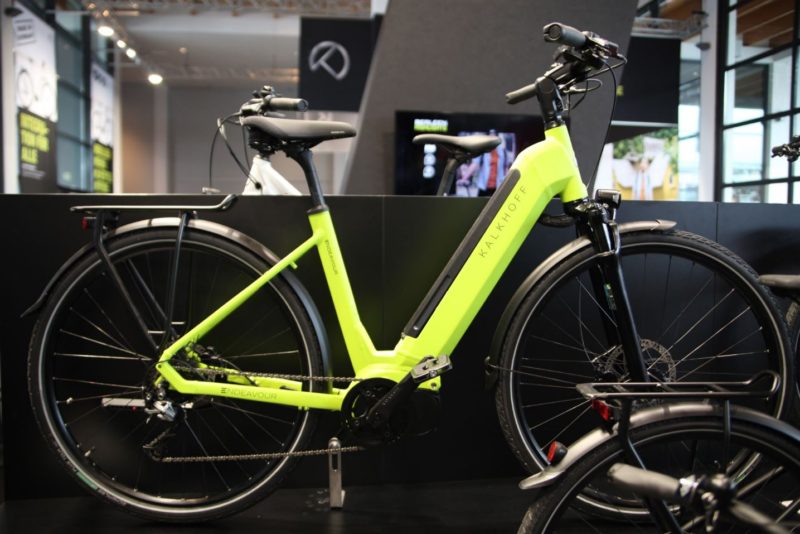 The Endeavour product range represents integration for everyone, offering nine differing spec sheets and a variety of budgets met. Three equipment packages, three frame designs, three drive options and up to three colours per model mean that the range caters to almost all possible requirements.
Targeted at the young and fashionable commuter, customers who have a choice of three frame stepover heights, Bosch, Impulse or Neodrive motors and understated or 'be noticed' colour schemes.
Shown here is the Move i9 model, which comes with an Impulse EVo RS drive and an integrated lithium-ion downtube battery offering either 540 or 418 watt hours.
Relaying information back to the rider, Kalkhoff has specced a stylish Evo Smart Compact display, enabling the rider to connect their mobiles via Bluetooth, as well as keep USB devices charged on the move.
Urban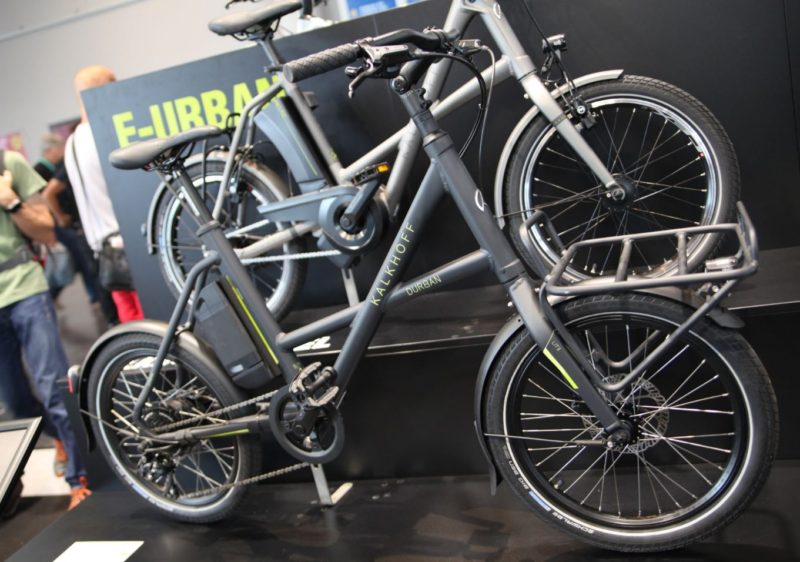 One of Kalkhoff's quirkier builds and one which is certainly well-suited to urban environments is the Durban compact.
Rolling on 20-inch wheels, this is Kalkhoff's smallest e-Bike and one which runs on a new system dubbed Groove Go, a motor paired to a 7AH Battery and rear hub motor. As a result of the shorter wheelbase, the Durban fits the bill for anyone limited on space and requiring a tail wind to help as inclines approach. Further bolstering its appeal for those who may live in apartment blocks, the Durban Compact is one of the lighter e-Bike, weighing 19 kilos. It can also carry around 130kg in load.
Bolstering its value for money, you'll note an aluminium rack up front, a kickstand, as well as mudguards carrying automatic lighting included in the package.