Muc-Off launches new Rainproof Essentials Case and air filter care range
Bike care and maintenance brand Muc-Off has launched its new Rainproof Essentials Case and its first ever air filter care range.
The Rainproof Essentials Case is an ideal storage solution for riders. The outer water-repellent fabric offers the protection for those essential ride accessories with a heavy-duty rubber-encased rope zip pull for quick and easy access on the bike.
The case also features Molle Webbing straps on the back, compatible for easy attachments to Molle accessories or bags. Internally, the case features a soft divider to help separate those essential items such as smartphones, credit cards and multi-tools. Inside there is also a zipped pocket that can hold smaller valuables such as keys or coins. The case is big enough to fit the larger smart phones whilst still being small enough to tuck comfortably in a side or back pocket.
Alex Trimnell, CEO at Muc-Off said: "Come rain or shine, every rider wants to keep those essential items that you take with you on a ride, safe, secure and organised. Our new Rainproof Essentials Case is the ideal accessory to help you do just that"
The Muc-Off Rainproof Essentials Case is available to purchase through the Muc-Off global dealer network, select e-retailers and direct from www.muc-off.com for £19.99, $24.99 and €24.95 RRP.
Additionally, the brand has also launched a new air filter cleaner and oil range.
"Our new line up is an exciting extension to our portfolio of performance centric products that wrap simplicity of use and outstanding results in one range" added Trimnell.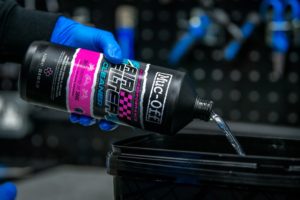 Developed to give the highest level of engine protection, the new Air Filter Cleaner and oil range is guaranteed to maximise performance, even in the most brutal of conditions.
The Muc-Off Biodegradable Foam Filter Cleaner works to breaks down the oils, greases and grime on all foam air filters and allows the user to rapidly clean a foam filters to ensure users get maximum horsepower. The unique combination of active ingredients is formulated to clean dirt and oil in seconds, without damaging any foam or glue.
The Muc-Off Foam Filter Oil is a non-chlorinated, low-viscosity formula which improves class leading efficiency and increases the longevity of foam air filters and engine-life for all off-road machines. The proprietary formulation contains polymeric additives which provide a hyper-tacky surface that resists the ingress of airborne sand, dust, water, mud and grime to help make sure an engine is not only protected, but can still breathe freely in the toughest of conditions.
The full range is as follows:
Air Filter Oil 1L – £17.99/ €19.99
Air Filter Cleaner 1L – £9.99/€15.99
Air Filter Cleaner 5L – £34.99/€44.99
The Muc-Off air filter range is available to order now through Muc-Off stockists and at  https://muc-off.com/