PROFILE: Booomers and its eco-conscious bikes
The bicycle business, while producing products for a green lifestyle, doesn't always practice what it preaches in manufacture. Hailing from Ghana, we meet Kwabena Danso, the founder of social enterprise Booomers, to discover why he believes the time has come to give customers a genuinely eco-conscious option…
The true sustainability of business has never gained more column inches and generated so much social debate than in the past few years. Seemingly a turning point in the minds of many, the graphic scenes of pollution broadcast as part of David Attenborough's Blue Planet 2 series sparked a public conversation on product and packaging lifestyle never before seen.
Like the wave of waste lashing at shorelines around the world, the momentum behind the dialogue has built and branched off into numerous new debates, ranging from the sourcing of raw materials right through to the over enthusiasm for packaging coming from industry warehouses. If consumers are not at least aware of the damage that's being done to the environment, then their shopping  decisions are at least being encouraged toward a more sustainable approach with trends like charges for carrier bags and the sale of reusables.
It was a welcome addition to the Ride-London exhibition mix, then, to see a Ghanaian social enterprise bringing to the table a bike frame portfolio that will not only stand out among those who demand something unique, but also to those happy to embrace a non-traditional way of thinking about product design.
Booomers began life under the tutelage of a well-known name in the bikes and bamboo business, Craig Calfee. Calfee is of course better known for taking Greg Lemond to the pinnacle of road cycling and by the early '90s innovating with carbon fibre. He is also a renowned pioneer with naturally grown bamboo, a knowledge he has gone on to share as part of a programme to assist African entrepreneurs.
One such ambitious student was Kwabena Danso, the founder of social enterprise Booomers. In 2009, having taken on board the frame building know how of Calfee, four builders set to work to harvest and convert locally and sustainably grown bamboo to be turned into bicycles.
Fast forward to today and 40 house staff and 20 indirect contributors make up an enterprise that supports the local farming economy and job prospects in a region where opportunity is limited. That makes the Booomers project a game changer locally.
Danso explains: "It takes about 40 hours to complete one of our frames, so you can imagine the skill and attention to detail that goes into producing our bikes. Each worker trains for six months before going into production. Even before we begin, harvesting and identifying the prime cuts suitable for bike building is an art in itself. That means that it's been crucial to invest in local skills and indeed we run a bike to school programme to get the kids involved in both cycling and our product."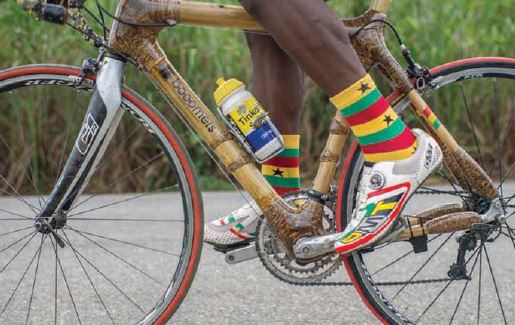 Though there are pipeline plans for the creation of furniture and a project to replace plastic straws with the more sustainable bamboo type, it was decided that bicycles could create the most meaningful contribution to the world at a time when an appetite exists among consumers to go green. At £385, adult frames are competitively priced as far as unique frames go.
Curiosity is easy to come by, explains Danso, who recently took the brand to RideLondon's packed exhibition halls, but this is very often followed by an education process.
"Is the material up to the job, people ask," says Danso. "It's a conversation starter, but certainly that education is often required. Of course, not only is it strong enough, in many instances it actually outperforms metals and carbon, without the environmental consequence. We've had all of our frames independently tested in Germany at the same labs as most others in the industry use and have come away certified to international standards. It comes as a surprise to most, but bamboo is naturally incredibly strong, stronger even than some carbon builds and with excellent vibration dampening qualities too."
Booomers isn't just talking the talk, each frame is backed by a three year warranty. Should something go wrong, it is intended that frames will be able to be repaired at bike shop service centres, with bike shop staff trained up in the art of framebuilding with bamboo.
There are many instances where it's highly likely the bamboo bikes will be a lifetime product, says Danso. Kid's frames in particular offer a unique opportunity for the bike dealer, we're told.
Featuring balance bikes with reversible frames, the first bike offering is a compelling one for a plethora of reasons ranging environmental through to what is often the customer's main concern, price.
"The balance frame will cost just £139 at retail and its flippable meaning that it will grow with the child. With a generally shorter lifespan for kid's bikes, this is a sensible product for parents and one that can be passed on for future generations to use. If there is no second use, it's not the end of the world."
Booomers is pioneering elsewhere too. Bang on trend, the firm was the first to create an electric bike specific frame, of which over 200 have already sold in Germany. One of Europe's most demanding markets, Booomers has thrived in this territory.
Column inches are begin to stack up among journalists who have tried to build their own. All of this, paired with a sustained presence at shows like Bespoke and the NEC Cycle Show, is seeing consumer curiosity growing steadily.
"We're now beginning to put on demo sessions with partners to further get bamboo bikes in front of curious consumers. I'm looking for partners around the UK, ideally about 10 doors in London, as well as international distributors looking for something different to the norm," says Danso of the social enterprises' ambition. "The margin for bike shops is high and we've the opportunity to build truly custom and bespoke products for clients, all shipped inside one month. I'd love to hear from partners sharing our vision for the future of bicycle manufacturing."