Maserati Road E-bike wins German Award.
The Maserati Trofeo e-race bike with Bafang's compact M800 mid motor has received a "Winner" label at one of the world's most prestigious design competitions, the German Design Award 2019, received from a jury of design experts from industry, academia and science as well as the design industry.
The Trofeo e-race bike is the result of a combined design project between Maserati, Bafang and Diavelo. This (alloy frame) electric road race bike is an example of the new trend category of e-bikes combining traditional road bike performance with an electric drive train system (and of motor manufacturers entering the e-bike domain).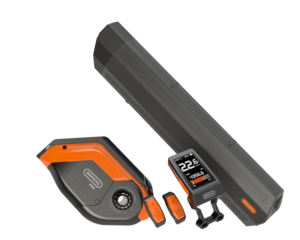 Bafang, one of Asia's leading manufacturers of e-mobility components and complete e-drive systems, proudly announced the highly rated "Winner" award. Bafang M800 mini mid drive system has 200W power output and a max torque of 55Nm, the new drive unit's total system weight is less than 4.4kg, including integrated battery (200Wh), 2.2" TFT display and shifter pods. (The complete bicycle weight is not stated).
Since an e-road bike will very quickly exceed the legal motor assist speed threshold, their drive unit has been tuned to "run almost resistance free and the rider's own pedalling effort is not affected" which the company hopes will bring e-bikes to even larger audiences.
The bike also received a nomination for the Italian A' Design Award 2019 and entered into the global 'Readers' Choice Awards 2018' on BikeToday.news in the 'Best Electric Bikes' category. The Maserati Trofeo will be available from Spring 2019 at a suggested retail price of € 9999.
Motor manufacturers entering the bicycle trade and wider field of "Urban Mobility" has been a theme in this weeks news, with Ford purchasing e-scooter company Spin, GM announcing its folding e-bike, Ducati partnering with Thok and Tesla rumoured to be looking at e-bikes.
Of course, brands who are best known for making cars don't always win an award and/or get it right.
As this Bikeradar article (When automakers do bikes) discusses in some detail.