SRAM launches electronic component package: XX1 Eagle AXS, X01 Eagle AXS and RockShox Reverb AXS.
Five years of design, development and testing have culminated in a line up of products which SRAM believe stand alone in terms of performance, technology and user benefits.  SRAM and RockShox AXS are claimed to make controlling your drivetrain and seatpost components easier, faster and more intuitive than ever before.
XX1 Eagle AXS is priced at £1950 for the complete groupset and is aimed at MTB XC riders, with hollow carbon arms and lighter contribution, while X01 Eagle AXS at £1900 has a more robust chainset and Enduro focused design.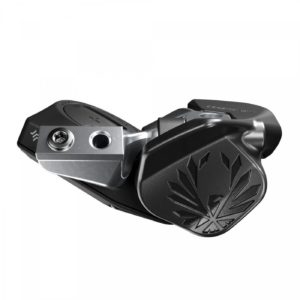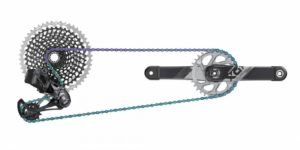 The RockShox Reverb AXS, priced at £700, is SRAM's first electronic dropper post. Bike brands and stores will be keen to explore the possibilities that a cable-less dropper opens up – easier routing on all types of bikes – especially those with more complex linkage designs and (of course) e-bikes.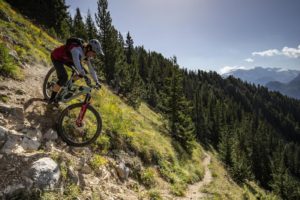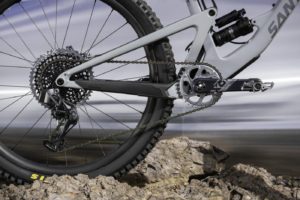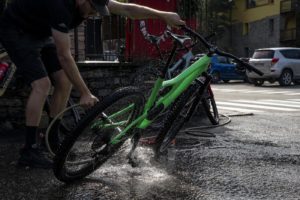 AXS is the umbrella that all of the SRAM and RockShox electronic components live under; an electronic integration platform that connects electronic bicycle components and software allowing the user to control, personalise and monitor their equipment. All the components are waterproof to the IP69K international standard.
Being compatible with BLE, ANT+ and ETAP means the electronics can be mixed and matched, for example on this gravel bike. It shows how for example a SRAM RED eTap AXS™shifters, Eagle AXS™ rear derailleur and the ReverbAXS™seatpost can all be combined.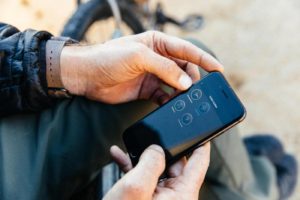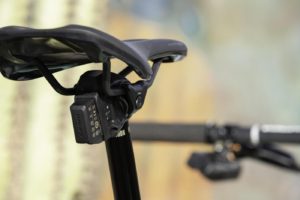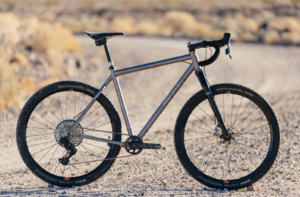 Fitting and set up is greatly simplified by the use of full electronic integration say SRAM, who have been out and about introducing the product to IBD stores already. And smartphone compatibility give users more control and information than ever before.
"You don't mimic a mechanical system with an electronic system. You build an electronic system to do things that a mechanical system can't do." – Chris Hilton, SRAM MTB Product Manager.
Pricing for separate components will be announced soon, but for now SRAM are only shipping a complete groupset bundle to both AM and OEM channels. SRAM have also confirmed that OEM spec shipments are going out on roughly the same timescale.
Stock is expected with UK Distributors ZyroFisher and Raleigh within 2 months. Zyro-Fisher has confirmed that availability is as follows:
HRD 2x – 11 Feb 2019
HRD 1x – 11 Feb 2019
RIM 2x – 11 March 2019
RIM 1x – 21 Feb 2019
AERO 1x – 21 Feb 2019
QUARQ – 11 March 2019
XX1 EAGLE AXS – 11 March 2019
X01 EAGLE AXS – 25 March 2019
REVERB AXS – 11 March 2019