Tern launches ultra-compact folding BYB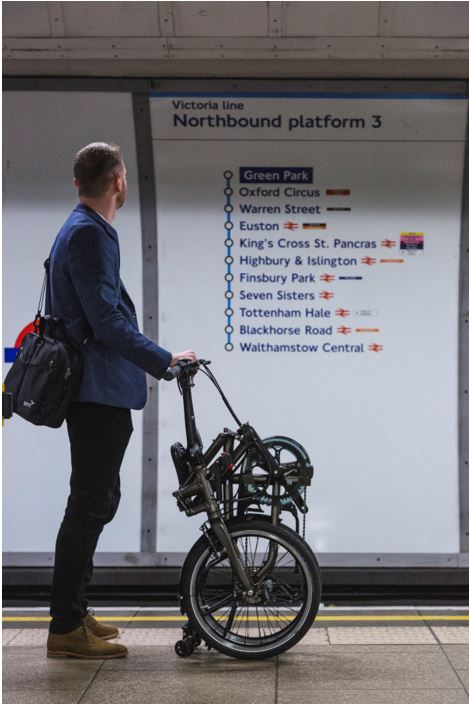 Urban transportation specialist, Tern, has today unveiled its latest, and smallest, folding bike, the BYB (Bring Your Bike).
30% smaller than typical 20″ folding bikes, the BYB is an ultra-compact bicycle which transforms into a small, slim package while still offering a solid ride.
The bike has also been designed with ease in mind, with rack-integrated spinner wheels allowing the user to wheel the folded BYB through crowds with ease, as opposed to carrying it.
Tern Team Captain, Joshua Hon, said: "The BYB is the culmination of four years of focused work by the team. We had to develop some radically new technology for this bike and the manufacturing tolerances are, in the words or our factory partner, 'tighter than automotive'.
"But we're excited because new folding bike paradigms only come along every few decades or so, and we think the BYB falls into that milestone category."
The BYB inherits the DoubleDeck frame design and trapezoidal tubing from the GSD for a stronger, lighter frame while each joint is loaded with patented new technology, the TFL Joint, a complex 3D shape with internal interfaces with the frame tubes for a strong, durable connection.
When folded, the bike is locked together with a strong and patented Achnor Bolt mechanism. The BYB's 3D-forged Physis handlepost is known for its stiffness and strength, with the new Physis RF version pairing with the bike's stiff frame to form excellent riding characteristics.
The Metro Transit Rack has been designed to let the BYB stand vertically when folded, with spinner wheels to enable easy manoeuvrability in crowded spaces.
Hon continued: "Some people might find it a bit surprising that we're launching a non-electric bike since the trend is going to electric. But we see micromobility as a continuum of different types of trips and different sorts of mobility options.
"An e-bike lets you do the entire trip by bike and skip cars and public transport. But for many people, public transport is still the fastest and most cost-efficient option, and all they need is a last mile mobility device to get them to and from the station. Others might work in a city centre that is car-restricted.
"For such short trips, people don't need electric – they need a mobility device that packs small and isn't a hassle to move and store."
Designed for commuting, the BYB is compatible with a range of Ortlieb and KLICKfix panniers and bags, and also has its own accessory line including a custom-fit hard-shell suitcase specially designed for the bike called the AirPorter Slim.
Other accessories include the PopCover, Luggage Truss CMT, Go-To Bag and Pack Rack.
The new BYB line up includes two models: the BYB P8 retailing at $1295, and BYB S11 starting at $2495. The first production run has already rolled of the assembly line with the first bikes arriving in stores in July.