The electric scooter hire firms bidding for UK street space
With a green light for electric scooter hire and public use expected imminently, CI.N takes a look at some of the products likely to normalise scooter use on the streets shortly.
Trials are expected to begin in some UK cities by June 30th, the Government has suggested, having pushed the topic onto the agenda faster than expected in response to the need for alternate mobility solutions during the Covid-19 pandemic. Riders are likely to need a driving licence to hire out one of the vehicles, which look set to be permitted to utilise both shared use cycles paths and the road space. Speed will be limited to 12.5 mph and a helmet isn't mooted as necessary.
Tier has just made a series of high profile hires ahead of its proposed rollout in the UK, taking on board Fred Jones as General Manager U.K., and Benjamin Bell as Head of Public Policy for Northern Europe.
Both Jones and Bell joined Tier from Uber and come with a decade of high-level experience in the fast-growing and increasingly important e-mobility sector. The hires come at a key moment in Tier's two-year history, with both set to play integral roles in the company's plan to bring its market-leading e-scooters to cities across the UK, following the Department for Transport's move to fast-track trials in the wake of Covid-19.
Tier is a Berlin-based European provider of micro-mobility solutions and says it has captured over 20% of global market share in its core business of e-scooters since launching in 2018.
The firm operates in over 60 cities across nine countries and has more than 40,000 scooters deployed, as managed by a 500 person strong staff. Tier also claims to be the first fully climate neutral provider in the micro-mobility sector. Its e-scooter product has a safety-first approach to design, with bigger front wheels, wider foot plates and a double-kick stand carried.
Tier is now engaged with local authorities across the UK in formal procurement processes, in the build-up to e-scooter trials.
Fred Jones, General Manager UK at Tier Mobility, said of his hire: "We are very much at the dawn of a new era and I believe that the introduction of e-scooters will have a profoundly positive impact on our towns and cities for decades to come. To this end, I couldn't be more excited to join TIER as the company prepares to roll out its unique e-scooter model, which is unrivalled when it comes to safety, sustainability and user experience."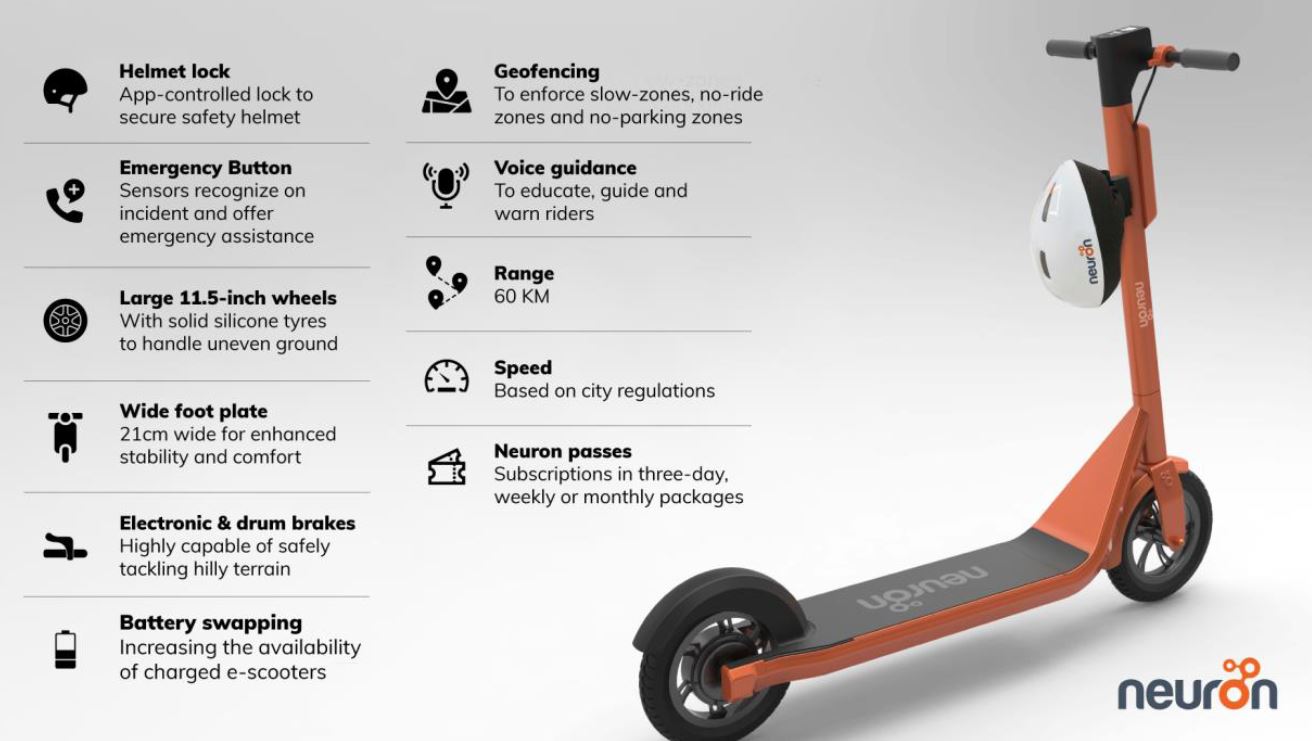 Neuron
Claiming to be the Asia-Pacific's fastest growing e-Scooter operator and the leader in Australia and New Zealand, Neuron looks likely to arrive in the UK having raised over $18 million to expand internationally. The Telegraph reports it as a near certainty with the paper's article now cited in the firm's media kit.
Within that document Neuron has placed emphasis on being a partner cities can rely on to manage and control the use of its products effectively. When bike share hit the streets of the UK a central complaint was poor management, with bikes left in random locations, often blocking paths.
This, says Neuron, is something they're keen to keep close tabs on, promising strict three-day health checks on each unit and 24/7 support from response teams deployed alongside the scooters.
The firm is also differentiating with a few other quirks such as the 'Helmet Selfie', which will reward customers with credits if they opt to wear head protection. With Covid-19 still raging around the globe, electric scooters will also be disinfected around the clock, according to the brand.
Other features include:
Emergency Button that detects accidents and helps riders call emergency services
Voice Guidance, the first and only talking e-scooter feature to educated, guide and warn
Geolocation to control slow-zones, no-go zones, no-parking zones
Topple detection to show in real-time if an e-scooter has been left in an unsafe way
Neuron has further developed proprietary software that is designed to improve rider safety, providing a high level of oversight and control for cities in terms of speed, parking, and no-go areas by using GPS and geofencing. The company's technology is designed to integrate with smart city platforms and various mobility-as-a-service platforms.
Zachary Wang, CEO of Neuron Mobility said of the launch:
"We welcome the DfT's announcement and are excited to be one step closer to the starting the e-scooter trials. We are already in discussions with quite a few councils, as no two towns or cities are the same we look forward to partnering with them to safely introduce e-scooters in a way that best suits their individual needs.
"We also welcome the Government's recommendation that all e-scooter riders should wear helmets. We believe a helmet should be available on every e-scooter. Even if it is not mandatory to wear them, all riders deserve the choice to protect themselves. For this reason we developed the first ever app-controlled Helmet Lock which secures a helmet to every e-scooter between trips, releasing it at the start of the journey. This important safety feature has been well received by councils and also safety-conscious riders.
"Our close collaboration with councils in has led to quite a few more world-firsts and we are constantly working with them to introduce new features to improve safety and also rider experience.
COVID-19 has led to a fundamental rethink of the way we travel and e-scooters have the potential to radically improve how we get around our towns and cities. We are delighted that people in the UK will soon be able to benefit from shared e-scooters, they will allow people to continue social distancing while also providing a more efficient travel option than gas-guzzling alternatives."
Swedish electric scooter hire firm Voi is also preparing to roll out in the UK once e-Scooters are green lighted.
In lining up for luanch, the firm has appointed Richard Corbett, the very tech firm executive who was charged with driving forwards legislation to legalise e-Scooters in the UK, Ireland and Benelux. Corbett previously held a role with USA-based scooter firm Bird for two years.
Voi is now expecting to deliver as many as 50,000 rides per day across London, with each unit expected to deliver between 7 and 11 rides per day.
"Out of this terrible pandemic, there is an opportunity to reinvent the way that we travel around cities so that we can cut congestion and pollution for good. Now more than ever a collaborative approach to mobility is needed and we need to make sure that there are good non-polluting options available, that suit all abilities and pockets. There is a huge unmet demand for e-scooters in UK towns and cities and Voi will work closely with local authorities and other transport operators to provide new mobility choices," said Fredrik Hjelm, CEO and co-founder of Voi Technology.
Ernst and Young undertook an assessment of the electric scooter demand in March for Voi, in which it estimated adoption amongst the general public to surge to four times the rate of electric bike uptake. In the same study, it was revealed that swappable battery tech has added around 70% improvement to the likely life cycle of a unit.
Voi has accumulated over 4 million electric scooter hire users in Sweden already, racking up over 20 million rides in the past two years. The firm is already seen in seven countries thanks to its €119 million fundraising efforts. 
Lime
Lime, which has already previously had bikes for hire in the UK, currently has London and Milton Keynes marked on its map, though has no further information displayed. The firm has currently paused its operations in most cities due to Covid-19.
To keep close tabs on this market's development, bookmark our electric scooter tab here.