Thieves hit Wolf Cycleworx in brazen smash and grab, Polaris director's bikes stolen
Exeter's Wolf Cycleworx has been targeted in a brazen smash and grab where thieves smashed through the storefront before returning multiple times to grab bikes.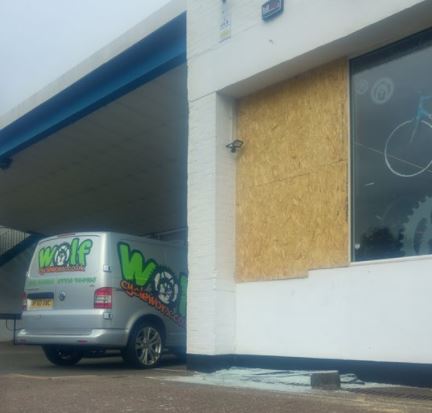 Overnight on Saturday thieves returned to the store an astonishing five times, on one occasion missing a police drive by by minutes in returning to pinch further bikes.
The store is now on the lookout for the following bikes:
2016 Saracen Ariel Elite – Black and grey with yellow graphics
2017 Saracen Ariel Elite – Blue and yellow
2017 Saracen Zen – Black with red detailing
2017 Saracen Kili Flyer Pro – grey and black with red accents
CCTV captured the whole thing clearly on camera, giving the shop owner hope of a result.
Posting to the shop's Facebook page the store recounts the smash and grab.
12:31- The pair attempt to break the front window of Wolf but the glass only shatters.
Alarm system notifies Security Company
12:34- They return and break through the glass using a massive rock. At the point they can be seen taking two bikes, which you can see one of them riding away on.
Security Company contact the police.
12:48 Police patrol car drives past but doesn't stop.
12:51 The pair return in their older shape Vauxhall Corsa, they take a third bike, they attempt to take the fourth but at this point they can't pull it out.
12:53 The Corsa can be seen driving around outside Wolf, checking out the area.
1:09 The Corsa comes back, they then take the 4th bike, they can be seen trying to put the bike into the back of the Corsa but it won't fit. So they drive off with the boot open and the bike hanging out.
1:16. The pair return to the shop a 5th time, this time they enter the shop. They then see the CCTV and run out off the shop.
If you spot what you believe to be the stolen bikes, or can identify the thieves from the CCTV the shop is contactable on 01392 464860.
Updated: Unfortunately we've also just learned that the director's of Polaris have had their bikes stolen. Retailers are advised to be on the lookout for an OnOne Bish Bash Bosh in lime and an Orange Gyro 29er also in lime.