Vaude's Vietnamese production space to expand seven-fold in 2020
Now in the UK with Raleigh, CI.N calls upon Jo Beckendorff to tell the story of Vaude. All the way from the manufacturing hub in Vietnam we hear about a label committed to sustainability and quality.
After Albrecht von Dewitz put his family business Vaude Sport GmbH & Co. KG into the hands of his daughter Antje in 2009, the company founder could have stepped away. Not so, for von Dewitz.
Since 2008, he has been concentrating on the production facility he built out of nothing in northern Vietnam. A decade ago there were 250 employees. Today there are 1,000 employees – thanks in part to a growing number of bicycle brands supplied with bicycle backpacks made by Vaude Vietnam Company Ltd.
To continue the success story, "retiree" von Dewitz is adding one more thing this year: after buying a seven hectare plot of land, he wants to build a new factory within sight of his previous one. According to plans, the buildings are to be completed by the end of the year. Production should begin by mid-2020.
Since his early days Albrecht von Dewitz has been a man of vision. After founding Vaude in 1974 in the hilly Southern- German Allgäu region and initially working from a farm, he bought a plot of land in Obereisenbach near Tettnang in 1979. Today's mountain sports company, managed by his daughter Antje, is still located over there. Looking back, the company founder says: "I didn't want to go to any industrial area because you can't grow there. So I decided to buy some land in Obereisenbach."
Initially he bought backpacks from Spain and then followed the (outdoor) production caravan to Korea. His first own production was set up in 1985. 1989 was a "turning point". On the one hand, the outdoor enthusiast set up production with three Chinese partners for Vaude backpacks and bags in Jiangsu. Von Dewitz, whose current age we are not allowed to print under penalty of punishment says: "I was one of the first foreigners to found a company in China and produce there."
FIRST VIETNAM CONTACTS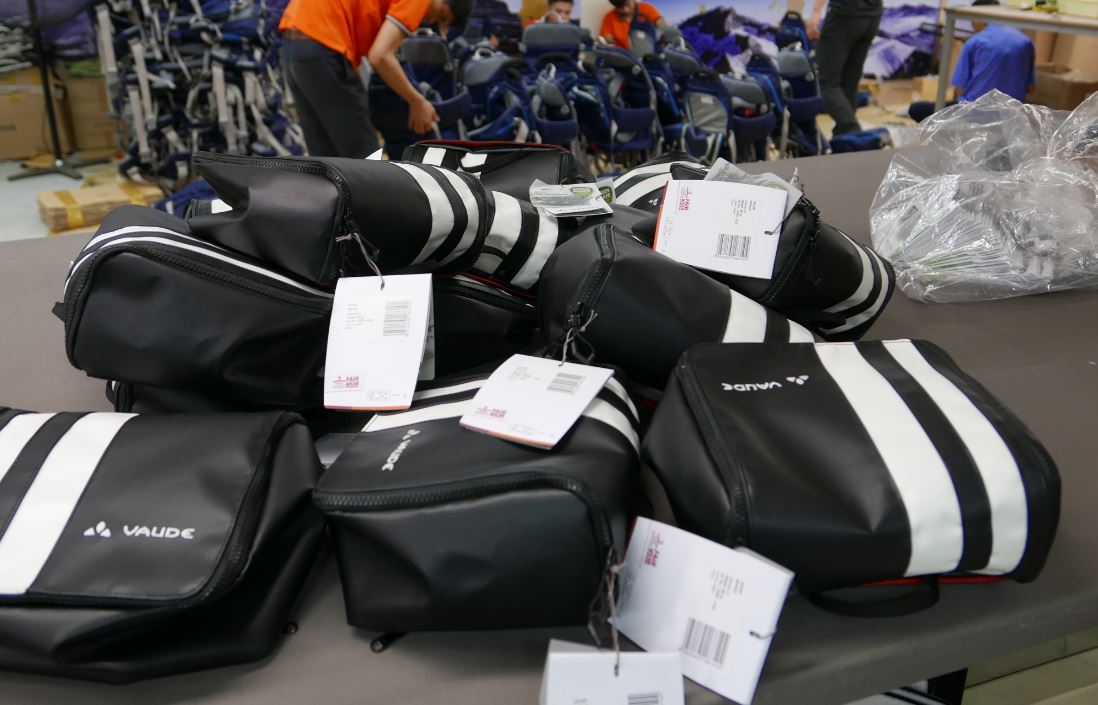 At the same time he was drawn to Vietnam. "After the collapse of the Eastern block, a newspaper reported on Vietnam and 'Đổi Mới', the economic reforms initiated by the government in 1986 as part of political liberalization. The investment climate was described as very attractive."
"I then opened an office in Ho Chi Minh City. Shortly afterwards, various Vietnamese manufacturers produced clothing for Vaude," explains von Dewitz.
In 2005/2006, production in China became increasingly difficult: "On the one hand, it was no longer so easy to get employees. On the other hand, the partners were no longer in a position to go with us and follow us."
After handing over Vaude Sport GmbH & Co to his daughter, the company founder wanted to take on this task in a more targeted manner. Was she expecting her father to turn up the heat again? Probably. Firstly, the industry veteran is still the main shareholder and managing director of Edelrid; the climbing and mountaineering equipment supplier from Isny in the Allgäu region. This business was taken over by the Vaude Group in 2006 (which his son Vitus joined in October 2017).
Secondly, the Vaude Vietnam production site which he founded in 2008 does not belong to Vaude Sport GmbH & Co. KG. It's still and solely belonging to Albrecht von Dewitz. The industry vet also went his own way with Vaude Vietnam: "I deliberately chose the north of Vietnam because it was already too crowded in the south and at that time it was already difficult to get good workforce. It's all a bit easier here."
His Vietnam adventure is at home in Bim Son, an urban district in the northern coastal province of Thanh Hóa (120 km south of Hanoi) with a population of around 60,000. Even though the tourist magnet Tam Coc River – called in various travel guides "the underestimated Halong Bay on the River" – is only about 30 km away from Bim Son in the neighbouring province of Ninh Binh, there is nothing at all in Bim Son itself and no tourists get lost there.
"The land we bought and the first building were once part of a large cement plant. However, there was already a sewing facility in one of the buildings. From this we took over 250 employees right at the beginning. Today, Vaude Vietnam is one of the top-five companies in Thanh Hóa Province," reports von Dewitz proudly.
Vy Vuthi, who has been the managing director of Vaude Vietnam since 2009, has certainly also made a major contribution to this success. She directs the day-to-day business. According to Albrecht von Dewitz, he flies to Vietnam "every two months". In Bim Son, he does not stay in a hotel, but at Vaude Village, which he set up especially for this purpose. This place is less than a five-minute walk from the factory. With its bungalows, Vaude Village looks like a holiday resort. It is not only Dewitz who lives there during his time in Vietnam. The bungalows are also available to guests and clients of Vaude Vietnam.
STEP BY STEP FROM CHINA TO VIETNAM
When von Dewitz started his own Vietnam production, his daughter reminded him that his factory will follow her company's sustainability philosophy.
As Dewitz explains: "That was clear to me from the outset. And I think that's a good thing too. Everyone goes their own way. With Vaude, she has dedicated herself to her own mission." Step-by-step, von Dewitz moved his backpack and bag production from China to Vietnam. In 2013 he was able to sell his Chinese production to his Chinese partners via Management Buy-Out. "That was the very best solution. That was very important to me after almost 25 years in China. After all, during our heydays we had 600 employees."
OEM EXPANSION
Today, in addition to Vaude backpacks and bags, Vaude Vietnam also manufactures products for other suppliers – and the trend is rising. Most common is demand for bike backpacks. Brands such as Cube and Scott rely on packs made by Vaude Vietnam.
Von Dewitz hopes to have more bicycle customers when he launches his new – and above all larger – production facility in 2020. Weighing in at seven hectares, by way of comparison, the current production facility measures just one hectare. Despite the large-scale expansion the company founder was able to convince his daughter and her team of the quality of his products, their sustainability and a fair treatment policy towards employees.
According to information on the Vaude website, about 29 percent of the products offered by the German mountain sports company come from Vaude Vietnam. It is also not long ago that the trolley travel bag production offered by Vaude was moved from China to Vietnam.
COMPANY TOUR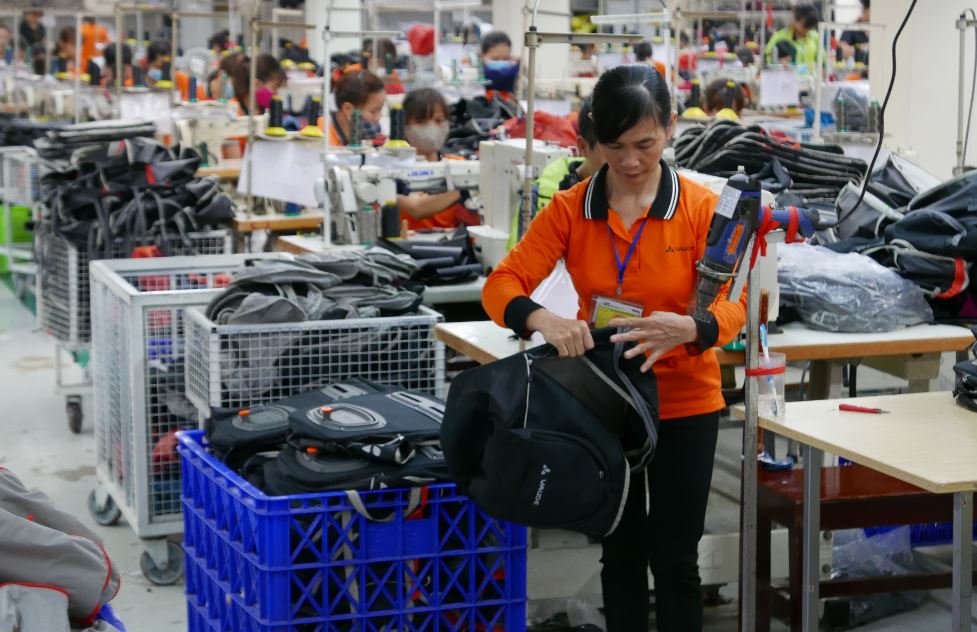 It's a lively journey from prototyping to cutting, including laser cutter, tape cutter, zipper and cord production. On the way to the embroidery machines, we briefly stay in a "German workshop". Here are old "unbreakable" machines that Dewitz bought in his home country and shipped to Vietnam.
"I trust a few old friends and companions from Germany, who come over to Vietnam as retirees, enjoy the countryside and take care of these machines. All of these machines are – after overhauling and possible adjustment – good to use over here." We are already on our way to the first floor of another building.
This is where the climbing harnesses for Edelrid are produced. "We still make a small series in Isny. The large series run here," explains von Dewitz. "Each climbing harness consists of 40 to 50 parts." We end up in the sewing division. Here you get the best overview of all the products that are manufactured by Vaude Vietnam across all brands: Bicycle backpacks and bags, (trolley) travel bags, trekking and child carrier backpacks.
According to the boss, "about 60 percent of our total production is currently accounted for by Vaude, 20 percent by Edelrid and 20 percent by OEM business (in addition to bike backpacks for bicycle brands, there are also some for emergency backpack suppliers such as Pax and bags for Vanessa). The latter sector in particular should grow step-by-step with the start of the new factory in 2020.