Wahoo and Zwift Partner on In-Game Climbing Mission – Prizes for December climbers
Wahoo, one of the leading makers of smart indoor trainers and indoor cycling eco-systems, and Zwift, the world's largest and most immersive multiplayer cycling community, have teamed up to give athletes the chance to push themselves toward improved climbing fitness with a challenging in-game mission.
The Wahoo Climb Mission will take place from 1st December to 23rd December and will give cyclists the opportunity to see how many feet they can climb on the roads of Zwift's digital worlds, earn in-game bonuses, and gain the chance to win real-life prizes including Wahoo indoor training equipment. Athletes can join the mission in-game via their drop screen. Everyone who participates will see an in-game Climbing Progress tracker and a Wahoo Mission Badge on their drop-in screen.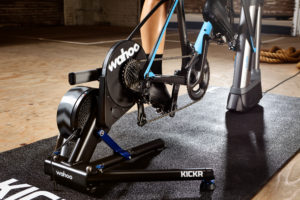 All smart trainers are compatible with Zwift's virtual cycling environments, but only the Wahoo KICKR, KICKR CORE, and KICKR SNAP are compatible with the Wahoo KICKR CLIMB Indoor Grade Simulator, the world's only indoor climbing simulator. KICKR CLIMB uses data from Zwift to automatically change a bike's pitch, matching the incline shown in Zwift, and helping cyclists fully immerse themselves in the experience of virtual riding.
Any athlete using Zwift can join the Wahoo Climbing Challenge. Athletes climbing 7,500 feet during the challenge will earn one entry to the First Prize Drawing and unlock an in-game Wahoo cycling cap and socks. Climbing 12,000 feet during the challenge will give cyclists two chances to win the First Prize and an in-game Wahoo cycling kit. Climb 20,000 feet and cyclists will be eligible to win the Grand Prize.
The First Prize winner will receive a KICKR CORE smart trainer and a KICKR CLIMB, RRP: £1199.98. The Grand Prize winner will receive a complete Wahooligan package ( KICKR, KICKR CLIMB, KICKR HEADWIND, KICKR DESK, and KICKR MAT), RRP: £1,969.95. Winners will be notified on 7th January, 2019. Terms and conditions are available here.
Zwift athletes will be able to sign up in-game and anyone wishing to participate who is not currently using Zwift can sign up at Zwift.com. The Wahoo Climbing Challenge will be jointly promoted by Wahoo and Zwift, with both brands promoting the challenge to their customers via social media and email. The full t&cs are here.
Anyone who holds a Zwift account and is over 18 would be eligible. Wahoo have around 50 KICKR Stations across the UK in retail stores so one might expect a number of bike store staff have experience of Zwift and enter the competition? Maybe if the shop is quiet or after hours?
It's really a challenge to climb meters during December and the more metres you climb your opportunity of winning increases with more entries into the draw.