93% of people will continue to cycle post Covid-19, reports Gov NTA study
The department for transport has released its National Travel Attitudes Study which revealed that 93% of survey respondents said they would continue to cycle and walk more once Covid-19 restrictions were removed.
The study comes after reports of a mass cycling boom during the last six months of the pandemic with Government data showing that cycling levels rose by up to 300% on some days.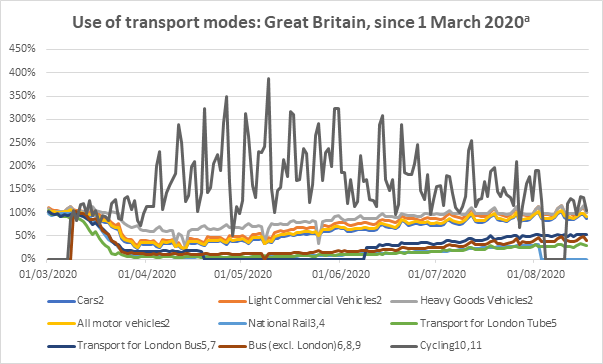 The study centres around travel attitudes in relation to the coronavirus pandemic and travel restrictions. The survey was conducted between May and July 2020 and had a sample size of 2,688 individuals.
Between May and July 2020, 39% of respondents reported to walk more and 38% said they cycle more than before the outbreak of the coronavirus.
Of those that reported to walk or cycle more, 94% thought it likely that they would continue to cycle and walk more once travel restrictions were removed.
Where public transport use continues to be discouraged where possible after the recent spike in cases across the country, cycling is appearing to some as the safer option for travel.
Additionally, of all survey respondents, 86% expressed concerns for their health when thinking about using public modes of transport (e.g. bus, plane, train), compared to 19% regarding private modes (e.g. walking, cycling, private car). Shared modes (e.g. taxi, shared bicycle schemes) were a concern for 68% of respondents.
Survey results showed that respondents felt less concerned for their health when considering the use of personal cars and bicycles both at (17%) in comparison to 91% of respondents concerned to use more crowded forms of transport such as the London Underground.
The recent travel usage data also showed how travel habits are settling into a new normal.
Cycling usage averaging 130% of pre-lockdown levels
Motor vehicle use is averaging out around 100% of pre-lockdown levels
National Rail and London underground are around 40%
Bus usage is around 55% to 60%
One of the UK's leading micromobility retailers, Pure Electric commented on the recent data. Tom McPhail, Director of public affairs said: "It is notable people are concerned about shared bike schemes. This research was conducted before the shared electric scooter trials started, however these findings illustrate the problems posed by shared vehicle rentals. By contrast, privately owned e-scooters offer all the same social benefits as rented scooter; they're also more environmentally friendly and they eliminate any concerns about infection risk."
"There are now some clear attitudes and behaviours emerging. People have been quick to revert to driving their cars. Cycling and walking have seen an increase but in relative terms, car use still dominates people's transport habits. People are also clearly uncomfortable about using public transport, especially the underground; we have to think in terms of a long-term shift in transport usage" he added.
June this year saw UK Travel Secretary Grant Shapps comment on transport data following a coronavirus briefing. He said: "One form of transport which has seen a significant increase is cycling – it is great to see people switching to a clean, green mode of transport with significant public health benefits."
"And this is a great time to start using them. As we redesign our street landscape to cope with millions more cyclists and pedestrians in the months ahead. The evidence is that commuters are already responding. Despite fewer people travelling overall during this crisis, we've seen around a 100% increase in weekday cycling. At weekends, that increase has been up to around 200%, compared to pre-COVID-19 levels.
"We want to use this recovery to permanently change the way we travel. With huge levels of investment, we're bringing forward green transport improvements that otherwise would have taken years, if not decades, to achieve," added Shapps.