Covid-19: Documenting the first chapter of a new bike boom
No amount of column inches could quite capture the Covid-19 bike boom thus far. The world over bikes are selling rapidly, leading many to question whether this is the beginning of a new era for cycling as a transport form. On the reverse side of the coin, panic exists that a pre-summer spike might just have flattened the trade's summer peak, with supply shortages threatening sales. CI.N documents an turnaround in fortunes for the trade…
Bikes are the new toilet paper
Without the context of the Coronavirus-led run on toilet paper that strap line might well have indicated that business had hit a new low, but thankfully the reverse is true. It was in fact borrowed from bicycle industry manufacturer Basil who first used the words 'run' and 'toilet paper' in a PR headline, of course alluding to vastly larger sales of bike goods that mirrored the initial panic buying that to this day cannot really be explained. Prices per roll have, obviously dropped substantial on eBay now, should you need to stock up again.
The run on bicycles and bicycle goods is thankfully easily explained and may well be attributed to much more than concerns over catching the virus on public transport. For starters, the weather has been glorious for most of Q1 and Q2. Combine that with a Government directive that cycling is one of few accessible exercise forms and the perfect storm whipped up much more rapidly than even seasoned veterans in the trade could have forecast.
"We actually expected a downturn initially," starts Moore Large Brand Director, Adam Garner. "So we did decide to furlough about 20% of our staff, but we pulled the majority back at the earliest opportunity, only keeping a few at risk staff on the sidelines for the time being. We are still delivering next day, some days delivering 1,000 bikes a day. That's not a record for Moore Large, given that at one point it was us and Raleigh duelling for the largest slice of market share, but as far as the last ten years goes it's certainly a chart topper."
Perhaps we would have been on course for a stronger year anyway, some might argue. Concerns about pollution, frustration over congestion, an uptick in people choosing to take on a fitness regime – these were all already factors lending weight to active travel's growth.
Moore Large's warehouse staff have been unloading lorries as early as 5.30AM, we're told, such has been the need to replenish stocks. More challenging still, the evolution of Government advice has seen trends shift from an early surge in low-end, through to a latter buyout of most mid-level bikes. At first it was the hybrids selling at speed, but with soundings from No.10 pointing to public transport being inadvisable the attention quickly turned both to higher priced bikes that are built for the commute. Latterly, the announcement of a French-inspired voucher for cycle repairs tallying £50 for up to 500,000 people sent repair business into overdrive having already been running at an extended lead time.
While we've yet to hear of a boom in shop openings, it appears the mobile mechanic has flourished on the back of such a wave of work from both established customers and via bike shops overspill. CI.N's trade-only Facebook group Cycling Industry Chat saw such work being touted out for any mechanics in the locality.
For upstart Gavin Hudson of Butternut Bikes it provided the dream start to going it alone.
"The demand for mechanics and bike builders is through the roof. At the present time I hear that most London cycle shops have a two-week lead time on work and some are choosing only the most profitable work," he said, adding that his community led approach of servicing all work had been welcomed as bike shops turned work away.
The industry now faces shortages as a result and during the peak sales season with, at the time of writing, incredibly cycling-friendly weather.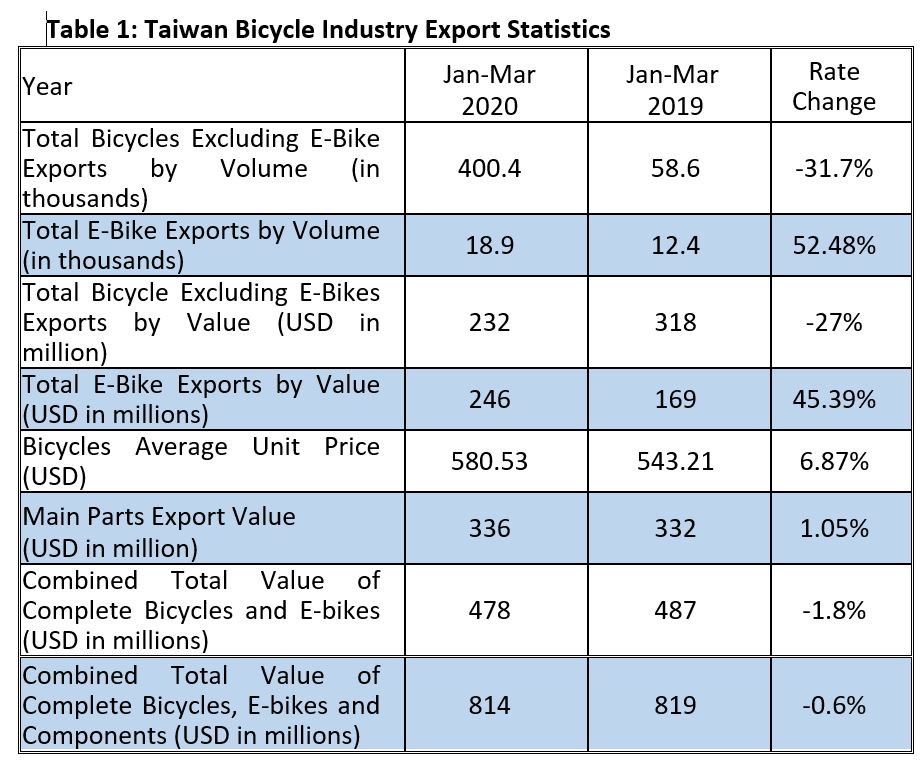 Having seen imports of bicycles running at something of a low in recent years, the spike caught everyone off guard. Figures handed to CI.N detailing Taiwan's trade only shows a 31.7% decline in exports of all kinds pedal bicycles like-for-like when comparing January to March 2020 data against last year's tally. To the UK specifically exports were down 19.89% when comparing Q1 year-on-year. In value terms the drop was wider, down 38.49% and tallying just $11.7 million.
The story is of course different when accounting for the surge in electric bike business, in particular with a severe drop off in Chinese products thanks to an anti-dumping ruling. Exports rose by 19.32% in Q1, though reached just 8,000 e-Bikes shipped in the quarter.
Supply, then, was not ready for a demand that many would have you believe had at least tripled.
Garner says: "In terms of bike sales we've had about five-fold expectation for the time of year. April was the start of lift off where the majority of bikes had been largely sub-£500 in price. Mainly this was new cyclists looking at a new form of exercise to fill the void. As time has drifted on the price points have nudged upwards as people seemed to have researched bikes to replace their journeys to work. We ran out of stock in a few areas, so we've been actively sourcing bikes out of Europe. We ordered 20,000 bikes to start, then another 10,000. That was not current range stuff, nor brands that we carry. So long as it's been good quality and passes the standards we've taken it and sold it. We bought a couple of thousand from Czech Republic this morning and they're already selling. Service goods too have surged in tandem."
Cambodia is one territory picking up the surge in demand and desperate call by those in the industry to fill shelves. The Asian country's Chamber of Commerce announced that almost half a million bicycles were shipped into the EU in the first quarter, worth around €109 million. That, said the Chamber of Commerce, is "over €9 million more than the same quarter last year." The tally is enough to make Cambodia the largest exporter of bikes to the European Union's combined member states, something best attributed to the duty-free status the nation enjoys when shipping to Europe.
The pattern of vastly increased sales has therefore been mirrored elsewhere.
"The bicycle industry does not know what is going on! A comparison with the 'run on toilet paper' is obvious," says parts and accessories manufacturer Basil. "We can see on all sides that bicycle related products are selling very well, which is a welcome boost for the industry".
The firm has observed long queues at cycle shops in Germany, including one the manufacturer's radar that lays claim to the sale of 800 bikes sold in a single day.
Elsewhere in Europe, Switzerland's University of Basel tracked transport shifts via a project dubbed MOBIS and discovered the bicycle taking up the slack during the period with the tightest restrictions. At the peak of their lockdown the bicycle's use rose and held between 110 and 120% up from the norm against every other transport modes 20% or more decline. What's more, it was evident that trip length rose by a few kilometres on average.
Closer to home retailers are working day and night to assemble bicycles; London's Velorution has hired additional staff just to build bikes and admits that the Hackney branch has been something of a storage facility for deliveries in recent weeks. Business owner Jonathan Cole has become an expert in the art of ordering bikes and e-Bikes via Zoom, rarely logging off during the peak of lockdown.
e-Bike sales growth is of course leading the charge and is by far ahead in Google Trends search terms over the search 'bike for sale'.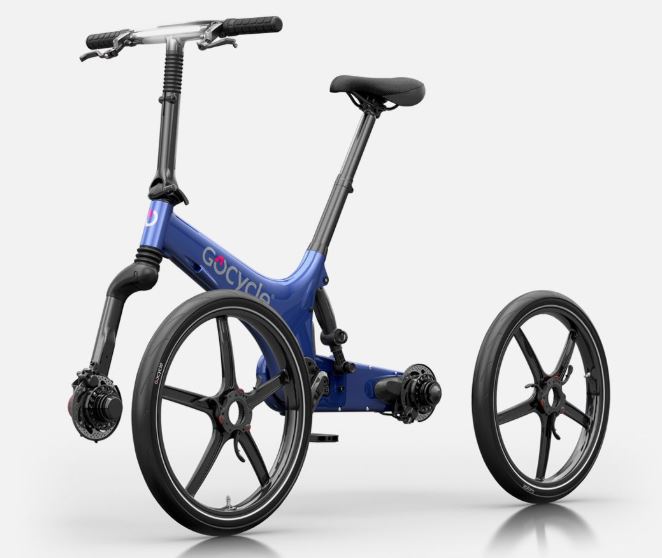 GoCycle's Conrad Allum told CI.N: "It certainly feels like it could be the dawn of e-bikes here in the UK as more people realise their benefits for a healthier and more sustainable commute. Sales of our fast-folding Gocycle GX model are up +65% in the last 6 weeks in the UK vs same period in 2019. We have also sold through the 2020 UK production run of our all-rounder Gocycle GS and fast-folding GXi models already."
The 'bike boom' trend here grew firmly on the back of a brand campaign to support UK frontline workers. Gocycle.com site traffic grew +155% up in the six weeks to May end, YOY.
Richard Thorpe, Gocycle Founder & Designer, added: "Smart commuters are investing for the long-term and going for e-Bikes. We have seen sales of our fast-folding Gocycle GX range rocket upwards within the last few weeks – literally at a rate four-fold in urban areas across the UK compared with this time last year. Covid is pulling the adoption curve forward and the wider population is switching on fast to what is undoubtedly the best form of sustainable and healthy personal urban transport – the e-bike!"
Another domestic business, bike security firm Litelok, has enjoyed the knock on effects of the swathe of bicycle purchases, often at a higher ticket price, seeing its B2B orders grow by 400% based on March to May figures tracked year-over-year.
Lewis Bradley, Litelok's Retail Sales Executive told CI.N: "We've definitely experienced a huge increase in customers looking for locks. It's great to see more and more people than ever getting back on their existing or new bike and we're incredibly busy trying to keep up with demand.  Since we are made in Britain, our South Wales based manufacturing site is now back to work and ramping up to full production after a period of shutdown."
For Angus Cycle Hub in Scotland turnover for the shop is up 45% for the April and May period on last year. Director of the social enterprise Scott Francis told CI.N: "Our warehouse holds about 200 bikes awaiting refurbishment at any one time, but we have now effectively sold out of all the stock we had, new included. The majority of folk we are seeing are leisure cyclists, just a lot more of them than usual. It will remain to be seen how many of these will convert to cycle commuting. We are working with a couple of local employers who are actively encouraging employees to cycle by buying them bikes. Meanwhile, our entire retail floor is now just holding repairs waiting for workshop time."
A further snapshot into sales trends was provided by Sigma Sports during May. While larger than most, the retailer's deep reach online and often admired physical store is arguably a strong litmus test for the wider sales trends.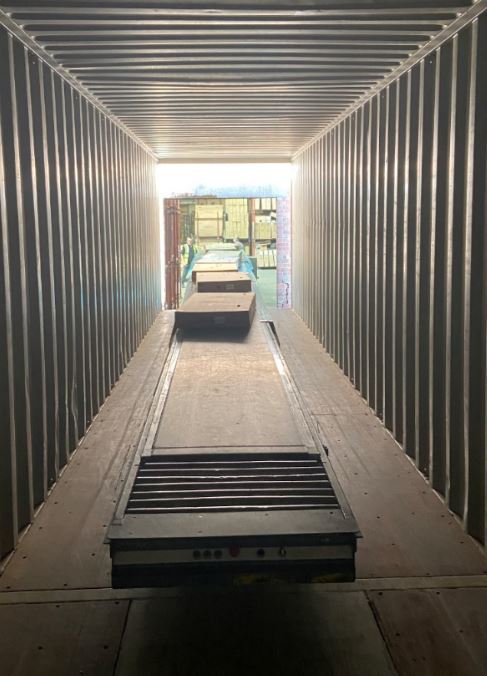 Echoing Moore Large's sales trends it began with entry-level sales, which ran at 677% higher than the usual level for the time of year, while more considered investments in the mid-tier rose 130%. The demand began with an uptick in the demand for turbo trainers as the lockdown grew more serious, up only a mere 440% in the first week of lockdown, but latterly hitting a staggering 1,150% increase looking at April's like-for-like data.
Pollution masks from Respro were another enormous seller in the early news cycle and at the time of writing the online shop is closed with a home page banner stating "we cannot accommodate more orders."
As the Covid-19 news intensified manufacturers across the trade began to adapt their production to join the fight against the virus. To name just a few, Santini, Uyn Sports, Hope Technology and Endura all adapted their production output to produce protective equipment for the frontline.
For the bike shop things could have gone so differently. Understandably, in the beginning many retailers were scrambling for the 'right' thing to do. Stay open, run at appointment only, close completely; will the Government even allow bike shops to remain open.
Thanks to the lobbying efforts of the Bicycle Association, the ACT, various cycling organisations, health and transport experts the decision was made to grant bike shops special status as an essential service. The Government advice was after all, you may cycle for daily exercise. While the crux of the move was to ensure frontline NHS staff could keep moving as public transport became less viable, it was welcome relief for businesses in our industry to have the choice where many other trades did not.
"The BA has done a great job at getting organised and the lobbying of Government has been properly heard for the first time, it seems. This is exactly the role they should be playing," says Moore Large's Garner.
Arguably, that lobbying effort has now given the bicycle industry the greatest shot in the arm since the 2012 Olympics and laid quite a spectacular foundation for testing how society might function with a rethought modal share leaning more heavily on active travel.
At the time of writing temporary lanes have popped up across many of the UK's cities, albeit quickly, sporadically and sometimes without too much understanding of the requirements of the user. One example from Salford initially placed concrete slabs little more than a foot from the gutter, with road planners initially misunderstanding the directive to hand over road space priority from motorists to cyclists. Shortly after the temporary lanes were widened.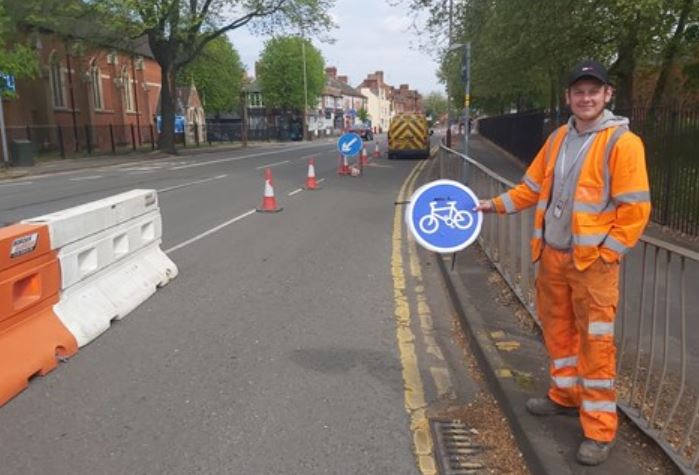 Such temporary lanes are already illustrating to authorities that dividing road space to safely enable active travel doesn't indeed have as many downsides as feared. Though experimental at the time of writing and clearly in need of a set of national design standards to guide local authorities, the temporary lanes are seeding a more permanent change. (Stop press! Design standards are due shortly)
In the City of London, where cycling hasn't always been as welcomed as it is now, the City Corporation published a transportation response to Covid-19 within which it plotted a future where active travel may take priority. Temporary lanes, it was alluded, would become permanent where successful. The 35% drop in pollution against like-for-like levels for the time of year was warmly welcomed.
Though coming for some time prior to the Coronavirus outbreak, the acceleration of legislation on electric scooters bodes well for the cycling industry, which has the skillset to service and sell such gadgets. With that news comes the inking of fresh distribution deals from suppliers like ZyroFisher and before that, Moore Large too.
"With Reid Scooters we started with 500 pieces and sold them all at Core, then it slowed off a bit. Since the Government has started the trials sales have lifted quickly. It's not our usual, but it is a sustainable transport form and that's a safe bet for the future of our urban spaces. Best of all it given the Government yet more incentive to provide safe infrastructure for active travel and to progress the green movement," says Garner.
The retail view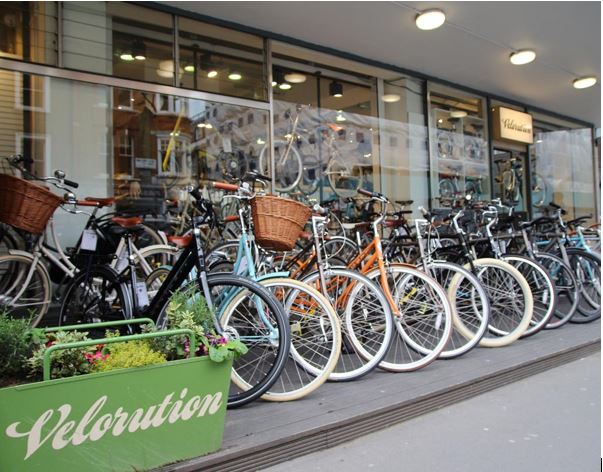 Jonathan Cole, Velorution
"We are immensely pleased to see the Government finally change tack on its position on two wheeled transport. It's highly likely that mass transit, particularly in London, will not return to normality for some time, so to warm its stance on two-wheeled transport makes good sense and long may it continue.
It has been highly unusual and anyone you speak to in the bike business has never known anything like it, we've even cleared old stock that was hanging around too long. Velorution has had people queuing down the block at the Marlyebone branch and have recruited extra bike builders to cope, particularly when it comes to the volume of electric bikes going through.
That said, I foresee near term problems for the industry as we're no in a position where you'll have trouble getting the stock through June and July at least. We have also had a period of immensely good weather lining up with this Government directive to socially distance. These things can change, so it will be an interesting summer trying to sustain this momentum."
Greame Hart, Harts Cyclery
"We've never been busier. We've just had a month's turnover in six days. People are realising this is not going to be a short-term situation. No one is getting on a bus any time soon; kid's sports classes are all shut, school's out for Summer (and Spring). People need bikes for essential, quick, local journeys where they can socially-distance. A lot of customers I have dealt with are on pharmacy or food runs. The sanctioned daily exercise permits cycling and so families want to get out together on their bikes. Many of my customers don't drive, or may drive but don't have access to a car, so are getting servicing or repairs done because they want their bike to be reliable for the coming months (several key workers have said this to me when they dropped their bikes off).
Many others are literally dragging bikes out of sheds saying things like: "My gym is shut, I need some exercise", or "looks like I'm going to need my bike". Same with sales. People just walking in off the street saying: "I need a bike!"
Who knows how this bike boom will all pan out, maybe it'll be dead in here next week, and goodness knows there are some huge challenges in the economy and with people's jobs; it really is awful for so many, but I think this will be a good year for bikes."
Cycle lane pics: Leicestershire City Council