Ask the trade: Which marketing methods are you using to reach customers?
Before we kick off with this broad topic it's worth reminding that retailers may soon find any email data without a paper trail unusable. To read up head over to dma.org.uk for more information on incoming Data Protection Regulations.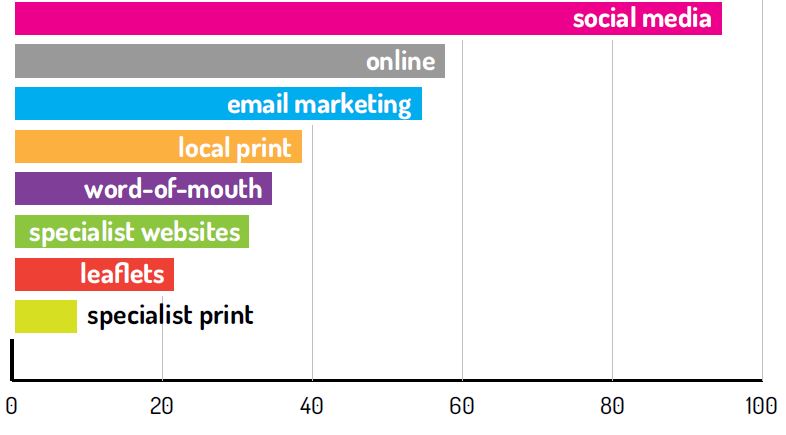 95% – Unsurprisingly the most common form of marketing, social media has quickly become an almost unanimously used method to reach customers. Though you can pay social media as much or as little attention as you like, as a general rule of thumb you'll often find you get what you put in. Keeping customers engaged and responding to their feedback in good time should help your progress.
58% – More than half our pool market to their audience online using methods other than social media.
55% – Just over half of our respondents are making use of their email data, a process that is gradually being made simpler by epos suppliers and is again relatively cheap. According to research by the Direct Marketing Association email marketing typically has a return on investment ranging 1:38 to 1:58, depending on the quality of the mailout.
Big on email marketing? We recommend reading this piece on understanding analytics, tracking and statistics.
39% – Local print appearances remain popular with bicycle retailers with over one in three making an effort to appear in locally distributed mail, newspapers and directories.
35% – In this business reputation is crucial to repeat custom, but 35% are relying solely on positive word of mouth to generate new custom. In the digital age where reviews can easily spread further it's worth ensuring your online ratings are high.
32% – Just shy of a third of our respondents made an effort to get their brand name out to specialist online websites within cycling. This method, when the message is strong, can be effective in generating further reach via social channels.
22% – Shy of a quarter of retailers are now turning to leaflet dropping in the local area. A study on this practice by the DMA has delivered mixed results. Around a 1% response rate is attributed to leaflet drop, however 45% do tend to keep such material around. It is further said that such distribution should not be a one hit event and should form part of a campaign.
9% – A specialist print presence, such as appearances in consumer cycling press, sits bottom of the feedback chart. Like leaflet drops, this approach often requires an ongoing presence to imprint your brand in the mind of customers. Though guaranteed to reach your intended audience, in most cases print advertising is one of the more expensive forms of marketing.
Want to hear first hand from our panel of industry professionals how they're reaching customers? Click here.