Belt drive goes to bike share with Mobia Bikes, Gates and NuVinci
To be presented at Taipei Cycle, Mobia Bikes is to lift the lid on a new share scheme and commercial-suited belt-driven bike.
Pairing a Nuvinci hub with Gates' Carbon Drive belt, the Mobia model is designed to remove as much ongoing maintenance requirements for fleet operators as is possible.
The project represents an effort by the three partners to establish a strong position within the growing commercial bike fleet market sector – and overcome the weaknesses of first-generation commercial duty bikes often plagued with mechanical failures that inconvenience riders and increase fleet maintenance costs.
Central to this project is the custom designed, high-strength alloy frame from Mobia Bikes, which uses the brand new N330f groupset from NuVinci Cycling, a division of Fallbrook Technologies, the Gates Carbon Drive premium CDX belt system from Gates Corporation, and never-flat Titec tyres. All of the bike's features and designs incorporate input from bike share and corporate bike fleet directors and mechanics.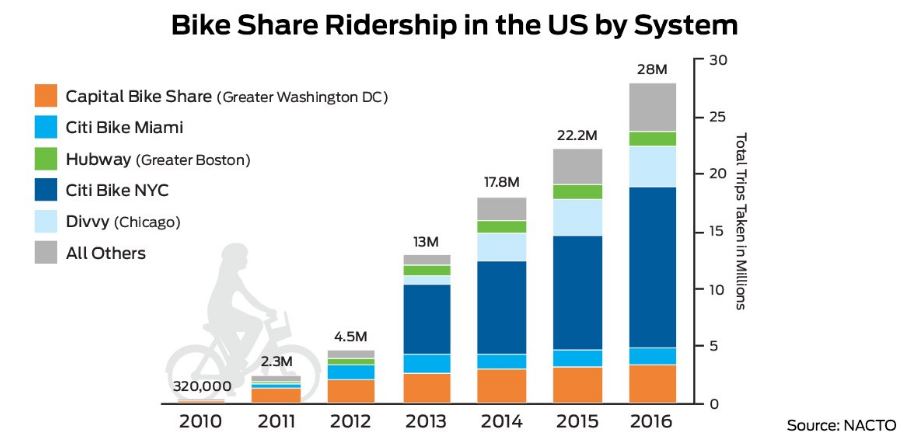 "The explosion in the number of bike share and corporate and campus bike fleet programs worldwide shows the growing global desire to use bikes as a transportation alternative to passenger vehicles and reduce congestion in increasingly crowded cities. Unfortunately, many of the first-generation bike fleets used off-the-shelf, low-cost components that cause problems for fleet operators and their mechanics," says David Hancock, Fallbrook's Managing Director, Bike Division.
U.S. bike share ridership has jumped from 320,000 to 28 million annually in six years.
NuVinci's new N330f was built to provide durability like no other transmission due to the specifically designed hardware components. With a ratio range of 330%, a maximum continuous torque of 80Nm and 200 kg maximum permissible vehicle weight, this transmission was designed specifically with the bike share and commercial environments in mind. Throughout the product lifecycle, NuVinci built the N33of to offer the best value compared to existing solutions. This value is predominantly provided by N330f reducing service and maintenance costs compared to non-commercial grade, competitive products. NuVinci Cycling also lays claim to being the only supplier that offers a warranty for commercial grade applications.
"Every detail on this bike aims at providing a turnkey, heavy duty product that withstands the abuse of daily riding and also provides a high-performance ride," says Todd Sellden, Director of Gates Carbon Drive Systems. "We are seeing big growth for Gates Carbon Drive in the rapidly expanding Chinese bike share market, and we believe new models such as the Mobia Bike will continue to grow our expansion into commercial duty bikes."
Gates Carbon Drive's CDX belt drive system, consisting of a high-strength polyurethane belt embedded with carbon tensile cords, a stainless steel rear sprocket and heavy duty alloy front sprocket, further enhances the bike's longevity and reduces maintenance needs.
The industrial grade 6000 series aluminum frame features a rust-free step-through design with a two-legged kickstand for ease of mounting and loading, a convenient aluminum front basket, safety bell, and a fully enclosed belt guard. The wheelsets use 26×1.5 never-flat inserts with proprietary Titec rubber tires, and 12g spokes. Designed by Mobia Bikes, the frame incorporates theft-proof technology that prevents the removal of the seatpost and front and rear wheels without the use of a specific tool.
Other features include fully enclosed fenders with space for corporate branding and sponsorships and drum brakes designed for strength and longevity.
Representatives from Gates, NuVinci and Mobia will present the bike to journalists and potential customers at the Gates Carbon Drive booth (4F-M0828) in Taipei. A product demonstration will take place on Wednesday at 11 a.m. local time.