Bicycle Association's Market Data Service heads to CORE with free dealer offering
The Bicycle Association's initiative to deliver accurate and detailed retail sales data to the UK cycle industry will be promoted at CORE Bike on Sunday, Monday and Tuesday, with dealers invited to join the project, free of charge, live at the event.
BA Associate Director Simon Irons, who leads the project, said "Early sign-ups are really encouraging with nearly 200 bike shops already on board after only two weeks since our soft launch. We're now really excited to come to CORE to introduce it in person to dealers. Participation is absolutely free of charge to dealers under £5 million turnover, it involves no extra work, yet the benefits of having detailed and up to date retail data from the UK market and your region are massive when it comes to the decisions dealers make day in day out and which have a direct effect on profitability."
Examples of how dealers can use the data include range planning, informing inventory management, quantifying and optimising promotional strategies, benchmarking your performance against the market & region, and knowing where to best spend on targeting innovations and new products.
"The real advantage is that with accurate data updated monthly, you can make these decisions based on quantitative insights not just gut instinct", says Irons.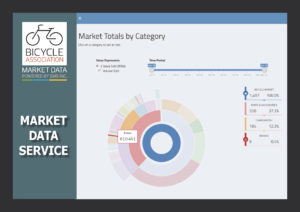 One of the key questions asked by the 200-odd early sign-ups was about confidentiality, says Irons.
"The system works by linking participating dealers' EPOS till systems to our secure data processing partner, SMS Inc. The BA never see any dealer's data and the system which SMS developed for us was built from the ground up to ensure that nobody's data can ever be 'reverse engineered'. The reporting dashboard will only ever display figures where any one retailer's contribution is less than 50% of the market. This guarantees anonymity."
Irons adds "Confidentiality is the key obstacle in many dealers' minds – once we and our partners SMS clarify that this has been safeguarded by the way this scheme is set up, dealers can sign up with confidence for what is a real win-win partnership. For no cost or effort beyond signing up, dealers can tap into the sort of detailed, accurate and timely sales data which the UK industry has been crying out for."
Dealers are invited to sign up online at https://www.bicycle-association.org.uk/market-data or visit the BA stand in the entrance corridor at CORE Bike, where the BA team will be available for any questions and to walk you through the sign-up process live online.