Boxer Cycles cargo bike business goes up for sale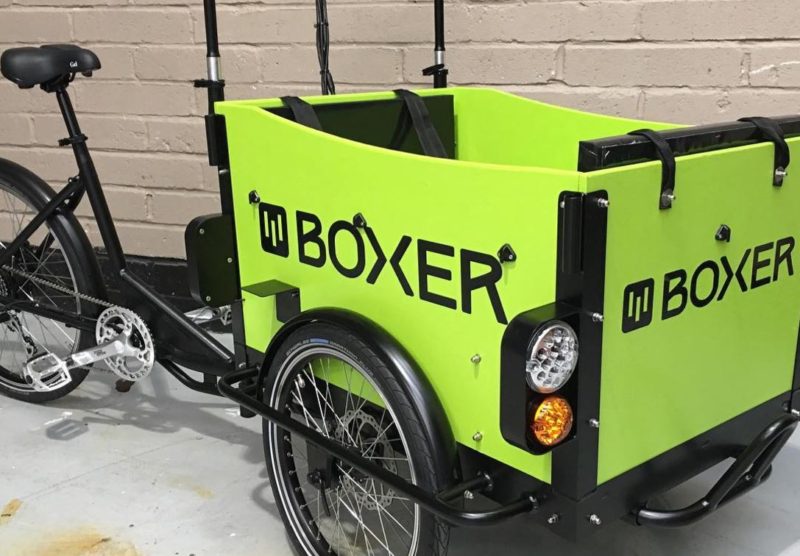 Boxer Cycles, the UK manufacturer of cargo bikes, is for sale following the ill health of its founder, principal shareholder, and managing director Jeremy Davies.
"The business is just at the point where it is starting to take on dealers and the market knows that the brand is associated with high quality and innovation," says Davies. "The business is now ready for someone to take it to the next level and to make the required sales and marketing push. I am an inventor by habit and am not a natural sales man. I have focused too much time on R&D and production rather than getting the bikes out there in big numbers. I am extremely confident that with a strong sales and marketing resource, Boxer will be in the top 3 cargo bike manufacturers in 3 years.
"Sadly my health and personal circumstances mean that I cannot continue at the helm during this exciting journey, but am happy to remain involved."
Boxer Cycles produces a number of innovative designs, and owns significant intellectual property, has a credible order book, including new UK and International dealers and has qualified leads totaling over £60k which have not yet been actioned. Average unitary sale value is c£3,500 (direct). Boxer Cycles debts are low and can be easily managed, Boxer has an existing shareholder willing to invest further sums into the business.
Jeremy who has designed all the models and his CAD design partner are willing to work on consultancy basis to ensure transition to new owner and assist with new model design.
Boxer Cycles has full Solidworks manufacturing drawings and bills of materials for all of its models and to back this up there is an existing supply chain enabling the buyer to easily continue production either in the UK or via outsourcing, for further efficiencies, if required.
The aluminium framed range of bikes can be produced without motor or with rear hub motor or Shimano Steps mid-drive, offering three price points from budget to high-end on each model.
Serious enquiries only should be directed to Jeremy Davies on 07917 698 438, or Jeremy@boxercycles.com.
Have a business of your own for sale? Let us know here.