Bugatti to follow sub 5kg urban bike with electric bike?
Spy shots of what is claimed to be a Bugatti electric bike have emerged, potentially hinting that the supercar manufacturer's interest in bicycles extends further than its $39,000 collaboration with PG, otherwise known as PimpGarage.
Posted to LinkedIn, Protanium's Brian Hohl described the e-bike as the "most advanced and lightest electric bike" available at 8.4kg.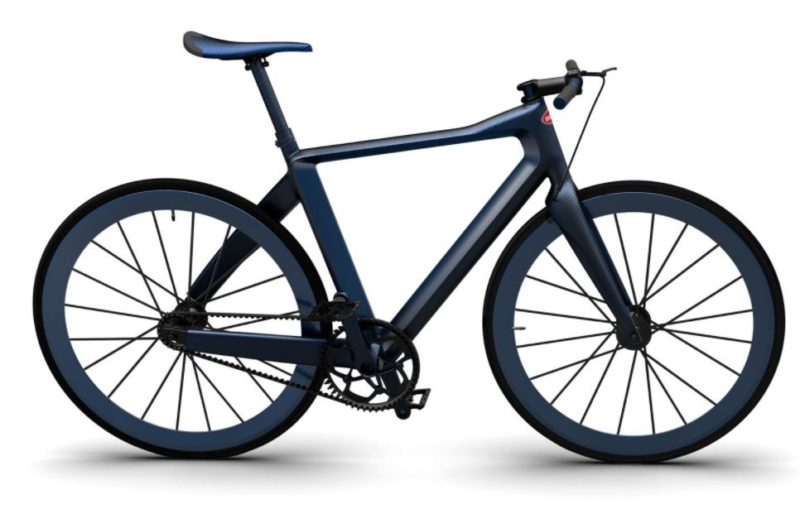 Said to have a monocoque autoclave chassis and a mid-motor set up capable of 55km of assist, very little else can be established from the snaps on social media, other than that clear inspiration can be drawn from the belt-driven pedal-powered version. The build seems to sport the same asymmetric seatstay design.
Bugatti's own website carries no further information on an e-bike at the present time, though lists Lightweight, Continental and THM Carbones among the brands it has partnered with in creation. The PG Bugatti bike's frame is built by carbon experts Mirelli, a firm that manufacturers for both Formula One and the cycling industry. Black Forest-based Tune is said to be a partner for the finishing kit.
"The automotive Industry has entered the cycle Industry and changed it forever from today," added Hohl.
The CEO behind Bugatti's cycling product, Manuel Ostner, has history in developing electric bikes while heading up PimpGarage. In the past he has developed the at the time "fastest, lightest and most expensive" electric bike in the Black Trail.
Are we seeing a trend for car makers to place more investment into two wheels? This Ed Benjamin commentary believes so.