Ceramic Speed launch new 'Hybrid' SLT bearing for off road market
After more than 18 months of rigorous development and testing, Danish drive-train efficiency and ceramic bearing specialists, CeramicSpeed, unveils SLT Bearings. A product they believe will revolutionise the off-road bearing market. Described as a solid lubrication bearing that is maintenance free, highly durable and extremely protective against contaminants, has claimed longevity benefits three-times greater than the market leader for off-road pivot bearings.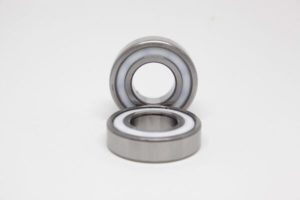 CeramicSpeed SLT Bearings contain a polymer matrix saturated with lubrication oil. The matrix retains oil right on the functional surfaces of the bearing under the harshest of conditions while at the same time preventing contaminants from entering the bearing. The manufacturing process of CeramicSpeed SLT Bearings requires the baking the bearings in hot ovens. The bearings are a hybrid made up of CeramicSpeed Balls and Stainless Steel SLT Bearings will be available as Aftermarket and OEM products.
"We're very excited about this product and strongly believe it has the potential to revolutionise the off-road bearing market," said Martin Banke, Executive Vice President of CeramicSpeed. "One of the ongoing issues we have tackled has been the longevity challenges that face bicycle and component manufacturers in the off-road scene. SLT Bearings can overcome those challenges with impressive results and a unique maintenance-free characteristic."
"Our development of SLT Bearings has received overwhelming interest from our OEM partners. The demand for a high performing and more durable bearing for pivots has confirmed and validated our investment in using this technology for this application." said Jonathan Small who leads CeramicSpeed's implementation of SLT Bearings for the off-road market.
Initial focuses are on pursuing OEM opportunities before confirming release dates for the Aftermarket. UK stores can enquire with:
Active Life Logistics
+44 (0)1299 890 101
www.activelifelogistics.co.uk
david_jack@btconnect.com
Forward Performance Products Ltd
+44 (0)7837 078337
https://forwardperformance.co.uk