Chris King hands Saddleback full range for UK distribution
UK distributor Saddleback will now carry the entire Chris King components catalogue exclusively in the UK.
"We should have stock by the end of this week," Martin Astley told CyclingIndustry.News. "New items include the brand new 148mm Boost rear hub, which is a new hub body entirely, not just a wider axle. These are actually in stock with Saddleback right now."
Following many years of work by Mark Pearce of Evolution Imports to represent the brand in the UK, the distributor has decided to step away from Chris King, which has now appointed Saddleback.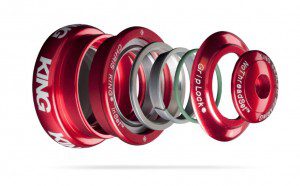 Saddleback has had a prior relationship with Chris King, which has been an ENVE wheel partner since 2011.
"Over the past five years, we have enjoyed a very positive OEM relationship with Chris King precision components and have always felt that given the opportunity, they would be a great fit to our overall brand strategy," says Saddleback founder and managing director, Andy Wigmore.
"We are delighted that we have been afforded this opportunity to build on the good work that Mark Pearce has done over all these years and look forward to taking the brand to the next level. Given our recent announcements about adding intense and alchemy to our brand line up, this addition couldn't have come at a better time."
Saddleback will be looking at introducing additional upgrade packages with partners and will continue to pair ENVE with Chris King's hubs.
"The Saddleback team is uniquely positioned to build our brands to a new level with progressive brand marketing, responsive logistics, dealer education, and superb customer care," states Jeff Menand, global business development for the King Cycle Group.
"Saddleback has a portfolio of premium brands that represent the best of the best in the marketplace. Our brands fit precisely into Saddleback's growth strategy of serving the most active dealers and athletes within mountain biking, road cycling, adventure travel, cyclocross and BMX race disciplines."
"We will be reaching out to dealers in the coming weeks with information on stock-in packages, after service care and promotions," added Astley.
Also recently added to the Saddleback portfolio was MTB giant Intense Cycles.