Danish study outlines economic savings made by building a safe cycling network
The Capital Region of Denmark's 2016 cycling survey, a follow up from a 2012 study, has shown active travel's contribution to have significant financial and social benefits.
One of five regional authorities in Denmark, the Capital Region has seen a rise in cycling levels of 20% since 2007 and 8% since the 2012 report, representing 408 million trips on two wheels in 2016. A quarter of all journeys now involve a bicycle in the region, with that figure increasing in densely populated spaces. 13% of all trips to work or education involved cycling in 2016, with a 2016 survey on infrastructure in the region showing that 68% would like to see continued investment in cycling infrastructure, more than the 43% focused on seeing motoring conditions improved.
Detailing satisfaction among cyclists and latterly health and economic benefits, the study shows those cycling saved the equivalent of 50,000 sick days when compared to the 2012 study. This, it is calculated, amounts to 1.6 billion DKK (€215 million) in economic savings. It is calculated that for every 1,200 kilometres cycled the health benefits equate to one less sick day.
When it comes to value for money per mile of infrastructure cycling was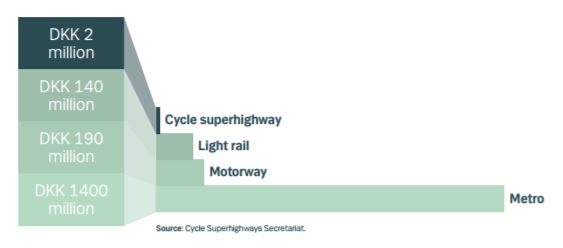 demonstrated to lead the pack, delivering a socioeconomic return of 19%, significantly above the City Circle line's 3%, for example.
Congestion further ramps up the economic reasons for cities to drive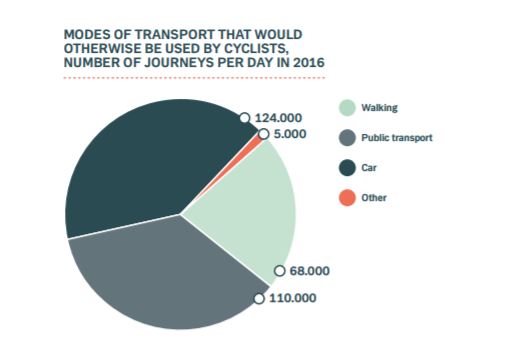 commuter cycling levels. Each day over 130,000 hours are spent queuing, despite the high cycling modal share. As a result people arriving late costs the economy 8.5 billion DKK (€2.15 billion) every year, or the equivalent of 22,000 full time positions.
If commuters who cycle were to leave their bikes at home and switch to other modes of transport, commuters would make 30% more car journeys in the Capital Region, said the study.
Electric bikes change habits 
A segment of the study focuses on the electric bike's ability to convert car commuters. With one in ten bikes sold in Denmark now electric (41,000 in 2015) the research focuses instead on a three year project known locally as Try an Electric Bike. Carried out between 2013 and 2016 alongside a number of municipalities and with the support of the Danish Road Directorate, the trial saw a 50% conversion of users of cars to cycle to work at least once per week. 34% cycled at least 3 times per week following their test period.
This habit shift translates again into a co2 saving, believed to be around 154 tonnes of Co2 in the test period alone. Health benefits too are evident, despite the assistance. When asked about their perceived physical condition having participated in the trial for three months, 40% of those cycling three days per week described an improvement.
Income
It was revealed that high household incomes tend to cycle less than lower paid households. Just 17% with an income over DKK 1,200,000 cycled, while that rose to 30% with a take home pay of below DKK 200,000.
Building for a future of increased long distance cycling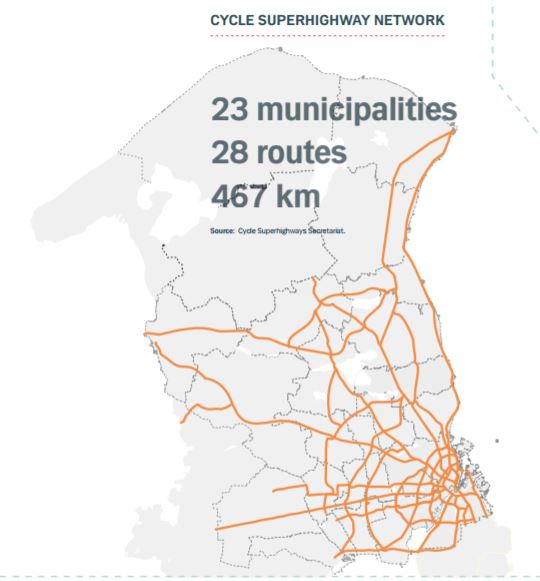 An initiative to develop cycle superhighways connecting traffic hubs, residential areas, schools and colleges and areas where lots of people work is hoped to eventually see a 30% rise in cycle commuters in the region. At present most cycle journeys are sub 5km, yet it is believed there is a vast untapped potential to increase people's desire to cycle further. The average journey on the existing Farum route is 14.7km, for example.
The total socioeconomic gain from the overall network of cycle superhighways has been estimated at DKK 7.3 billion because people are taking 34,000 fewer sick days each year, the paper offers as an example.
The ambition for the total network in the Capital Region offers 28 routes and 467 kilometres of cycle superhighways.
As much as DKK 400 million has been invested in delivering the first 206 kilometres, meaning the state funded network is just 44% complete.
Of the total socioeconomic gains from an extended route network, the State benefits from 70% of the gains, while 30% falls to the municipalities, concludes the study on the benefits of a safe and deep network.
When complete it is expected that 720,000 fewer car journeys will take place annually, with a spike of 3,000,000 cycle journeys as a result.
Read the full report here.