Dave Bowater takes on Director role at IslaBikes
Leading childrens' bike brand Islabikes has appointed Dave Bowater as a Director.
Bowater has been working alongside Isla Rowntree since the company was founded back in 2006. Having worked until recently as a freelance designer for Islabikes, Bowater has played an integral part in the company's growth over the last ten years and the new in-house role will now see him involved in the strategic direction of the business, alongside Isla Rowntree, Tim Bundegaard-Goodall and Ed Moseley.
Bowater began his love of cycling by riding mountain bikes back in the mid-nineties and then quickly began racing across a number of disciplines. He became the Espoir National Champion in cyclocross and also represented Great Britain in both mountain biking and cyclocross, until injury forced him to retire from competitive cycling.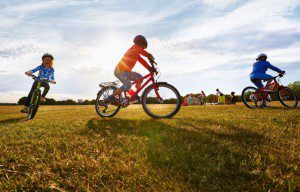 The company was started by Isla Rowntree with one mission, to provide a better cycling experience for children. This mission has not changed and remains the key focus for the company, which employs a team of 34. Behind the scenes the company does also make limited amounts of adult builds, usually one offs.
Bowater said: "Children's bikes have dramatically improved over the last 10 years thanks to Isla pushing the boundaries and creating a market for high quality children's bikes. Isla's vision teamed with her engineering background and incredible attention to detail is what continues to drive the development of our products."
"We have a great team here at Islabikes who are all very passionate and have a very specific skillset; from our onsite frame builder who is constantly working on research and development, through to our customer services team who pride themselves in delivering first class service," said Bowater.
He continued: "The depth of knowledge within the business has obviously grown as we have, but what's really nice is most of us are cyclists at some level or another and have a passion for riding bikes and seeing children fall in love with the sport."
"Our bikes are lightweight and designed holistically, rather than just scaling down individual components. We design our bikes as one and look closely at how all the components interact with each other and with the rider. For us, it's about constant improvement; we are never satisfied and this is what motivates us most as a team."
The founder of Islabikes, Isla Rowntree, continues to be heavily involved within the company and pivotal to the business through contributions in all key areas of the business.
Bowater concluded: "We are constantly developing our product, as a designer and engineer Isla is key to driving this forwards and continually raising the bar. We have been working hard behind the scenes and have some exciting announcements for later in 2016."