SRAM goes 12-speed with 10-50t Eagle MTB groups
Follow a eulogy to the front derailleur, SRAM has introduced what it calls the next generation of 1X, adding a widely-rumoured 12 speed cassette in the process.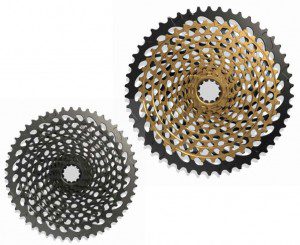 Claiming to offer the widest range of gears in a 1X drivetrain to date, Eagle is said to offer a 500% gear range delivered via 10 to 50 tooth cassettes. "The last dangling thread of an arguement in favour of the mountain bike front derailleur is now officially dead," says the press release. Built on X-Dome architecture, shifting is said to be slick with improved inboard and outboard movement, as well as stronger chain retention characteristics. The cassettes, which offers 10, 12, 14, 16, 18, 21, 24, 28, 32, 36, 42 and 50 tooth cogs, will sit on XD driver bodies.
Perched at the top of SRAM's MTB line, the XX1 price might be a barrier to some, with the cassette alone coming in at $420, €458, or £353. There are however lower price points depending on whether you're buying in at X01, XX1 or the pure 'Eagle' tier.
Both grip shift and trigger shifting will be offered as part of the group, with the former claimed to offer a far improved level of precision, delivered via a lightweight carbon covered mechanism. Retail price here will be $148, €155, or £119 for the premium kit.
Trigger shifting will come in a touch higher at $162, €170, £131 with internals rejigged to accommodate the extra cog.
Eagle's rear derailleur has a larger 14-tooth X-Sync lower pulley, allowing for 10- to 50-tooth cassette capacity in a compact design. SRAM's new, Type-3 Roller Bearing Clutch features a smoother torque curve for a quieter, more consistent operation and feel. Cage lock has been moved back and out of the way, protecting it from trail debris. The derailleur will cost $289, €304, £234.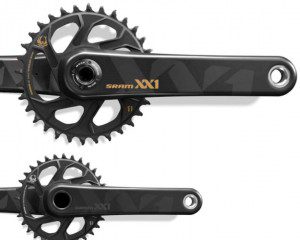 The centrepiece of the group claims again to be something a bit special.
The PR reads: "Our all-new XX1 Eagle crankset is the lightest, stiffest and strongest on the market. A special hollow internal architecture, combined with our proprietary carbon tuned lay-up, allows us to build a lightweight and ultra-energy-efficient crankset perfectly suited for the high – wattage output and smooth style of cross country riding and racing."
An X-sync 2 chainring is paired with the crankset, offering silent propulsion and better mud clearance. The tier topping package comes in at $425, €463, or £356.