Dexshell secures waterproofing patent, revamps packaging to allow touch points
Dexshell has secured a new waterproofing patent now set to feature in the firm's MY18 sock and headgear portfolio.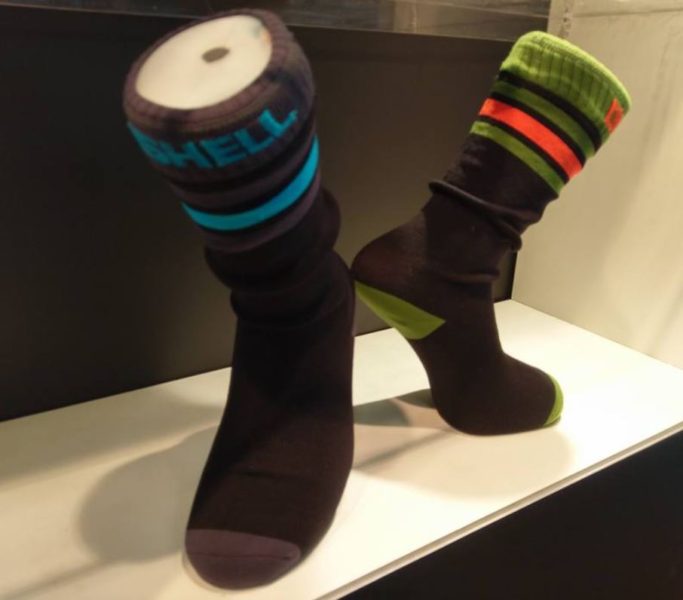 Specifically detailing the lamination process, the patent has enabled the business to create a greater level of flexibility in its garments, ultimately equating to more comfort with all the same waterproofing benefits.
The development has allowed for the firm to enhance its Ultra Thin bamboo sock, reducing the thickness by 40%, all while utilising the same membrane. Following dealer feedback, the sock is now two inches taller to better protect cyclists from the elements, yet still retails at £22.
Another dealer-facing development is a change to the firm's packaging that for the first time gives customers the ability to touch and feel the product while in the stands.
"We're looking to move away from boxes," explains Dexshell's brand manager Chris Dodd. "Customers want to get hands on with this kind of product and there's some exciting lines for 2018. We're the first brand to laminate a membrane on to garments like these, meaning the three layer approach is no longer needed. You'll see the benefits trickle through in our 2018 hat lines, among others."
Due in September the firm is to launch its first laminated cut and sewn glove, said to offer the dexterity and comfort of a normal cycling glove, but with significant protection from the elements. The garment, when available, will also offer touch screen fingertips and a merino wool liner.
Able to offer stores a branded digital point of sale stand "at the cost of filling the unit" (approx £900), Dexshell are signing up new accounts. Slatwall merchandising is also available on a tilt bracket with the video POS built in, enabling customers to get to grips with technology like DriRelease, Coolmax and Porelle, as featured throughout the range.
In selected garments Dexshell is to blend DriRelease with merino wool, creating a garment that is said to be among the fastest drying materials available to cyclists. Look out for the firm's highest spec sock – the Ultra Dry Sport Sock – retailing at £34.99 for a first look at the benefits of this combination.
Trade accounts can contact the firm for stock on 0161 864 466, or via email here.
www.dexshell.com