Dorel Sports sees14.2% revenue growth with IBD sales leading
Dorel sports' third quarter financial report has illustrated a business on the up, despite headwinds from tariff changes in some territories.
A 14.2% revenue increase like-for-like on the same period last year saw earnings jump by 2.3% for the wider Dorel Industries group.
The gain in sports, according to the filing, was in large part down to business done via the network of independent retail stores.
Growth in Europe was primarily driven by the electric bike category, which doubled sales with e-Mountain bike launches such as the Moterra and Habit Neo. Further releases are expected to debut shortly in this category.
Excluding foreign exchange rate fluctuations year-over-year and the impact of the divestment of the performance apparel line of business (SUGOI), adjusted organic revenue increased 15.7%. Nine-month revenue increased US$25.5 million, or 3.9%, to US$675.9 million.
As the parent to the Cycling Sports Group – itself an umbrella to Cannondale and GT – the period ended September 30th recorded revenues of $250.3 million up on last year's $219.1 million.
Operating profit for the quarter was US$6.0 million compared to US$7.0 million a year ago. Adjusted operating profit was US$5.6 million compared US$7.5 million last year.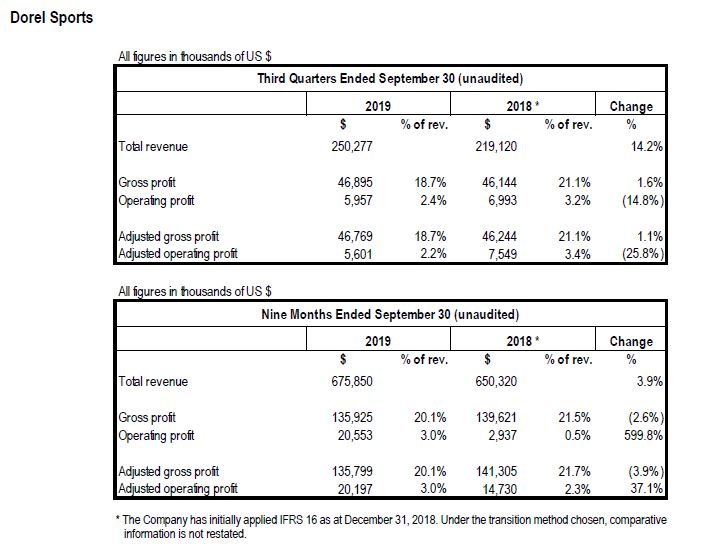 "As expected and previously communicated, the third quarter was a difficult one primarily due to various issues related to U.S. imposed tariffs. We raised prices in the quarter and this has had several negative consequences. Retailers altered their purchasing decisions, which resulted in a considerable product mix imbalance. In addition, some of our large U.S. customers delayed holiday orders from September to October.
"All Dorel segments have done an excellent job of holding the line on most expenses and creative product development has resulted in many new exciting introductions. Cannondale's new line-up is driving Cycling Sports Group success. The new product development process at Dorel Juvenile is delivering significantly improved time-to-market, though increased earnings are yet to materialize. Inventory reduction across all segments is a strong focus and is on track, and new sourcing strategies are being implemented where appropriate," stated Dorel President & CEO, Martin Schwartz.
"Dorel Sports' sales were very strong despite some orders being pushed back to the fourth quarter. Margins in mass were affected by tariffs, but revenue grew double digits for the first time in five years. Our bikes are selling well across all channels. Adjusted operating profit at Dorel Juvenile was up overall, but challenges remain in Europe. Issues related to tariffs have delayed Dorel Home's improvement. Margin and profitability are not yet where we want them to be, but the signs are positive and progress is being made," concluded Mr. Schwartz.
To read the report in full, click here.